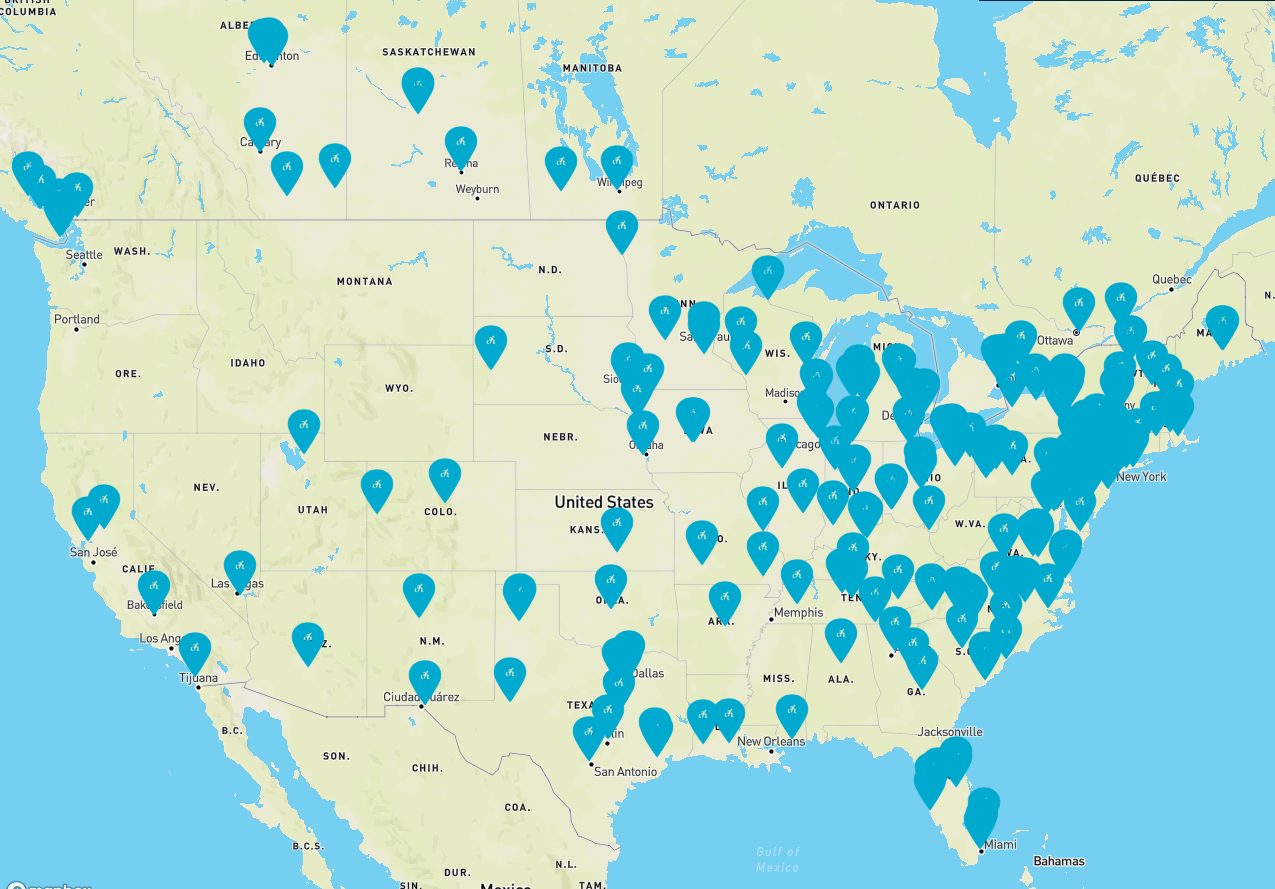 Wheelchair Ramps Installed Nationwide
At National Ramp, we want to help you get the mobility ramp you need to make your home more accessible. Whether you or a loved one uses a walker, wheelchair or another mobility device, an accessible ramp can make it easier to get in and out of your home. National Ramp is proud to maintain a network of nationwide wheelchair ramp dealers ready to install a residential mobility ramp anywhere in the United States.
Why Choose Our Licensed Wheelchair Ramp Professionals?
We have a coast-to-coast dealer network of reliable wheelchair ramp installers who are trained, insured and licensed. All National Ramp contractors must undergo in-person training for the evaluation, installation and contract processes. Our residential ramp specialists ensure these dealers follow best practices, building faith in our business through consistent quality and expertise.
National Ramp believes you deserve Freedom Now. Get the independence you or your loved one needs to navigate your home freely. Our goal is to help you gain control, live your life and enjoy your freedom.
Our customer service team values prompt, thoughtful responses that deliver the support you need. We work with trusted manufacturers to ensure we carry ramp choices that meet various needs and keep our dealers in sync informed, allowing you to receive estimates and designs quickly.
Our Products and Benefits
At National Ramp, we offer various ramps in several materials and styles. Our options include:
Our inventory gives you a large selection, so you can pick the mobility ramp that works for your home. Other benefits of choosing our dealers include:
Speed: We know that when you or your loved one needs a ramp, you want it right away. The dealer team across our network is prepared to get a ramp to you and installed in as little as 48 hours.
Quality: Each ramp we sell features modular, high-quality construction and is easy to install. Our ramps also require no maintenance for dependable performance.
Expertise: National Ramp works throughout the country with the help of local dealers and installers. Our teams walk you through the entire purchase and installation process.
Longevity: Our team has worked in this industry for decades, making us reliable leaders you can trust for ramp installation. National Ramp is an innovative manufacturer of high-quality ramps, and we only work with licensed wheelchair ramp professionals.
Choose National Ramp As Your Residential Wheelchair Ramp Installers
Whether you use a mobility aid and want to enter and exit your home freely or you're a caregiver who wants to make a space more navigable, our wheelchair ramp dealers are here to help. We maintain an extensive product selection that allows us to provide almost any ramp configuration or style while meeting your needs. What's more, our custom solutions are designed specifically for your needs or home.
As our name implies, National Ramp has a convenient dealer network with locations throughout the United States and Canada, positioning us to help you regardless of where you live. Please contact us online or call 877-748-5588 to find the best wheelchair ramp for your needs!
Testimonials
What Our Customers & Dealers Are Saying About Us
National Ramp is proud to serve our clients and work with our dealers throughout the U.S. We deliver the highest quality products with professional service.
Installed 2 days after first contact. Arrived on time 2 competent installers. Glad I called this company.
GEORGE

New York
Great to work with. Ultimately a stair lift made more sense than a ramp. They connected me with National Seating and Mobility. Would recommend National Ramp.
ADAM

Maryland
Can't say enough about Nation Ramp. My mother did not want a ramp so we had to sneak the installation when she was out. Art worked with me on all the details his #1 priority …
RICK

Connecticut
Ramp looks great better than I expected. The installer was great. It's going to make life easier for me and my wife.
MICHAEL

New York
This has been an unmitigated success which has made our life a great deal easier, it is unobtrusive, elegant and very sturdy. Neighbors have been so impressed that they have stopped to photograph and inquire. …
D.S.

CANADA
Thank you very much for setting me up with this install. It was excellent! The product was amazing, very strong and supportive – We were very impressed!
J.E.

ONTARIO
The product looks great, install even quicker than first quoted. Price was fair and payment was easy. I'm very pleased and will recommend.
K.K.

ILLINOIS
Good quality at a fair price.
M.R.

MICHIGAN
We love our ramp. It is modern and sleek looking, does not compromise the curb appeal of our home. It functions very well so we can get our son and our guests easily into the …
C.S.

CONNECTICUT
They not only showed up on time but they installed the ramp in the rain because it was an emergency. Thanks
J.P.

MARYLAND
I am very happy with your quality, price and ease of installation.
B.C.

CONNECTICUT
The ramp has been an enormous help for me to get my husband out of the house and to our car safely for doctor appointments.
M.H.

OHIO
Working with the distributor went really well. I got my new ramp installed today, and I am very happy with the service.
A.H.

PENNSYLVANIA
Thank you for reaching out and for all your help. Everything went perfectly! It was important that we had a quick turnaround and you made it happen. My brother and I are extremely happy …
C.F.

PENNSYLVANIA
The ramp has been finished and is sooo great. The installation was one day. The staff was personable and put up with my questions and supervision. Lol. Haven't used the ramp yet but I will …
M.M.

ARIZONA
After two days and using the ramp in my garage, I realize how this ramp will help me with my walker. My balance is bad, and with the heart problem I have in the last …
L.N.

ARKANSAS
They were very helpful and met my every need on short notice. Well done by all.
J.W.

NORTH CAROLINA
Excellent quality, well-designed modular installation.
P.F.

VIRGINA
I would like to thank you on our recent purchase of a handicap ramp. You were very accommodating as to completing the installation in a timely fashion. Your assistance and knowledge of product made this …
J.L.

NEW YORK
I wanted to let you know that I was very pleased with the National Ramp Product. It went together very well, and I thought it had a lot of strengths compared to other products.
S.J.

NEW YORK
National Ramp's steel ramping system is the best around for power wheelchair users. They don't allow slipping with the new more powerful chairs.
G.T.

PENNSYLVANIA