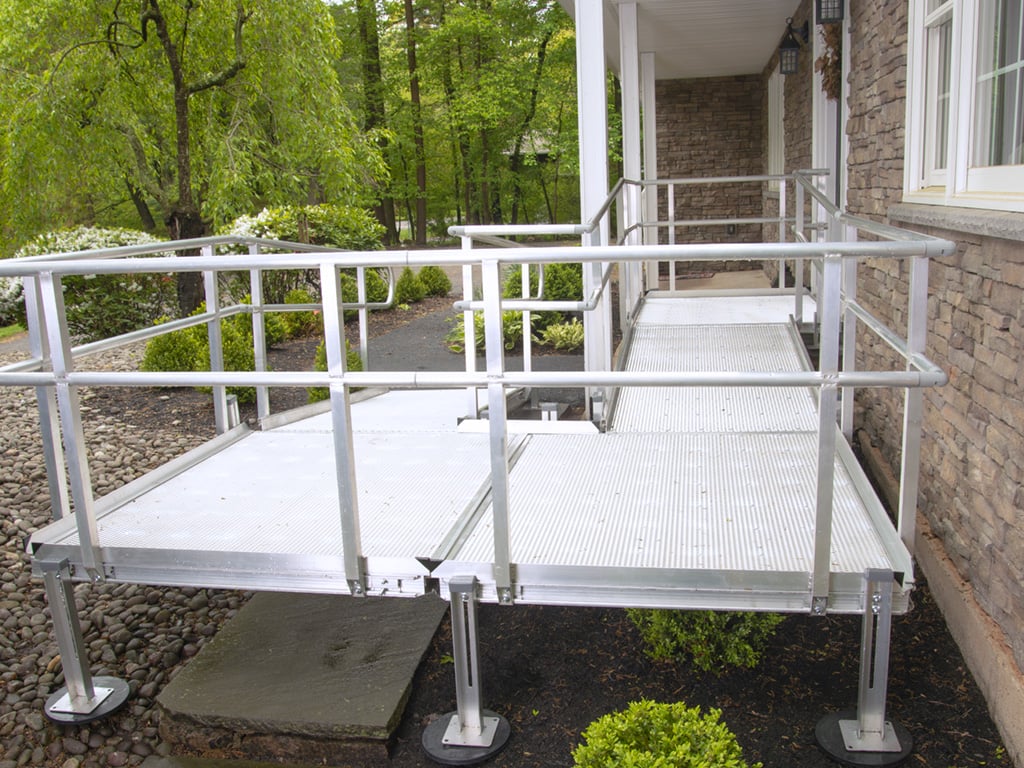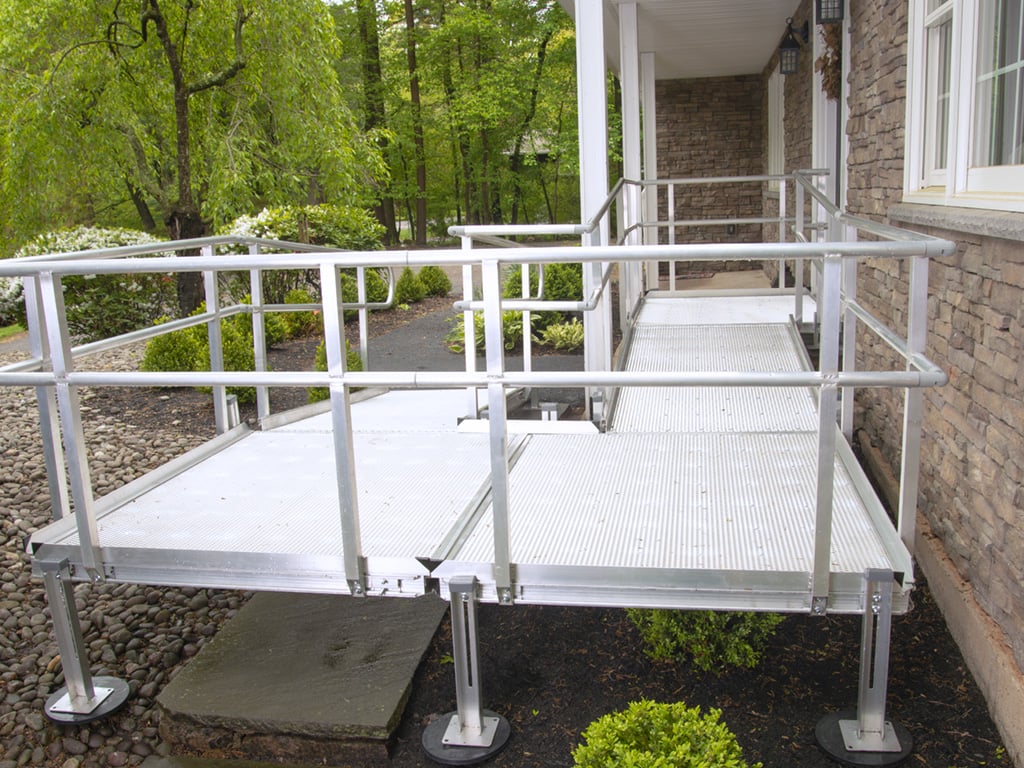 What is a Switchback Ramp?
A switchback ramp design is one of the numerous configurations you can choose from. Its ramps alternate at 180-degree turns, allowing you to ascend landings and elevated spaces safely. Whether you're a caregiver, designer or seeking your own mobility solution, switchback ramps offer the utility, flexibility and safety you need.
Why Buy Switchback Wheelchair Ramps?
When thinking about ramps, a straight layout may be the first to come to mind, but many spaces call for a smaller ramp. At National Ramp, we strive to accommodate every home and need. Our switchback wheelchair ramps are:
Efficient: A ramp with a switchback can turn without using more space, letting you maximize your ramping and get where you need to be. This configuration is best for small or tight living areas or places with higher slopes.
Versatile: From apartments to private homes, switchback ramps can work in many situations. Choose from multiple lengths and materials like aluminum or steel to suit your requirements or preferences.
Universal: Building policies and regulations may vary based on your location. This layout meets all ADA switchback ramp requirements, making it easier to enjoy freedom right away.
Switchback Ramp Features
Any accessibility ramp should offer security, comfort and value. Our switchback ramps come with many life-enhancing perks, such as:
Resting points: Safety is paramount when navigating higher or elevated spaces. Switchback ramps have platforms between every gentle slope, giving you the chance to rejuvenate before continuing. This quality makes home access safer for everyone, whether you're using a wheelchair or transporting furniture.
Continuous handrails: Handrails provide a sturdy gripping surface for those who need or want extra support. You can count on your ramp's continuous guardrails to guide you from your door to wherever you want to go.
Non-slip surface: You'll have a reliable accessway in any weather, thanks to our ramps' high-traction, non-slip surfaces. Our open-mesh aluminum and steel options let precipitation drain through, while our pressure-treated wood style has ample spacing for drainage and natural contraction and expansion.
Choose National Ramp for Quality Switchback Ramps
National Ramp's mission is to deliver an outstanding customer experience every time. If you need a ramp with a switchback, choose us for:
Fast installations: You want to be independent, active and mobile at all times. After submitting an inquiry, we'll install your ramp as soon as possible — typically within 48 hours!
Modular products: As your needs change, our modular ramps can adapt. You can easily install a ramp, alter its configuration, repair damages or remove it at your convenience.
Extensive industry experience: With over 30 years of experience, National Ramp has the motivation and expertise to help you live your best life. Our caring experts can walk you through the buying process.
Testimonials
We're about helping people get to where they want to be.
National Ramp is proud to serve our clients. We deliver the highest quality products with professional service. It's our goal to provide you with the freedom to live a life you love. Learn more about our wheelchair ramps for sale today!
Installed 2 days after first contact. Arrived on time 2 competent installers. Glad I called this company.
GEORGE

New York
Great to work with. Ultimately a stair lift made more sense than a ramp. They connected me with National Seating and Mobility. Would recommend National Ramp.
ADAM

Maryland
Can't say enough about Nation Ramp. My mother did not want a ramp so we had to sneak the installation when she was out. Art worked with me on all the details his #1 priority …
RICK

Connecticut
Ramp looks great better than I expected. The installer was great. It's going to make life easier for me and my wife.
MICHAEL

New York
This has been an unmitigated success which has made our life a great deal easier, it is unobtrusive, elegant and very sturdy. Neighbors have been so impressed that they have stopped to photograph and inquire. …
D.S.

CANADA
Thank you very much for setting me up with this install. It was excellent! The product was amazing, very strong and supportive – We were very impressed!
J.E.

ONTARIO
The product looks great, install even quicker than first quoted. Price was fair and payment was easy. I'm very pleased and will recommend.
K.K.

ILLINOIS
Good quality at a fair price.
M.R.

MICHIGAN
We love our ramp. It is modern and sleek looking, does not compromise the curb appeal of our home. It functions very well so we can get our son and our guests easily into the …
C.S.

CONNECTICUT
They not only showed up on time but they installed the ramp in the rain because it was an emergency. Thanks
J.P.

MARYLAND
I am very happy with your quality, price and ease of installation.
B.C.

CONNECTICUT
The ramp has been an enormous help for me to get my husband out of the house and to our car safely for doctor appointments.
M.H.

OHIO
Working with the distributor went really well. I got my new ramp installed today, and I am very happy with the service.
A.H.

PENNSYLVANIA
Thank you for reaching out and for all your help. Everything went perfectly! It was important that we had a quick turnaround and you made it happen. My brother and I are extremely happy …
C.F.

PENNSYLVANIA
The ramp has been finished and is sooo great. The installation was one day. The staff was personable and put up with my questions and supervision. Lol. Haven't used the ramp yet but I will …
M.M.

ARIZONA
After two days and using the ramp in my garage, I realize how this ramp will help me with my walker. My balance is bad, and with the heart problem I have in the last …
L.N.

ARKANSAS
They were very helpful and met my every need on short notice. Well done by all.
J.W.

NORTH CAROLINA
Excellent quality, well-designed modular installation.
P.F.

VIRGINA
I would like to thank you on our recent purchase of a handicap ramp. You were very accommodating as to completing the installation in a timely fashion. Your assistance and knowledge of product made this …
J.L.

NEW YORK
I wanted to let you know that I was very pleased with the National Ramp Product. It went together very well, and I thought it had a lot of strengths compared to other products.
S.J.

NEW YORK
National Ramp's steel ramping system is the best around for power wheelchair users. They don't allow slipping with the new more powerful chairs.
G.T.

PENNSYLVANIA