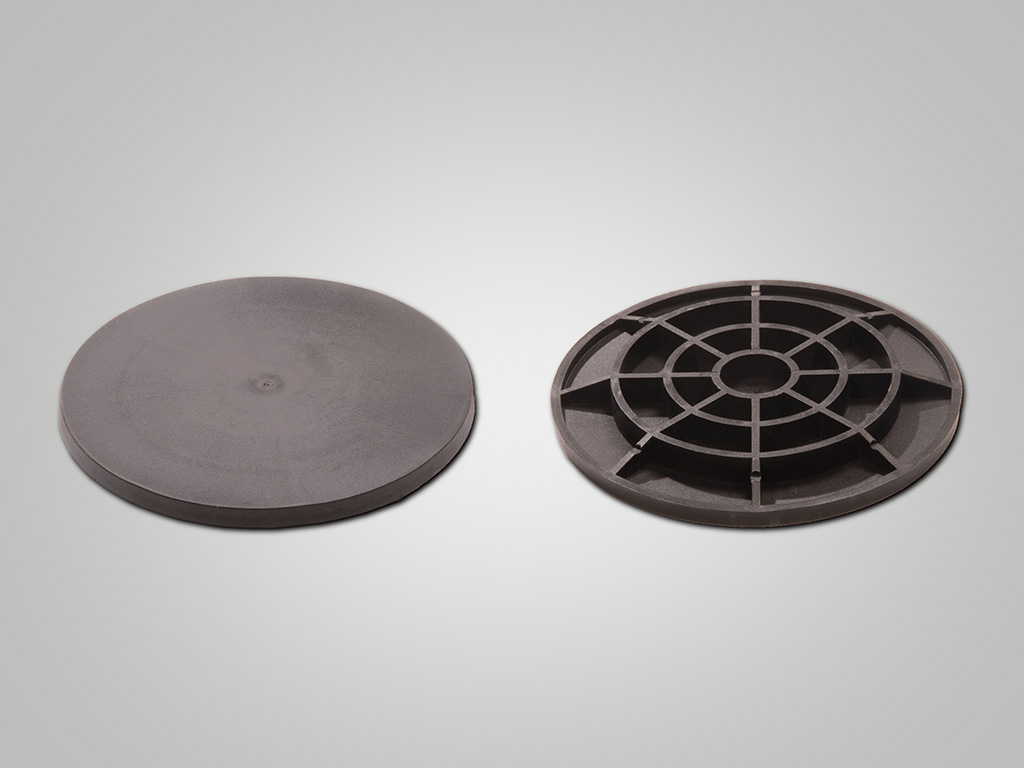 Enhance Your Quality Of Life
At National Ramp, we pride ourselves on enhancing your quality of life and giving you freedom now. Bolster your ramp system's safety and functionality with one of our dual-sided footer pads. They're the perfect patio block alternative and addition to your new or existing ramp installation.
Reasons You'll Love A Footer Pad For Your Wheelchair Ramps
Whether you've just chosen a ramp style or already have one in place, footer pads can improve your everyday travel even more making your ramp legs even more secure. Our customers love landing pads for their:
Safety: Footer pads stabilize the modular ramp and prevent it from sinking in soft surfaces. If your ramp layout ends in grass or dirt, landing pads will create an even surface for smooth transitions to and from your home.
Ease of use: Quick and easy to install, your ramp pads are ready for action right away. Simply slide them under each ramp leg and press down to confirm they're secure.
Low impact: Depending on your location, you may have building or local regulations to follow. Footer pads' simple assembly enhances your ramp without making significant changes to your yard or residence.
Aesthetic appeal: Wheelchair ramp pads are both functional and stylish — their sleek, professional appearance fits in with any ramp style and home exterior.
Footer Pad Features Complement Modular Ramps
Whatever your mobility needs, National Ramp's products can accommodate them. Our wheelchair ramps pair well with landing pads:
Dual-sided: Footer pads feature two sides to fit multiple surface types. Their ribbed sides provide a firm grip in softer areas like dirt or grass, while the smooth sides create stability on concrete or asphalt. The smoother face also prevents ramp legs from scratching the surfaces they sit on.
No adhesives or fasteners: Enjoy more freedom and safety instantly thanks to these ready-to-use pads. Since they're adhesive and fastener-free, footer pads keep your floors and yards as impeccable as always.
Lightweight: Want or need to change your ramp system? You can easily move or remove your landing pads as necessary, letting you tailor your mobility solution anytime.
Why National Ramp Is The Best Footer Pad Supplier
National Ramp is your source for all your ramp needs. When you choose National Ramp, you can:
Save time and money: We want you to start living your best life as soon as possible and at the right cost. Our wheelchair ramp landing pads can be shipped with your new ramp installation, saving you money and commute time.
Receive a personalized customer experience: Whether you need a second opinion or have a question about our products, we're happy to help. Our friendly professionals will walk you through the entire purchase process to ensure you receive your desired results.
Get industry-leading products: National Ramp has served customers like you for over three decades. From open-mesh designs to modular ramp footer pads, we're your top pick for the latest and most reliable mobility solutions.
GET ON YOUR PATH TO FREEDOM TODAY!
You deserve comfort, safety and freedom at home. At National Ramp, we pride ourselves on helping you and your loved ones regain and preserve your independence. You'll enjoy flexibility and mobility in no time thanks to our quick installations, caring team, and vast range of styles and options to accommodate your specific needs and budget. Your wheelchair ramp could be ready as soon as the next day. Why wait? Give us a call at 877-782-0412 or contact us online to get started!