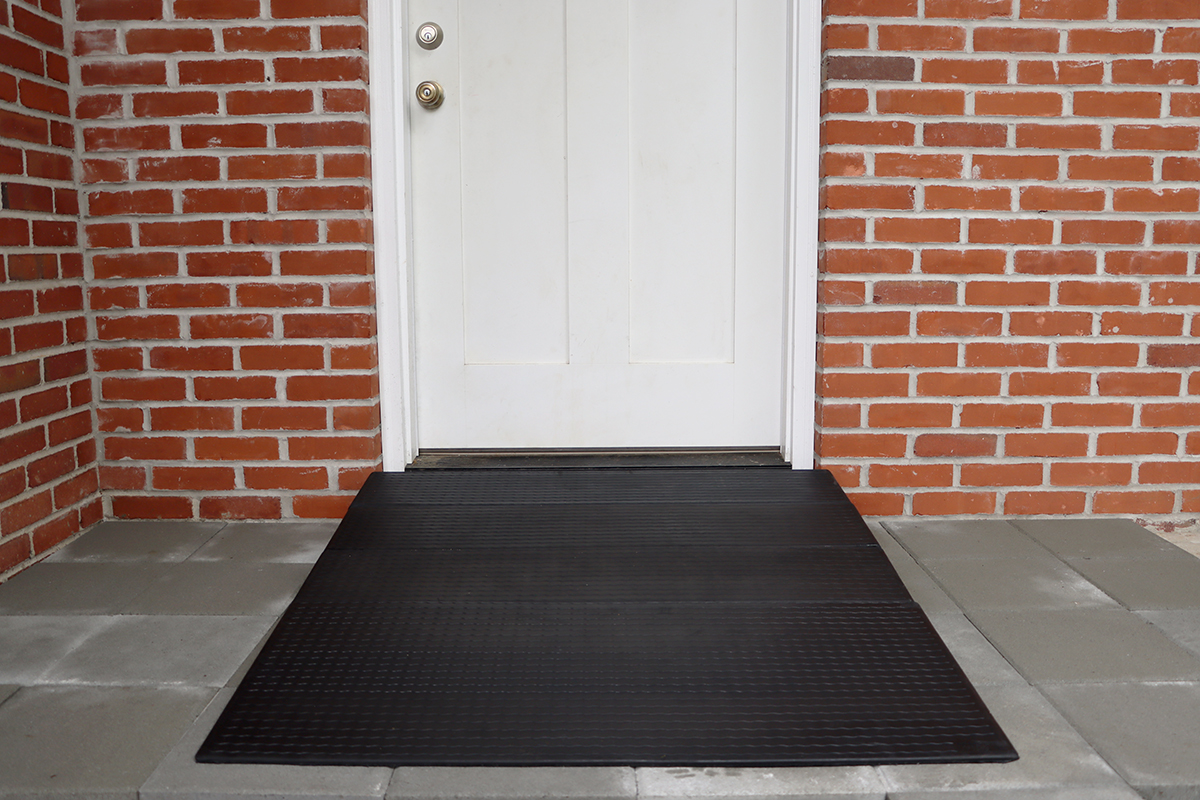 The Approach SeriesTM
Customized Rubber Threshold Ramps
The Approach Series allows you to have a customized rubber threshold ramp wherever you need it, inside or outside your home. These 42" wide rubber ramps are available in ½", 1", 1½", and 2" heights. For additional heights, extension kits allow you to customize your rubber ramp up to 5" tall. It's a whole new approach to threshold ramps. These rubber ramps are nearly indestructible for years of supportive access to prevent falls.
Rubber Threshold Ramps for Wheelchairs
Rubber wheelchair ramps provide the support and safety you need for a comfortable, accessible home. Whether you use them as a standalone solution or in tandem with larger ramps, they'll help you live life the way you want. National Ramp offers affordable rubber threshold ramps for any home and budget.
Why You Need A Rubber Threshold Ramp
As a caregiver or direct user, you want the most value out of your investment. Rubber threshold ramps offer numerous benefits for the whole family:
More freedom and independence: Small rubber threshold ramps make navigating your residence a breeze. They'll help you stay active, mobile and independent for years to come.
Versatility: You can use rubber ramps for doorways, landings and other small elevations both inside and outside your home. With four height options to choose from, you'll have a smooth transition at every entry and exit point.
Reliable long-term usage: Our rubber doorway ramps are durable and portable. You can count on them for many productive, enjoyable years and to meet your mobility needs even if they change.
Enhanced convenience: Ramps make life easier and safer for everyone. From everyday travel to transporting groceries and equipment, our ramps can transform your home for the better.
Threshold Ramp Features That Give You Freedom Now
At National Ramp, we do more than help you live your life again. Our rubber ramps come with multiple features for improved safety, flexibility and convenience:
Easy installation: Install rubber threshold ramps without adhesives or fasteners, saving you time and money and giving you instant freedom. This seamless installation method also prevents scratches, residue marks and other blemishes.
Lightweight: You can easily adjust or move your ramp anytime. A lightweight ramp also works well as a temporary and reusable option. As your accessibility needs change, your ramp can change with you.
Non-scratch: Made of 100% rubber, these ramps give you more independence while protecting your floors. Even if you move them, adhesive-free ramps leave your surfaces as flawless as they were before.
Customizable: Want additional support? Supplement your rubber ramps with accessories like footer pads, anti-slip mats or glow-in-the-dark tape.
Reasons to Buy Ramps for Doorways
Getting a high-quality and dependable mobility solution is easy with National Ramp. We ensure an exceptional customer experience from start to finish thanks to our:
Client-focused process: Whether you're selecting a ramp or preparing to install one, our local experts will guide you through every step. We go the extra mile to make sure our products and services meet your needs.
Service speed: You should always feel comfortable in your home. That's why we respond to inquiries and concerns quickly — your ramp could be ready to go as soon as the next day.
Years of experience: We have over 30 years of industry experience, meaning you can trust us to give you the best solutions and knowledgeable guidance.
Testimonials
We're about helping people get to where they want to be.
National Ramp is proud to serve our clients. We deliver the highest quality products with professional service. It's our goal to provide you with the freedom to live a life you love. Learn more about our wheelchair ramps for sale today!
Installed 2 days after first contact. Arrived on time 2 competent installers. Glad I called this company.
GEORGE

New York
Great to work with. Ultimately a stair lift made more sense than a ramp. They connected me with National Seating and Mobility. Would recommend National Ramp.
ADAM

Maryland
Can't say enough about Nation Ramp. My mother did not want a ramp so we had to sneak the installation when she was out. Art worked with me on all the details his #1 priority …
RICK

Connecticut
Ramp looks great better than I expected. The installer was great. It's going to make life easier for me and my wife.
MICHAEL

New York
This has been an unmitigated success which has made our life a great deal easier, it is unobtrusive, elegant and very sturdy. Neighbors have been so impressed that they have stopped to photograph and inquire. …
D.S.

CANADA
Thank you very much for setting me up with this install. It was excellent! The product was amazing, very strong and supportive – We were very impressed!
J.E.

ONTARIO
The product looks great, install even quicker than first quoted. Price was fair and payment was easy. I'm very pleased and will recommend.
K.K.

ILLINOIS
Good quality at a fair price.
M.R.

MICHIGAN
We love our ramp. It is modern and sleek looking, does not compromise the curb appeal of our home. It functions very well so we can get our son and our guests easily into the …
C.S.

CONNECTICUT
They not only showed up on time but they installed the ramp in the rain because it was an emergency. Thanks
J.P.

MARYLAND
I am very happy with your quality, price and ease of installation.
B.C.

CONNECTICUT
The ramp has been an enormous help for me to get my husband out of the house and to our car safely for doctor appointments.
M.H.

OHIO
Working with the distributor went really well. I got my new ramp installed today, and I am very happy with the service.
A.H.

PENNSYLVANIA
Thank you for reaching out and for all your help. Everything went perfectly! It was important that we had a quick turnaround and you made it happen. My brother and I are extremely happy …
C.F.

PENNSYLVANIA
The ramp has been finished and is sooo great. The installation was one day. The staff was personable and put up with my questions and supervision. Lol. Haven't used the ramp yet but I will …
M.M.

ARIZONA
After two days and using the ramp in my garage, I realize how this ramp will help me with my walker. My balance is bad, and with the heart problem I have in the last …
L.N.

ARKANSAS
They were very helpful and met my every need on short notice. Well done by all.
J.W.

NORTH CAROLINA
Excellent quality, well-designed modular installation.
P.F.

VIRGINA
I would like to thank you on our recent purchase of a handicap ramp. You were very accommodating as to completing the installation in a timely fashion. Your assistance and knowledge of product made this …
J.L.

NEW YORK
I wanted to let you know that I was very pleased with the National Ramp Product. It went together very well, and I thought it had a lot of strengths compared to other products.
S.J.

NEW YORK
National Ramp's steel ramping system is the best around for power wheelchair users. They don't allow slipping with the new more powerful chairs.
G.T.

PENNSYLVANIA