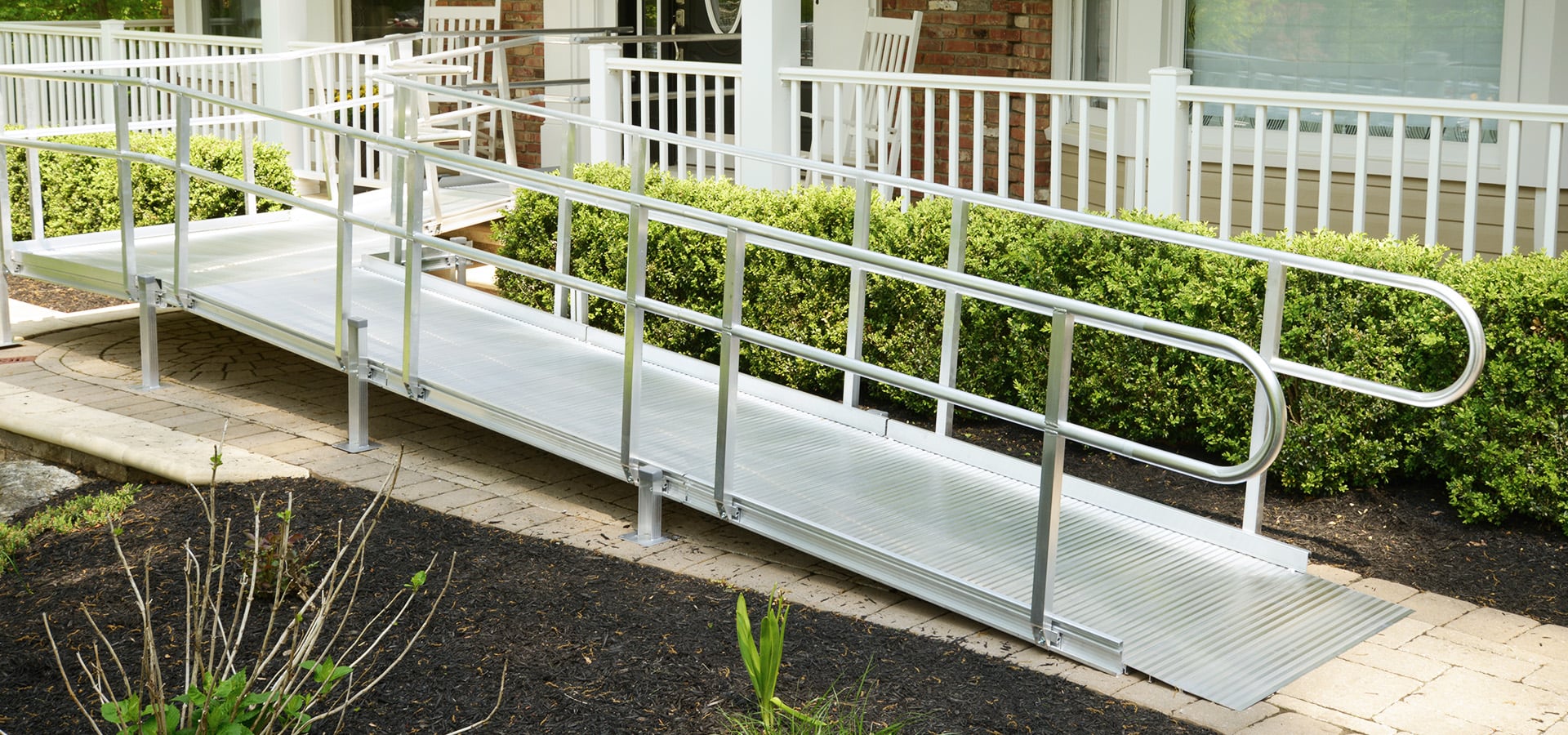 Choosing a ramp is a big decision that shouldn't be taken lightly. You may be interested in the benefits between a permanent ramp (either wood or concrete) and the modular ramps offered by National Ramp. Here are some reasons why a modular ramp may be a better fit for you.
Layout flexibility
We sometimes compare our modular ramp design to a child's building block toy. With various differently-sized pieces to choose from, a child can create almost anything imaginable.
For National Ramp, the variety of platforms and ramp lengths we manufacture allow us to create a layout as straightforward or complicated as needed to fit your home. We can configure the ramp to go around HVAC units and gas meters or avoid septic tanks and landscaping. We can even create a layout that connects multiple doors to the same ramp.
Permanent ramps may not offer that level of flexibility, especially not with ease.
Speed
A modular ramp takes, on average, a few hours to install. After the final tightening and safety checks, the ramp is ready for full use. There's no setting/drying time like with a concrete ramp. There's no multi-day process like with a permanent wooden ramp. Everything is done at once.
Not only does a one-day installation allow you to use a modular ramp quicker, but you won't be paying for a week's worth of labor.
A permit may not be required
The need for a permit is specific to the town that you live in, so while there is no guarantee that your ramp won't require a permit, modular ramps, on average, require permits at a lower rate than permanent ramps. Not only does this affect your total cost, but it also saves on the time needed for your ramp.
Fewer weather delays
Only the heaviest winds or harshest precipitation will delay a modular ramp install. As the ramp components are already manufactured, there's nothing to cure or set, so unfavorable weather is more inconvenient than a hindrance.
Your installer can address any specific weather-related concerns you may have.
On-Site Adjustments
National Ramp's modular ramp lines offer a bit of flexibility if issues come up during the installation. In most cases, installers can adjust for a hole in the ground or tree stump by moving a leg, changing a leg height, or even with slight layout changes. These small inconveniences can be resolved during the installation appointment, adding minimal time to the ramp installation.
Permanent ramps do not offer the same flexibility, which can delay when your ramp is usable.
Change Your Mind, Change Your Ramp
Once you start to live with your ramp and use it to go about your day, you may decide that something isn't quite working for you. Or maybe your needs have changed, and you need the ramp to start from a different door. Our installers can easily reconfigure your modular ramp.
A permanent ramp? Not so easy to change your mind or correct any issues without your ramp being out of commission for a long time. That then puts pressure on you to make sure a permanent ramp layout will meet your exact current and future needs and for the installation to go perfectly, as there isn't as much room for adjustment.
Easy and cost-efficient fixes
Sometimes ramps face damage. A bad storm can knock a tree onto the ramp, a riding lawnmower can strike a leg out of position, — we've even seen a ramp damaged by the owner's goats (really!). These unexpected events do happen.
If your modular ramp is damaged, we only need to replace the damaged materials, allowing for a more cost-effective and time-sensitive repair.
If a permanent ramp is damaged or needs fixes, the ramp may need to be entirely rebuilt, making the repairs both costly and time-consuming.
What goes up must come down
If a modular ramp is no longer needed or wanted, an installer can easily remove it with minimal impact to the property. It's also possible to move the ramp to a new home.
A concrete ramp can't be removed without a lot of work. A wooden ramp with concrete-anchored legs can't be removed without a lot of work.
A modular ramp by National Ramp offers stability once assembled but layout flexibility that can save you money and, most importantly – time.