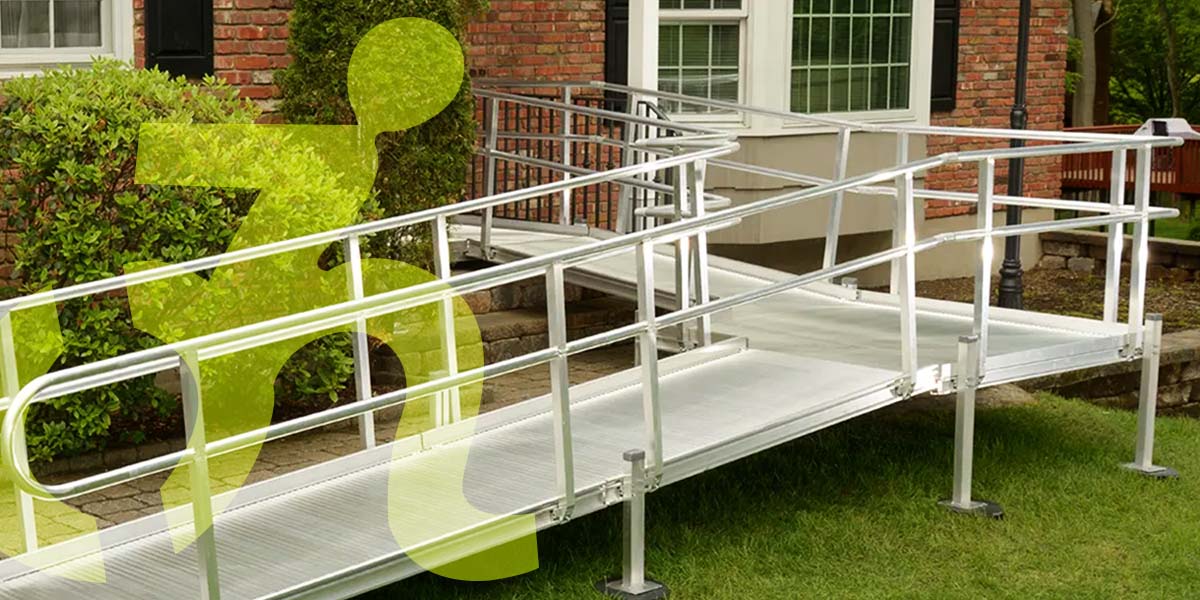 Ramps help people with mobility devices travel smoothly and comfortably. They reduce hazards like slipping, tripping or falling, letting people who use wheelchairs, scooters, canes and walkers enter and exit buildings safely.
While ramps in public facilities must follow specific standards, homeowners and private property owners aren't bound by those guidelines. However, following recommended measurements, dimensions and materials can help keep you and other users safe.
Explore the U.S. ramp accessibility codes in this guide to learn how you can incorporate building safety regulations into your home wheelchair ramp!
In This Article
How Does the ADA Regulate Wheelchair Ramp Laws?
The Americans with Disabilities Act (ADA) prohibits discrimination against people with disabilities in virtually all areas, including public accommodations. Naturally, building and curb ramp accessibility falls under this broad umbrella.
The ADA has stringent guidelines for ramp measurements and ratios that all businesses and commercial spaces must follow to optimize safety and accessibility. These standards outline every component of a ramp, including its:
Slope and rise.
Landings.
Usable width and length.
Handrails.
Surfaces.
Handrails and edge protection.
Are There U.S. Requirements for Building Home Wheelchair Ramps?
Since homes aren't public areas, your residential ramp isn't required to follow ADA codes. However, following the same standards when installing a ramp can help improve your home's accessibility for anyone using a mobility device.
Why Is ADA Compliance for Ramps Important?
Stairs and curb edges can pose hazards to people with mobility challenges. The ADA enforces ramp building codes to prevent people from experiencing situations like:
Falling out of wheelchairs and scooters.
Tripping while using a walker or cane.
Being unable to access a facility due to an unaccommodating travel route.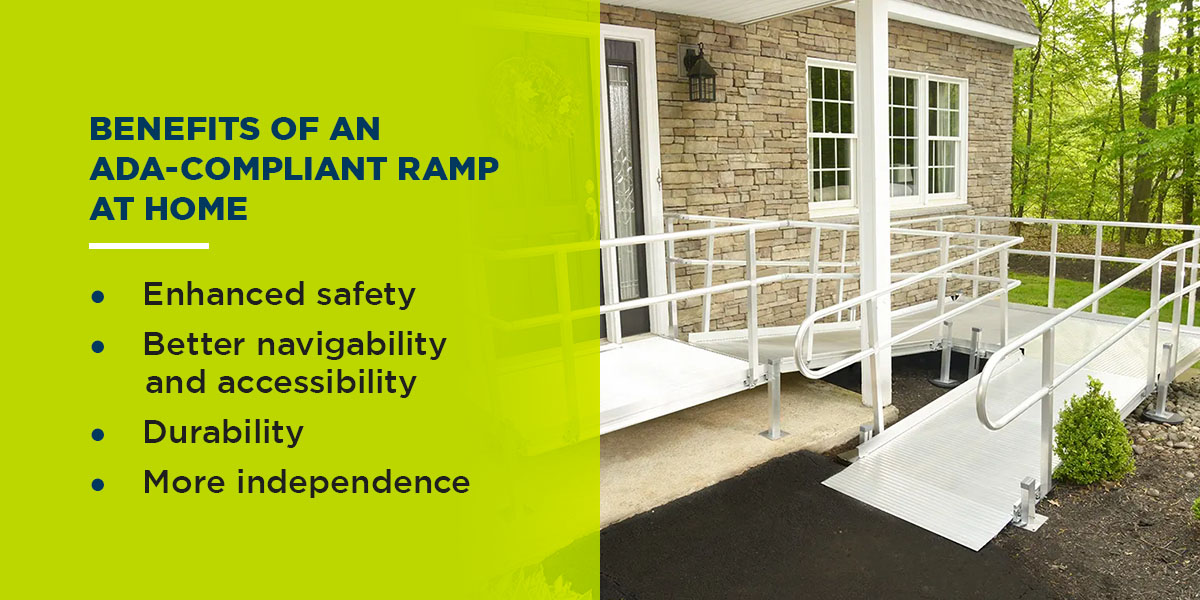 Benefits of an ADA-Compliant Ramp at Home
Following the ADA's requirements for public ramps when installing a ramp in your residential space will let you enjoy the same benefits. When a ramp adheres to ADA standards, it provides you with:
Enhanced safety: A high-quality ramp reduces injury risk by providing a flat surface to travel across, letting you avoid tripping hazards like stairs and uneven ground.
Better navigability and accessibility: ADA-compliant ramps ensure enough room for people using mobility devices like wheelchairs, scooters and canes to navigate comfortably, safely and seamlessly. Even people who don't use these devices can benefit from this easier travel route — you may have a guest or family member who has difficulty with stairs or needs temporary crutches. Making it easier for people to enter can make them feel more welcome in your home.
Durability: ADA-compliant ramps are typically constructed from sturdy, weatherproof materials such as aluminum and steel. That way, they can withstand the harsh elements and offer accessibility for years to come.
More independence: If you use a mobility device, a secure ramp lets you enter and exit your home without having to rely on a friend, family member or caregiver. You can safely use the ramp on your own, letting you retain your independence and control.
What Are the ADA's Standards for Building Ramps?
You can view the full commercial ramp codes on the ADA's website. However, if you want to integrate ADA building guidelines into your home wheelchair ramp, here are the basic requirements to be aware of before starting your project. Let's dive in!
1. Surfaces
ADA-compliant ramps are durable and slip-resistant to ensure user safety:
Durable: The ramp remains stable when you apply force and the surface resists denting and other forms of wear.
Slip-resistant: The ramp offers ample friction so you can move safely across the surface.
Any openings in a ramp's surface are too small for a half-inch sphere to pass through. If the openings are elongated, the long dimension is perpendicular to the direction of user travel.
An ADA-compliant residential ramp's surface will be at least 36 inches wide. If you're installing a bariatric ramp, you'll want a surface width of at least 48 inches. You'll want to keep these dimensions in mind when installing your handrails, as the clear width will fall between them.
2. Slopes
An ADA-compliant ramp has several slope requirements:
Minimum surface slope ratio: A ramp's minimum surface ratio is 1:20 — in other words, it raises 1 inch for every 20 inches in length. Anything below this ratio is considered a standard walking surface.
Maximum surface slope ratio in new buildings: The maximum slope for an ADA-compliant ramp in new buildings is 1:12.
Maximum slope ratio in existing buildings: In existing buildings with space limitations preventing ratio compliance, a ramp with a total rise of 6 inches or less has a maximum slope ratio of 1:10. If the total rise doesn't exceed 3 inches, the maximum slope ratio is 1:8.
Cross slope ratio: A ramp's cross slope — the slope running perpendicular to the direction of travel — has a maximum ratio of 1:50.
A maximum slope ratio of 1:12 — 1 foot of ramp for every 12 inches of vertical rise — will let you align your residential ramp with ADA standards that enhance mobility device accessibility in your home.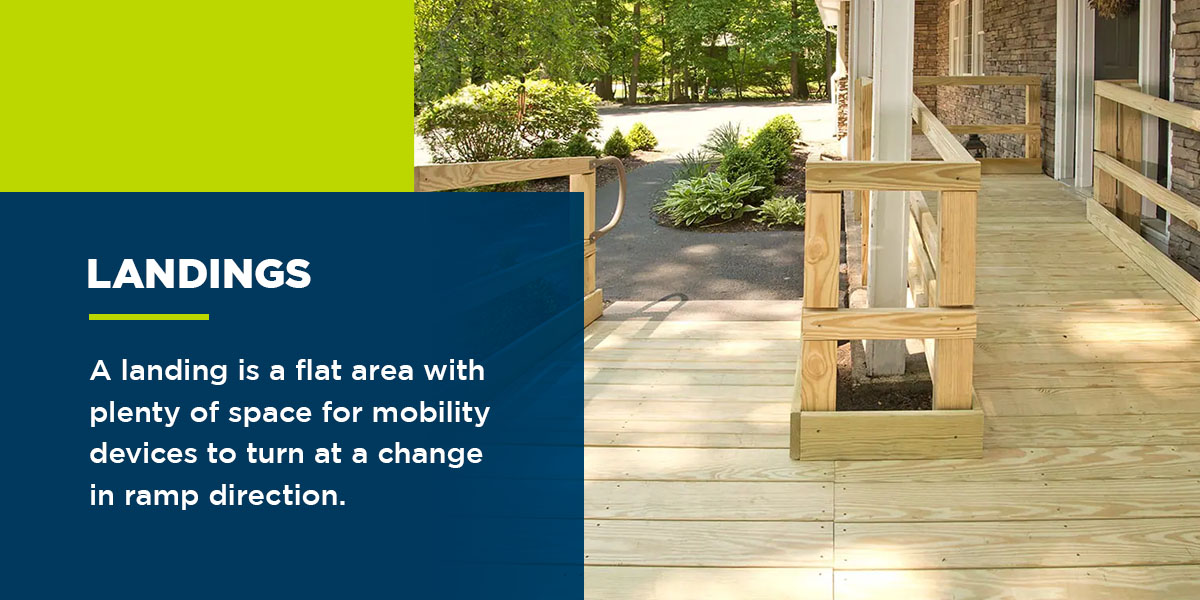 3. Landings
A landing is a flat area with plenty of space for mobility devices to turn at a change in ramp direction. ADA-compliant ramps have a landing at the top and bottom. They also have a minimum rise of 30 inches, meaning they include a landing for every 30 inches of height. A ramp also can't run longer than 30 consecutive feet without a rest or turn platform.
ADA-compliant landings have a minimum width matching the ramps leading to them and a minimum length of 60 inches. If the ramp changes direction at a landing, the landing needs a clear width and length of at least 60 inches by 60 inches.
Some ramps with compound slopes don't have level landings at directional changes. For example, curved and circular ramps continually change direction. These ramps don't comply with ADA regulations and aren't considered safe or practical for wheelchair use. A level landing is necessary at the door to enable maneuverability and door operation.
Ensuring your ramp includes adequate landings will make it safer and easier for people using mobility devices to enter or exit your home.
4. Handrails and Edge Protection
ADA-compliant public ramps and landings with drop-offs include walls, railings, curbs or other projecting surfaces. Ramps with a rise that exceeds 6 inches or a horizontal projection above 72 inches have handrails on both sides.
ADA handrails include the following features:
Present along both sides of ramp segments
Continuous handrails on switchback or dogleg ramps
Noncontinuous handrails extending at least 12 inches beyond the ramp segment's top and bottom, parallel with the ground or floor surface
Clear space of 38 millimeters between the wall and handrail
Top of handrail gripping surfaces mounted between 34-38 inches above ramp surfaces
Continuous gripping surfaces
Ends of handrails rounded or returned smoothly to the floor, post or wall
Handrails resisting rotation within their fittings
They also include some form of curb or barrier less than four inches above the floor, ground or ramp surface. Most ramps achieve this with a bottom rail to reinforce the existing handrail.
ADA standards for edges and handrails prevent people from slipping and falling off the edge of the ramp. You can imagine they're pretty important for residential ramps, as well!
5. Doorways
Where a commercial ramp landing is adjacent to a doorway, it follows the ADA maneuvering clearance standards for doors. These clearances allow ample space between doorways and ramp landings. If you want to incorporate the appropriate clearance into your ramp and doorway, here are some of the requirements:
Pull-style door approached from the front: The minimum maneuvering clearance perpendicular to the doorway is 60 inches, while the clearance parallel to the doorway is 18 inches.
Push-style door approached from the side hinge: The minimum maneuvering clearance perpendicular to the doorway is 42 inches, while the clearance parallel to the doorway is 22 inches.
Pull-style door approached from the latch side: The minimum maneuvering clearance perpendicular to the doorway is 48 inches, while the clearance parallel to the doorway is 24 inches.
6. Outdoor Conditions
The ADA requires outdoor ramps — especially those subject to rain and wet conditions — to include design elements that prevent water from accumulating on surfaces. These features allow precipitation to drain through the ramp's surface, preventing water from collecting and causing unnecessary slips. You can ensure your home ramp meets this standard by using open-mesh designs and high-quality construction materials like aluminum, steel and pressure-treated wood.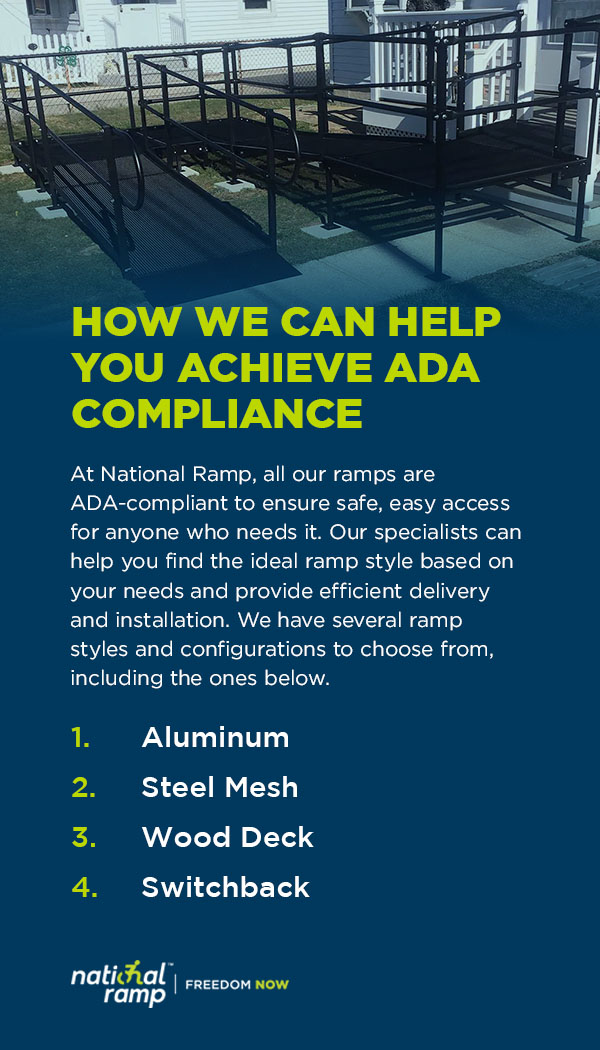 How We Can Help You Achieve ADA Compliance
At National Ramp, all our ramps are ADA-compliant to ensure safe, easy access for anyone who needs it. Our specialists can help you find the ideal ramp style based on your needs and provide efficient delivery and installation.
We have several ramp styles and configurations to choose from, including the ones below. Whichever one you select, you can rest assured it's up to ADA code!
Aluminum
Our aluminum ramps are highly durable and corrosion-resistant and will serve you well for years to come! We have a range of aluminum ramps to choose from depending on your needs, including:
Steel Mesh
Our steel wheelchair ramps feature a signature open-mesh design for enhanced mobility, safety and durability — not to mention speedy installations and adjustments! They use powerful powder coating finishes to resist chipping and corrosion, making these ADA-compliant systems a stronger option than painted steel ramps.
Non-slip textured surfaces provide additional safety for users, allowing snow and rain to pass through the mesh. Modular steel mesh ramps are a widely available, customizable and aesthetically pleasing solution for your residential needs.
Wood Deck
Our modular wood deck wheelchair ramps use pressure-treated southern yellow pine, resisting natural wear and tear from the outdoors. Their spaced modular decking facilitates water drainage. We can deliver this system to your location quickly and install it in a matter of hours.
Moreover, you can easily paint or stain this ADA-compliant structure to align with your home's aesthetic while extending the wood's life span. If you prefer a classic wood look and feel over metal, this solution is right up your alley!
Switchback
Our ADA-compliant switchback ramps alternate at 180-degree turns, enabling users to navigate surfaces and ascend landings safely. A switchback ramp can turn without requiring additional space, making it ideal for compact living spaces and higher slopes. It has a platform between each gentle slope, giving users a breather if they need it.
You can choose from several lengths and materials — including aluminum, steel and pressure-treated wood — to suit your unique needs. Continuous handrails offer a durable gripping surface and additional support, while high-traction and non-slip surfaces provide safe traveling for mobility devices.
Both wood and metal switchback options allow precipitation to drain through seamlessly. With incredible versatility and limitless customization opportunities, a switchback ramp may be just the solution you need!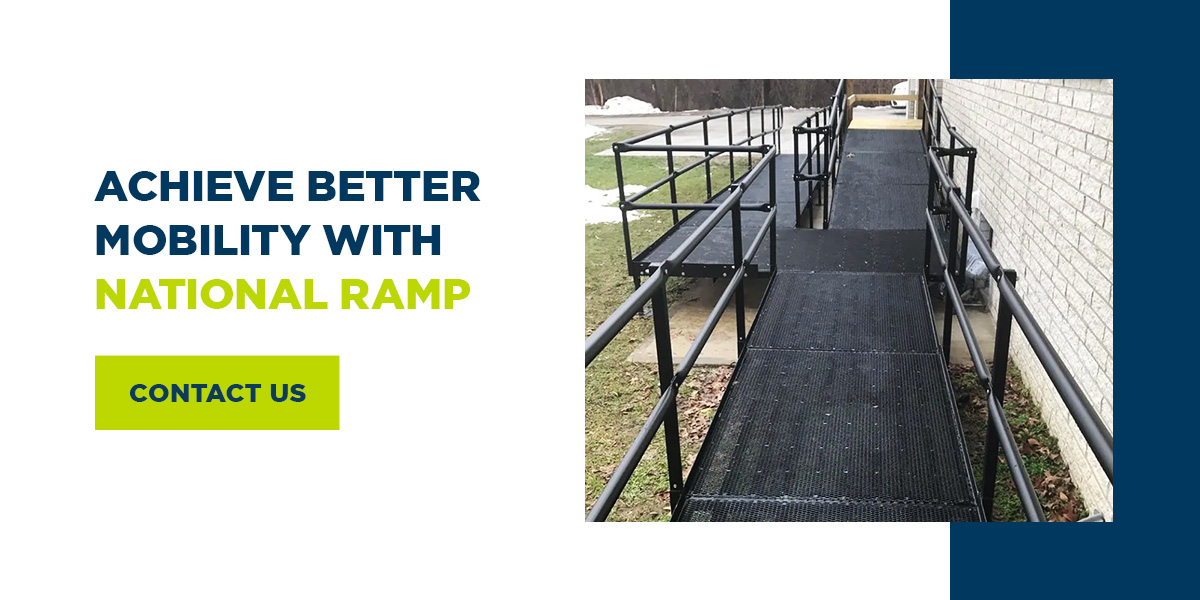 Achieve Better Mobility With National Ramp
Whether you're seeking a mobility solution for yourself or a loved one, National Ramp has you covered! We're passionate about helping everyone achieve the freedom they deserve, and ADA-compliant ramps play a significant role. We have affordable and maintenance-free ramps for every home and need, with high traction, no-slip surfaces and weather protection.
When you turn to National Ramp, you can choose from a variety of materials and styles to suit your aesthetics, budget and mobility needs. We aim to serve every customer with superior service and quick turnaround times. We provide designs and estimates promptly and install most of our systems within 48 hours.
Browse our wide array of ramps to find one that speaks to your needs. Regardless of the ramp you choose, you know you're getting a safe, high-quality system to help you live your life and enjoy your freedom. Contact us online today or call 877-748-5588 so we can help you get started.