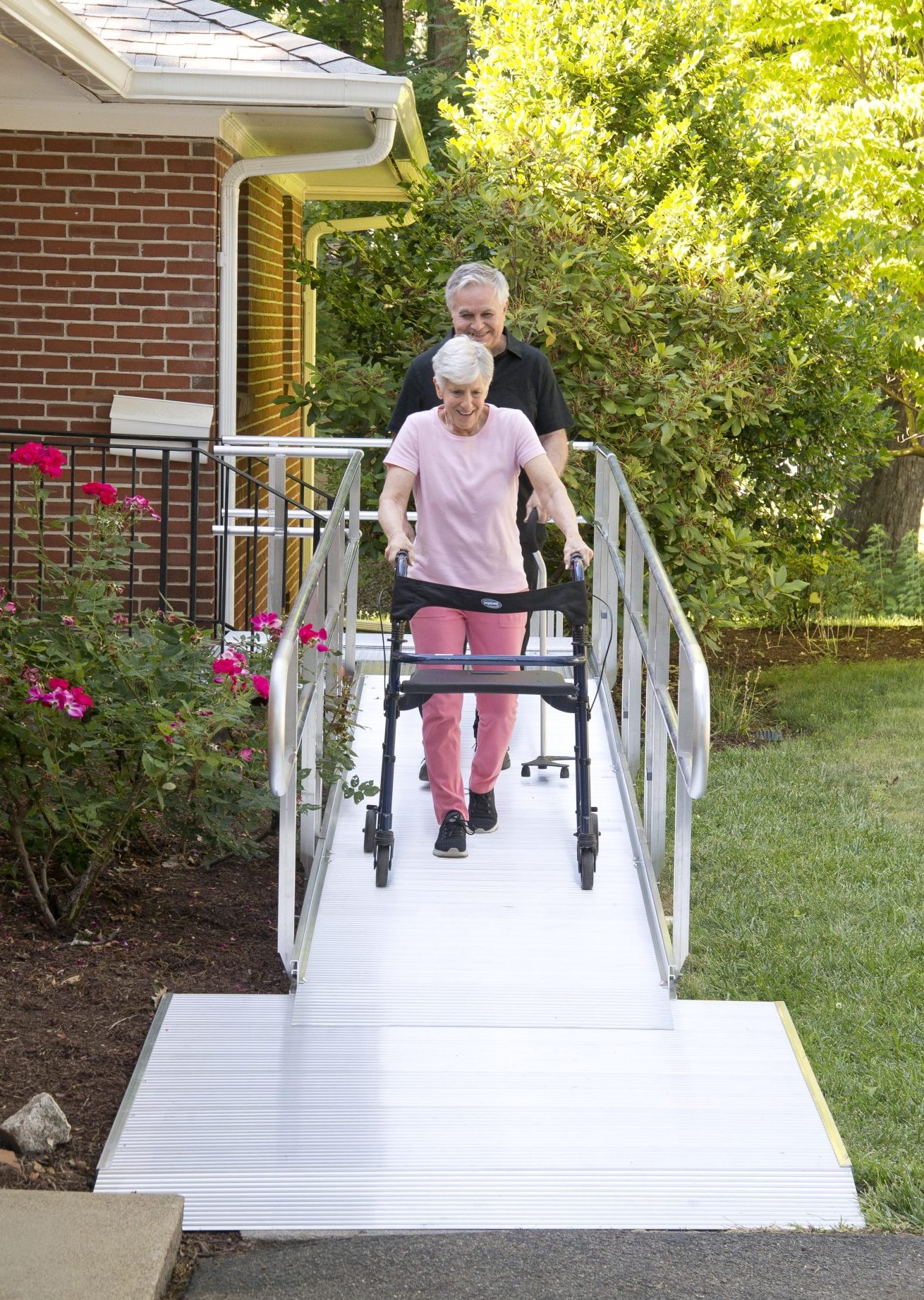 National Ramp Sample Configurations
Ramps can do more than just go straight (although they can do that, too!). With the modular design of National Ramp's residential ramps, you have lots of possibilities to create a layout that works for your property.
During your home evaluation, your certified National Ramp dealer may draw up a design that looks like one of these digital ramp renderings.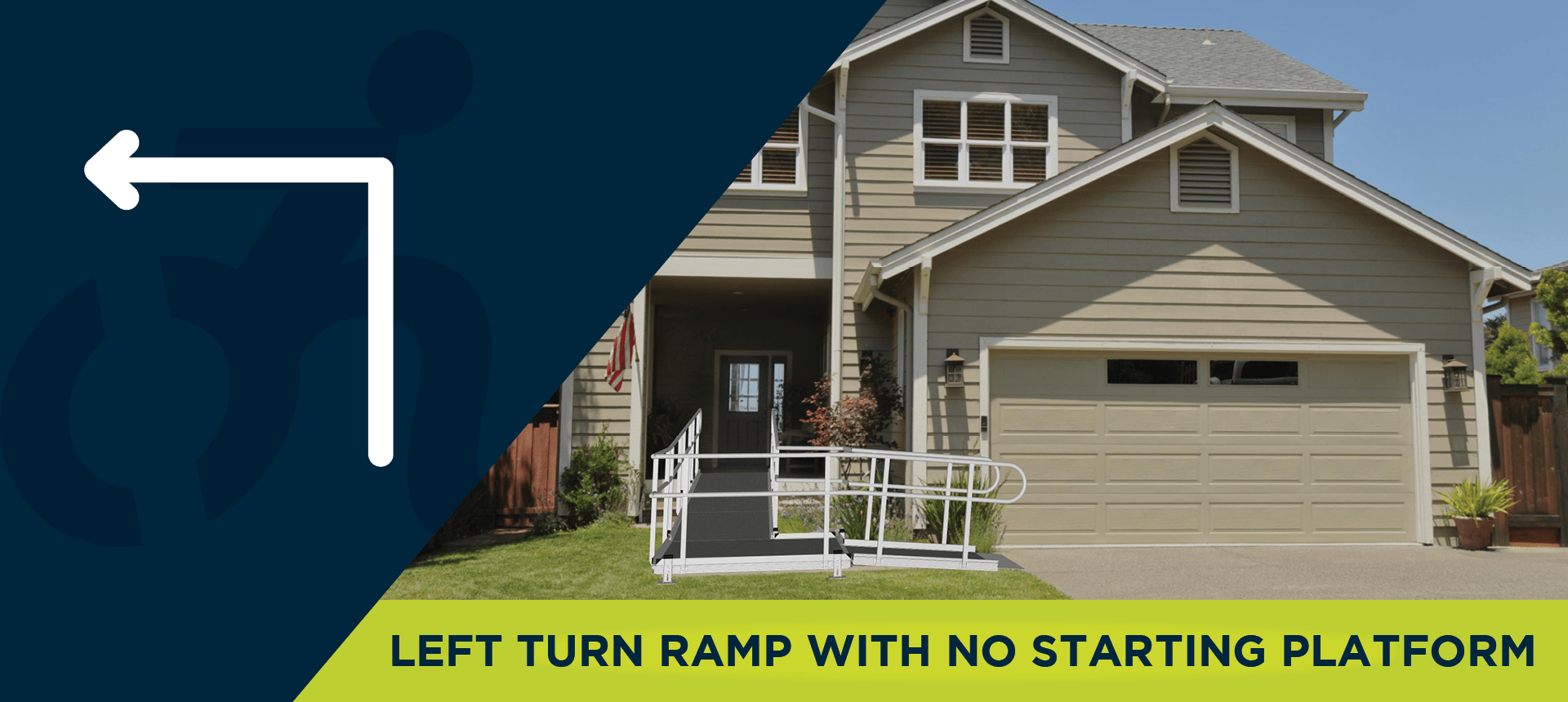 Left Turn Ramp With No Starting Platform
This ramp starts off of a porch, so a starting platform isn't needed, and turns to land on the driveway.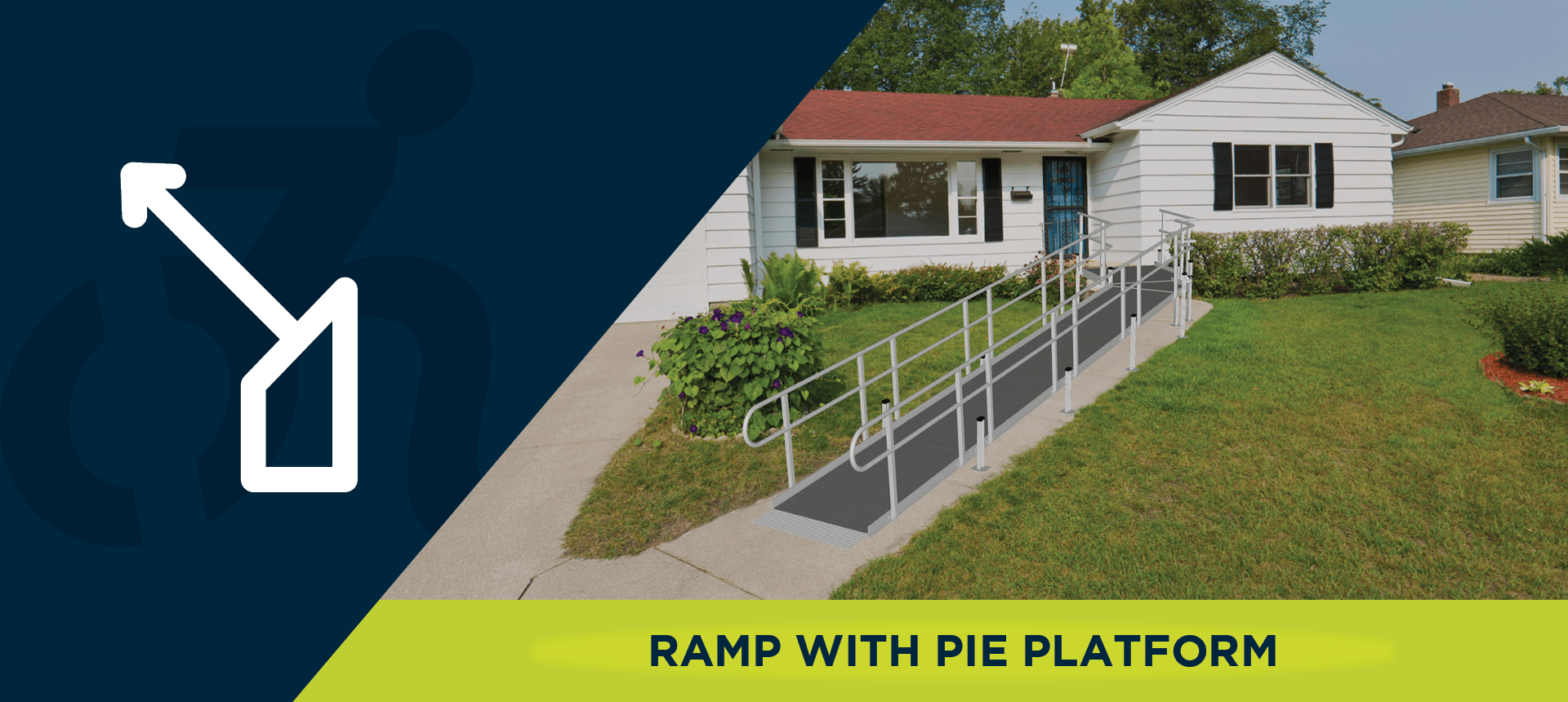 Ramp With A Pie Platform
A pie section turns 45° to keep the ramp following a curved walkway.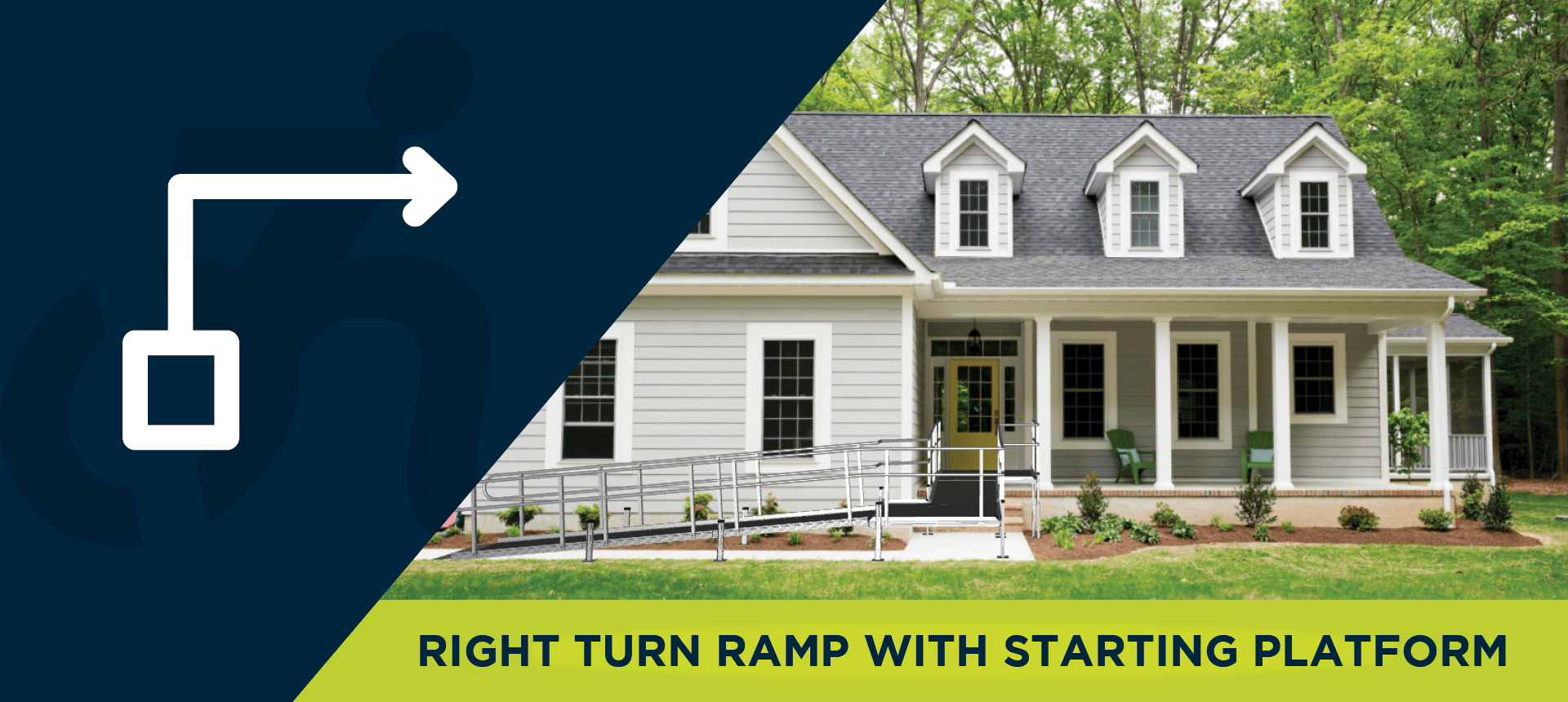 Right Turn Ramp With Starting Platform
When the step at the door is above 6″, we recommend using a starting platform. A gate with a step or an additional ramp section can go off the side of the starting platform to maintain porch access.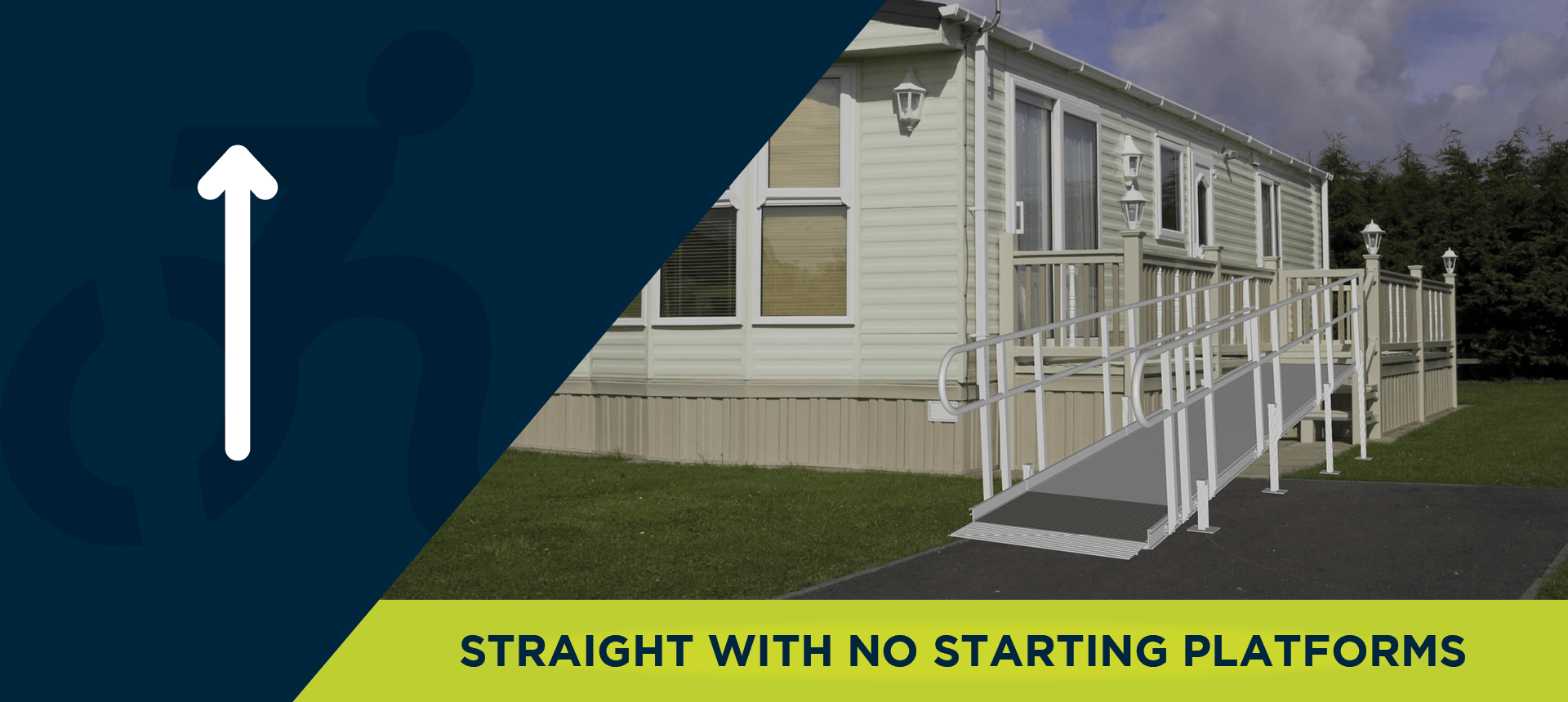 Straight With No Starting Platforms
Ramps are often put onto trailer homes, and can be built off a porch or directly at the door, depending on the existing structure and ramping needed.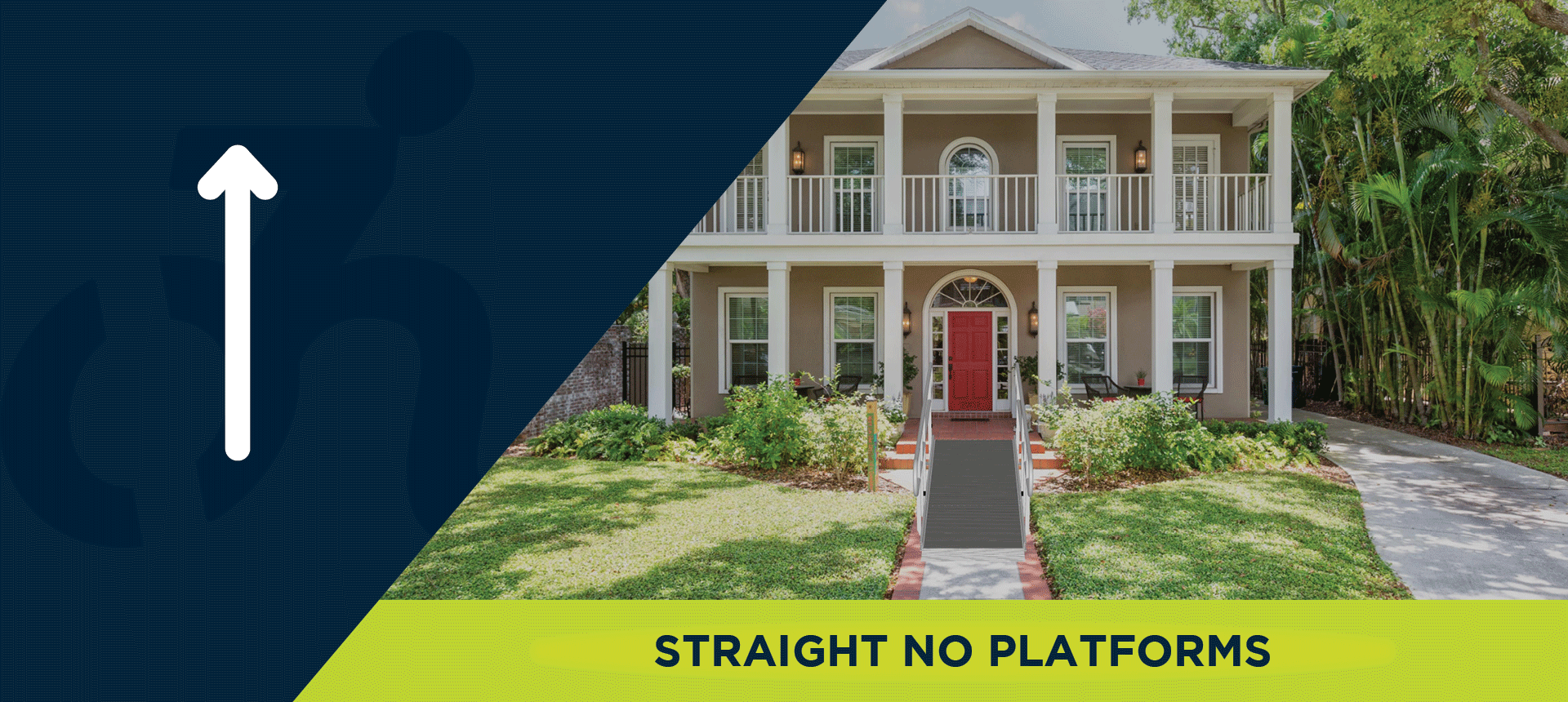 Straight No Platform
This ramp starts off the porch, and a small threshold ramp at the door will maintain porch access while providing step-free access.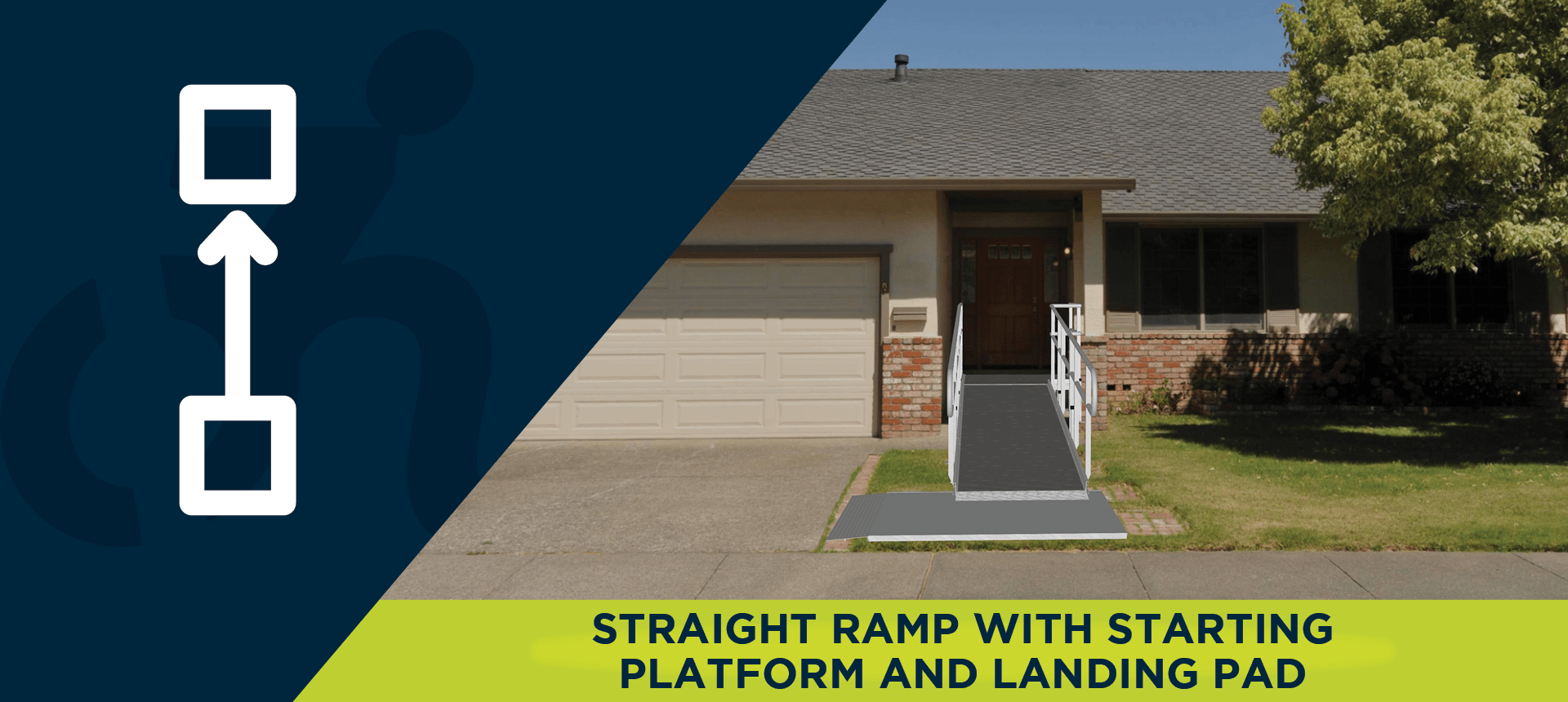 Straight Ramp With Starting Platform And Landing Pad
The Landing pad allows this ramp to turn and land on the hard, level surface.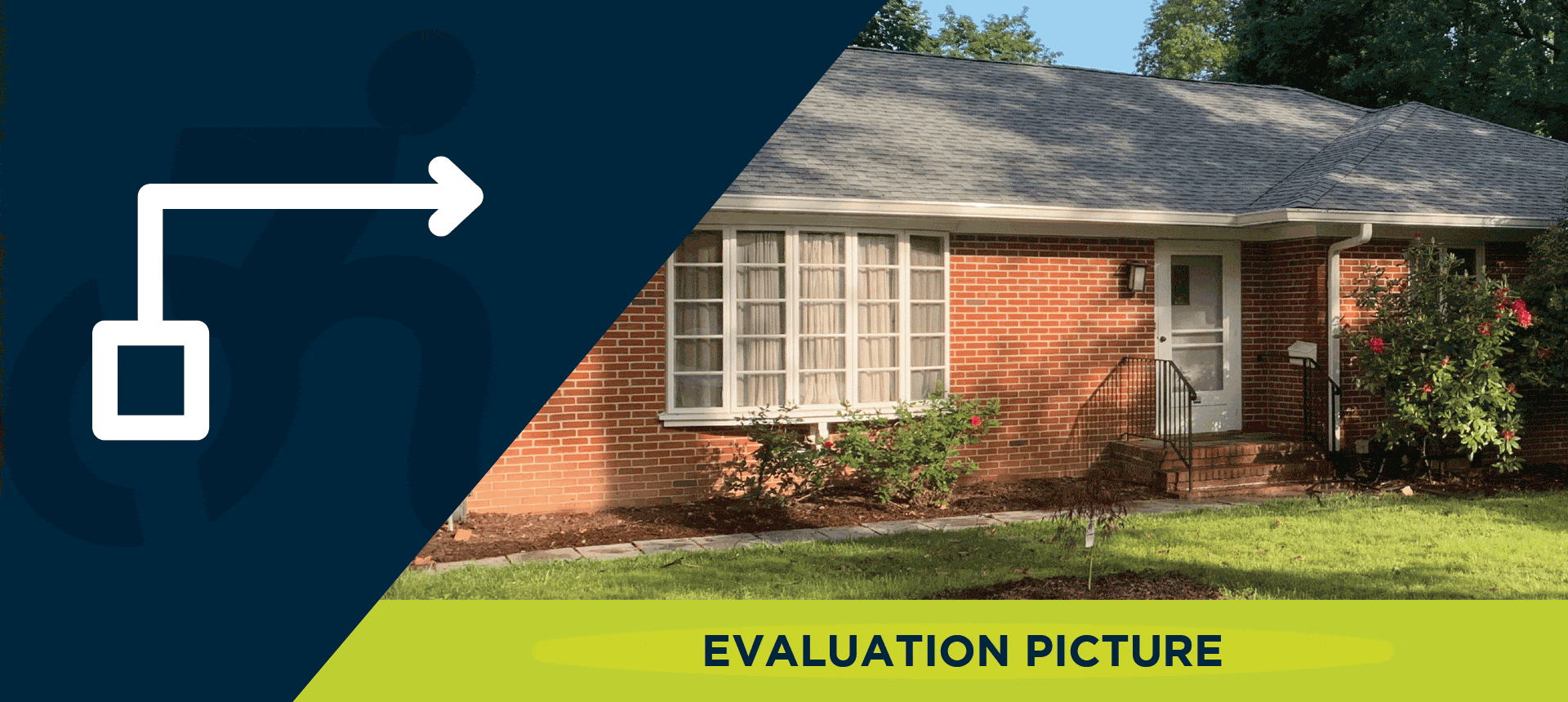 Evaluation Picture, Digital Ramp Rendering, Installed Ramp
A digital ramp rendering can help you fully visualize what the completed ramp will look like.
Residential Handicap Ramp Configuration Factors
Your National Ramp dealer will configure your ramp to fit your residence and mobility needs. Several safety factors will impact the ramp design selected for your home.
1. Degree of Slope
The degree of incline is one of the most important safety factors to consider. The ramp's slope must be appropriate for your home and your mobility. If a ramp is too steep, a person using a wheelchair can slip backward and struggle to move up toward the house.
2. Level Landings
Moving on and off your ramp should be as smooth as possible. The top and bottom landing areas should be easy to access via the ramp, without sudden changes in elevation. Landings can be surfaces already present at your home, like a sidewalk, but may need to be built so that a wheelchair won't tip or drop at the end of the ramp.
3. Surface Material
Factors like the weather will affect the ramp's ideal surface material. Snow or rain can make a ramp slippery, while direct sun may make a surface uncomfortably hot. As such, it's important to consider what surface materials to use when designing a ramp for your home. The ramp's face should give wheelchair users ample traction when ascending and descending. The material selected should be anti-slip and capable of withstanding anticipated weather conditions to ensure the safety and comfort of wheelchair users.
4. Handrails
Handrails help wheelchair users navigate a ramp with ease, as they enable them to pull themselves up along the ramp or out of the chair if necessary. The handrails from National Ramp will be adjusted for the highest levels of user comfort possible, offering stability and the ability to lean on the rails for support.
5. Weight Limits
A vital configuration factor is weight tolerance. A residential ramp needs to be capable of supporting a wheelchair user, their chair and any equipment — like portable oxygen tanks — they may have. Any ramp designed for home use needs to be built carefully and with top-grade materials to ensure safety.
6. Length and Width
The incline of your ramp is essential, as are factors like length and width. Ideally, residential ramps span less than 30 feet between landings, ensuring a resting area for people using manual mobility devices. The mobility equipment you use may impact the width of your ramp, as a motorized device might need a wider ramp than a manual wheelchair.
7. Space
Residential ramps require ample space for a safe, secure configuration. Factors such as landing area, height, length, width and ramp shape are essential when designing a ramp for your home.
Get On Your Path To Freedom Today!
You deserve comfort, safety and freedom at home. At National Ramp, we pride ourselves on helping you and your loved ones regain and preserve your independence. You'll enjoy flexibility and mobility in no time thanks to our quick installations, caring team, and vast range of styles and options to accommodate your specific needs and budget. Your wheelchair ramp could be ready as soon as the next day. Why wait? Give us a call at 877-748-5588 or by completing our online form to get started!
Contact Us Call us now for your
free evaluation 877-748-5588