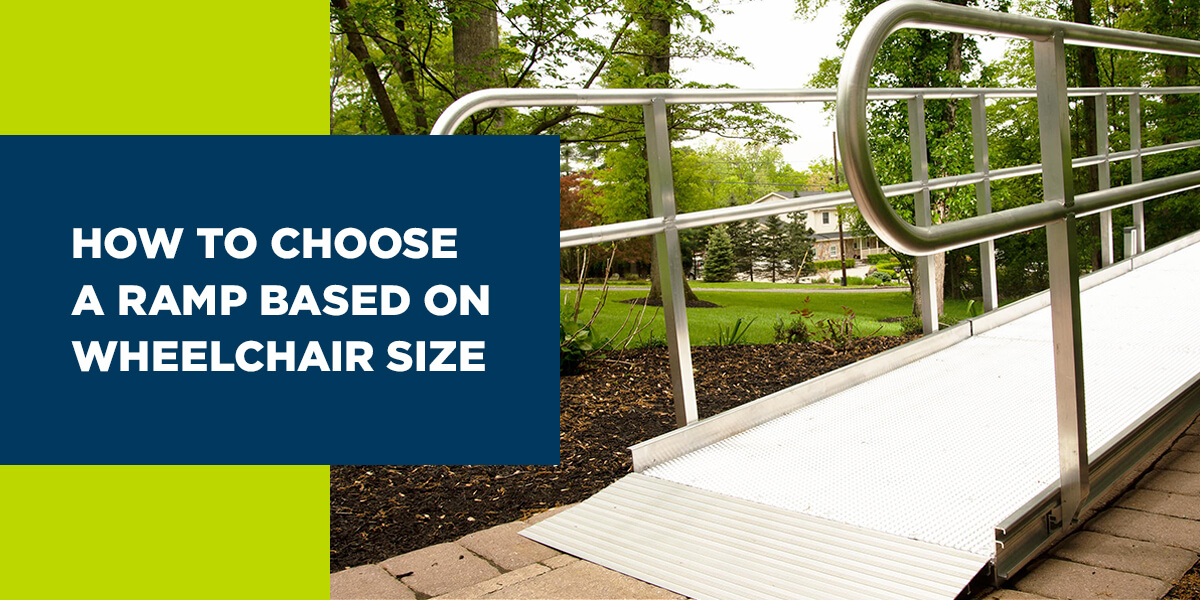 When you, a loved one or someone in your care needs a mobility device, they must make modifications to their homes so they're more comfortable and accessible. One vital modification is a wheelchair ramp. Today, there are many types of ramps available to fit different needs. While this gives you more options, it can make it challenging to decide which is best for you or your loved one.
Luckily, there are a few different factors you can consider to narrow your options. One of the best ways to choose a wheelchair ramp is by considering the size of your mobility device.
In This Article:
How Do I Know What Size Wheelchair Ramp I Need?
The Americans with Disabilities Act (ADA) has requirements about wheelchair ramp lengths and widths. These specifications ensure that the ramps are safe. According to the ADA, a ramp must be one foot long for every inch of rise or step height. Additionally, the ramps must be a minimum of 36 inches wide between handrails.
However, depending on your needs, you may wish for your ramp to be longer or wider. For instance, you want the ramp to be wide enough to accommodate your mobility device and have space on each side, but you may also want the ramp to be wide enough for two people to walk next to each other.
Factors to Consider When Choosing a Wheelchair Ramp
There are many factors you should consider when choosing a wheelchair ramp, including:
Where do you need the ramp: There are various ramps for numerous locations. Threshold ramps are an excellent choice for doorways, folding ramps are for steps and raised landings, and solid ramps are long ramps that make it easier to enter and exit your home.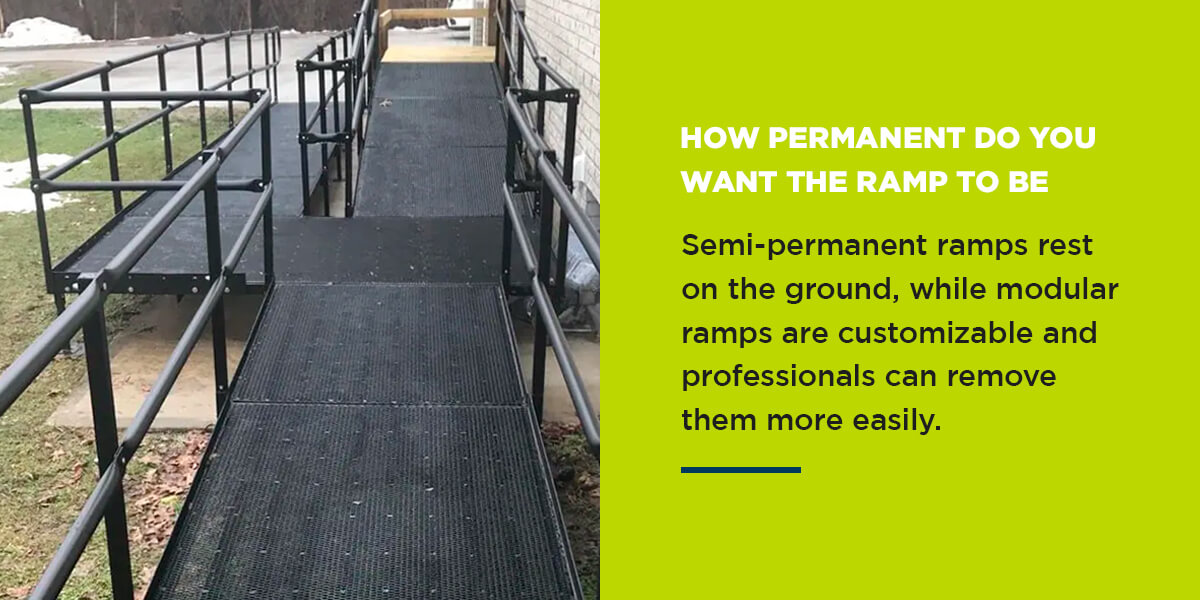 How permanent do you want the ramp to be: Ramps can be permanent and anchored to the ground, but they can also be semi-permanent or modular. Semi-permanent ramps rest on the ground, while modular ramps are customizable and professionals can remove them more easily. Modular and semi-permanent ramps benefit people who won't use their mobility device for very long or plan to move from their current residence. Permanent ramps are for people who need the ramp for a long time. They are usually aluminum or wooden.
What weight capacity do you need: Wheelchair ramps can be standard or bariatric. Most standard ramps support up to 1,000 pounds, but this can vary based on the type of ramp. Consider the weight of your mobility device and additional medical or other assistive equipment to determine what weight capacity your ramp needs to be. Generally, power wheelchair and scooter users require bariatric ramps.
What slope do I need: The slope you need can vary based on your mobility device, the length of your ramp and the rise. Generally, if you ride in a wheelchair or scooter, you need to follow the ADA guidelines of 1 foot of ramp per 1 inch of height. However, if you use a walker or similar mobility device, the slope requirements are different. At National Ramp, we use a slope calculator to determine what slope is necessary for your ramp.
Wheelchair Ramp Types
Here are some of the most common types of ramps and the different mobility devices they can accommodate:
Ramp Materials
Once you know what type of ramp you want, you need to consider the material. The available ramp materials include:
Aluminum: Aluminum ramps are solid, durable and have the highest weight capacity. They naturally resist corrosion, making them an excellent choice for areas with frequent rainfall. There are different types of aluminum ramps to suit your needs.
Wood: Wooden deck ramps are permanent ramps that offer a beautiful look and sturdy construction. These ramps can accommodate standard wheelchairs and similarly sized mobility aids.
Steel: Steel ramps are an option if you are concerned about weather conditions, such as frequent rainfall or snowfall. Steel ramps feature an open-mesh design that doesn't allow rain and snow to collect on the ramp. These accessible ramps with large space are modular and can be different lengths. They are perfect for standard wheelchair and walker users.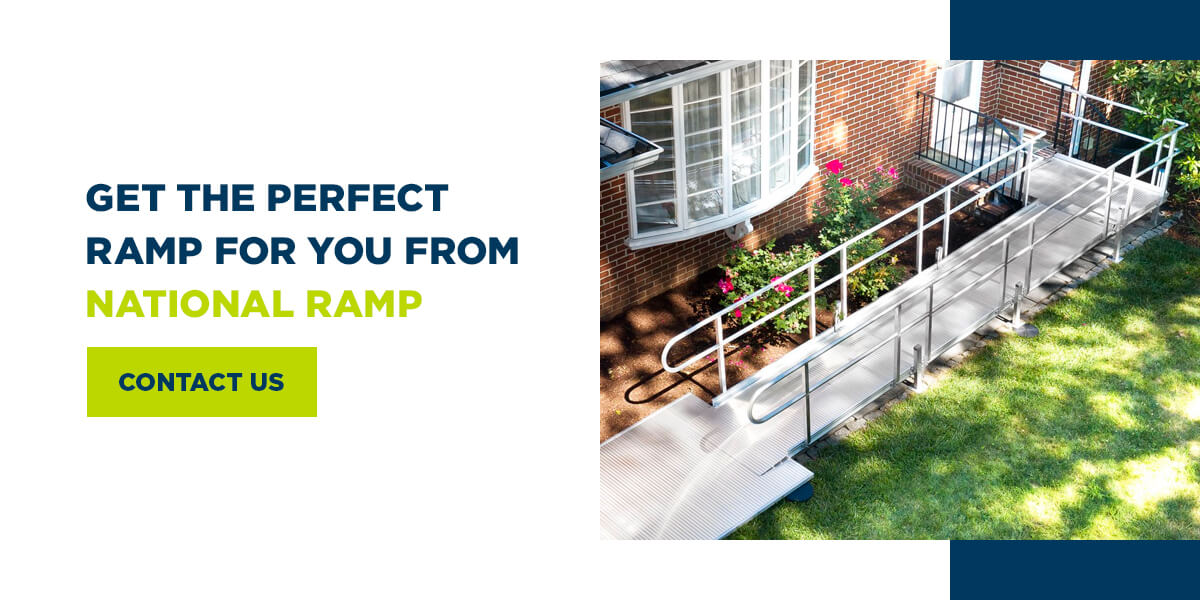 Get the Perfect Ramp for You From National Ramp
No matter what mobility device you use or material you want, National Ramp is certain to have a wheelchair ramp to fit your needs. We have customizable ramp options, so you can choose a style that complements your lifestyle and home. It's our mission to provide freedom now, so all our ramps are ADA-compliant, and we install them in three days or less.
Our team cares about your safety and has over 30 years of experience in the industry. Contact us today to discuss your needs and find the perfect ramp for you.