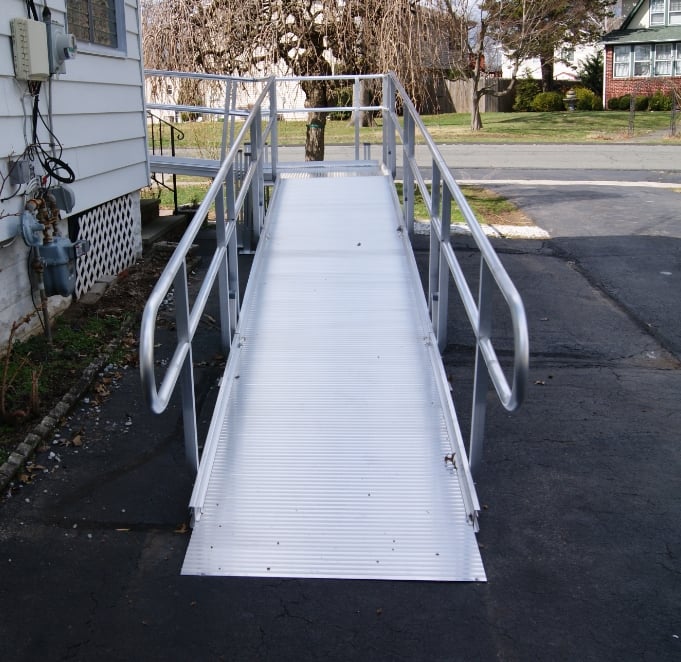 Wheelchair Ramp Calculator
At National Ramp, we pride ourselves on offering personalized ramp solutions to accommodate every need and budget. Whatever your preferences and lifestyle, we have an option for you. Choose from our wide range of modular ramps, including:
We also offer footer pads, anti-slip stair treads and other additional sources of safety and support.
Factors That Impact Your Wheelchair Ramp Estimate
A wheelchair ramp's price can vary depending on your situation, tastes and needs. Some of these factors include:
Estimate Factors
A longer ramp requires more materials, affecting its overall cost. Your door's height determines your ramp's minimum length.
Some ramp materials are more expensive than others. Wheelchair ramps come in numerous styles, each with its own benefits and price points.
While material prices are generally static, the cost of hiring an installer varies depending on where you live.
Your contractor may need to clear obstacles and debris to ensure a proper installation. This additional labor can impact your overall ramp cost.
Most individuals choose to install a single ramp at the main entry point. However, you may prefer or require ramps for every entrance.
You may want or need to invest in ramp safety accessories. These additions, which can give you greater peace of mind, may affect the final price.
Whichever ramp style you choose, you'll receive a maintenance-free, durable and reliable mobility solution from National Ramp.
This has been an unmitigated success which has made our life a great deal easier, it is unobtrusive, elegant and very sturdy. Neighbors have been so impressed that they have stopped to photograph and inquire. …
D.S.

CANADA
Thank you very much for setting me up with this install. It was excellent! The product was amazing, very strong and supportive – We were very impressed!
J.E.

ONTARIO
The product looks great, install even quicker than first quoted. Price was fair and payment was easy. I'm very pleased and will recommend.
K.K.

ILLINOIS
Good quality at a fair price.
M.R.

MICHIGAN
We love our ramp. It is modern and sleek looking, does not compromise the curb appeal of our home. It functions very well so we can get our son and our guests easily into the …
C.S.

CONNECTICUT
They not only showed up on time but they installed the ramp in the rain because it was an emergency. Thanks
J.P.

MARYLAND
I am very happy with your quality, price and ease of installation.
B.C.

CONNECTICUT
The ramp has been an enormous help for me to get my husband out of the house and to our car safely for doctor appointments.
M.H.

OHIO
Working with the distributor went really well. I got my new ramp installed today, and I am very happy with the service.
A.H.

PENNSYLVANIA
Thank you for reaching out and for all your help. Everything went perfectly! It was important that we had a quick turnaround and you made it happen. My brother and I are extremely happy …
C.F.

PENNSYLVANIA
The ramp has been finished and is sooo great. The installation was one day. The staff was personable and put up with my questions and supervision. Lol. Haven't used the ramp yet but I will …
M.M.

ARIZONA
After two days and using the ramp in my garage, I realize how this ramp will help me with my walker. My balance is bad, and with the heart problem I have in the last …
L.N.

ARKANSAS
They were very helpful and met my every need on short notice. Well done by all.
J.W.

NORTH CAROLINA
Excellent quality, well-designed modular installation.
P.F.

VIRGINA
I would like to thank you on our recent purchase of a handicap ramp. You were very accommodating as to completing the installation in a timely fashion. Your assistance and knowledge of product made this …
J.L.

NEW YORK
I wanted to let you know that I was very pleased with the National Ramp Product. It went together very well, and I thought it had a lot of strengths compared to other products.
S.J.

NEW YORK
National Ramp's steel ramping system is the best around for power wheelchair users. They don't allow slipping with the new more powerful chairs.
G.T.

PENNSYLVANIA
Contact National Ramp To Live Your Life Again
Whether you need a wheelchair ramp for yourself or a loved one, National Ramp can meet your needs. We offer personalized, maintenance-free mobility solutions for any home. With a 100% satisfaction guarantee, numerous designs and configurations, and quick installations, you can start living your best life as soon as tomorrow.
Contact Us Call us now for your
free evaluation 877-748-5588