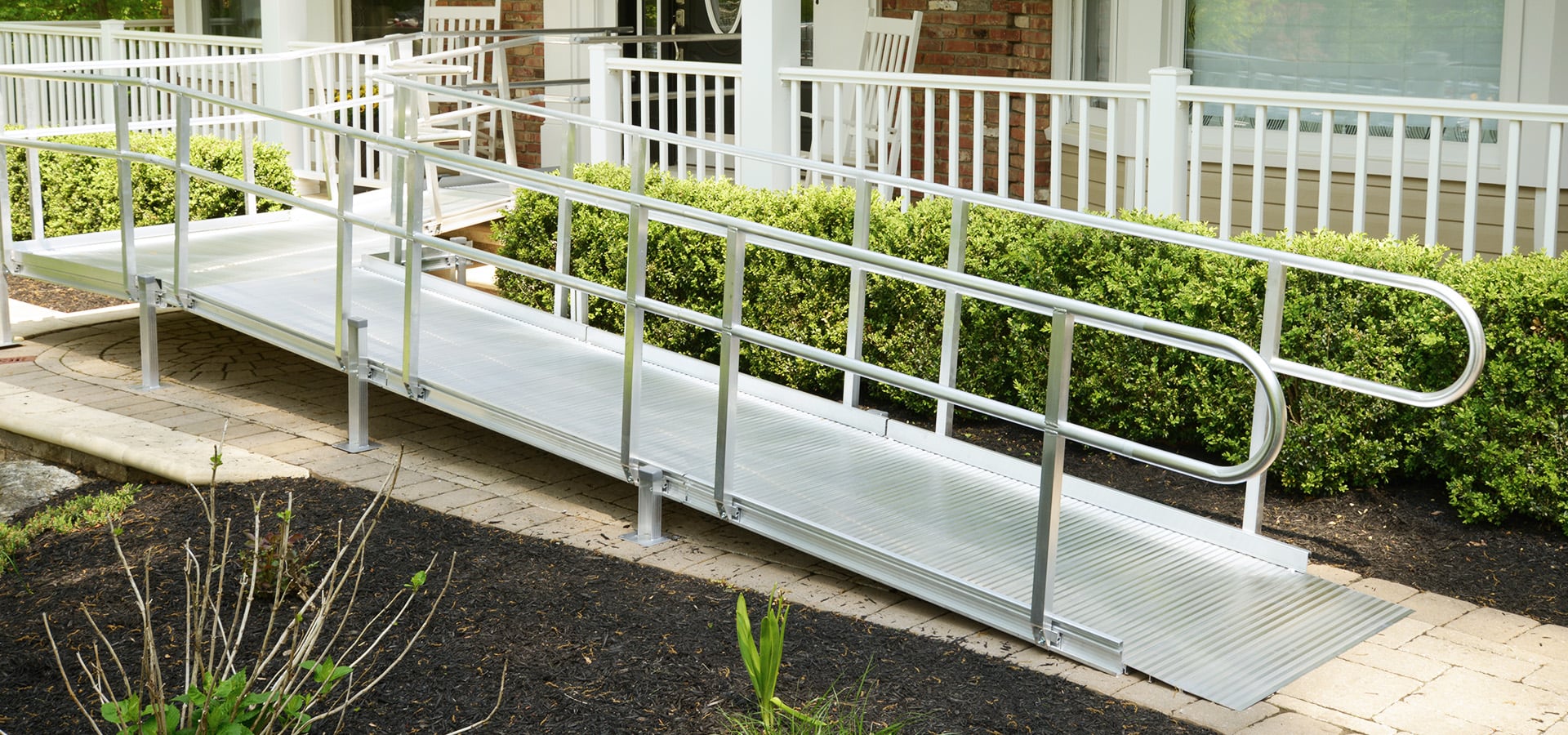 Wheelchair Accessibility Nationwide
With over 2.2 million Americans wheelchair dependent, there is a huge demand for accessibility in public areas and throughout homes across America. Despite this, there are still many public areas across the U.S. that are not wheelchair-friendly, but your home doesn't have to be one of these places.
Handicap-Accessible Home Makeover
While being dependent on a wheelchair comes with its own set of challenges, maneuvering around your home shouldn't have to be yet another one. Your home is your sanctuary, a place to feel comfortable, safe and 100 percent yourself. If you're looking to increase your home's handicap accessibility, these nine simple fixes should help and most medical supply companies are a great place to start the journey:
1. Add Handicap Ramps to All Entrances
First and foremost, you should be able to access the entrances of your home with ease. Most homes across the U.S. are built with sufficient room to accommodate an Americans with Disabilities Act compliant wheelchair ramp. If any of your entranceways aren't wide enough to accommodate a ramp, you may need to consider adding a vertical platform lift at each of these entrances. You'll need to make sure your modular ramps or vertical platform lifts are at least 36 inches wide to accommodate a wheelchair and are fitted with handrails and non-slip surfacing. Portable ramps are also a great solution when going around town.
2. In-home Lifts
An in-home stairway lift is not always necessary, especially if you live in a one-story home. But if your home is a two story, a stairway lift or vertical platform lift will be mandatory for wheelchair accessibility. A stairway lift uses a swivel chair which allows for easy access in and out of the chair at the top and bottom of the stairs. A vertical platform lift is installed beside the staircase and should be wide enough to accommodate a wheelchair. Make sure to look for lift options which will continue to operate if there's a power outage in your home.
3. Consider Flooring and Thresholds
If your home is heavily carpeted, this poses a serious challenge for those in a wheelchair. You may need to reconsider your flooring and switch from carpets to tiles or hardwood flooring. Alternatively, low-pile carpeting would also work well if you live in a colder climate and want to avoid tiling. Thresholds are also worth considering – you will need to look at how accessible your home is from one doorway to the next. Make sure small threshold gaps are filled or add a small threshold ramp if need be.
4. Widen Doorways
Among some of the biggest home amendments, you'll have to consider is the addition of a vertical lift and the widening of all your doorways. Widening your doorways will involve contractor work. Here your doors and frames need to be removed and widened, while the reversal of how a door opens may also be required. Keep in mind that door knobs and handles will also need to be lowered; otherwise, an automatic door opener can also be installed.
5. Rethink Bathroom Accessibility
Bathrooms pose a major obstacle for those dependent on a wheelchair because they tend to be some of the smallest rooms in a home. Bathroom visits are also a challenge because getting into a bath or shower or on and off a toilet can be limiting. This is where you'll need to consider a step-in shower without a threshold—rather than a tradition a bathtub—as well as a shower seat. If you have a bath, you may need to look at an electronically lowered bath seat. You'll also need to install a toilet riser for those who have trouble bending over, standing up or sitting down. These can usually be found at most home improvement stores.
6. Rethink Kitchen Accessibility
The kitchen is another room in your home which can pose several obstacles to those who are wheelchair bound. It's undoubtedly one of the busiest areas of your home, so accessibility is key. You'll need to consider lowering countertops, ensuring appliances are within easy reach and even consider installing under-counter cupboards, where possible. Otherwise, roll-out storage units are also an option. Your sink may additionally need to be modified to allow for a wheelchair to roll under it for easy access. Consider that turning faucets may also be an issue for those with dexterity challenges, this is where lever faucets are a good idea.
7. Install Stability Bars
Stability bars, also known as grab bars, are essential throughout a home with wheelchair accessibility. These stability bars should be installed at all key points throughout your home, including all bathrooms, the kitchen, and even your bedroom beside the bed. Make sure to test the height of these grab bars and ensure they are installed as solidly as possible.
8. Consider the Use of Smart Technology
The use of smart technology for your home may seem like a far-off venture, but it's actually a reality that is specifically designed to help those with disabilities. Modern technology designed for the home can assist with all kinds of control, including door, window, faucet, electrical and appliance management. If you or a loved one suffer from a severe lack of mobility, smart technology could be your answer to far more accessible home.
9. Be Mindful of Furniture Placement
Lastly, don't forget about the existing furniture in your home and how it can pose as another serious obstacle to those in a wheelchair. To allow for easy movement, ensure there's always a minimum of 32-inches between each furniture piece, such as sofas, side tables, and beds. You may also need to raise certain items of furniture to help with comfortable seating, which can be done with furniture coasters.
Get in Touch for Wheelchair Modular Ramps
As you can see, there are numerous factors to consider when making your home more handicap accessible. But it all starts with entering the home. At National Ramp, our specialty is to make your building or home as handicap accessible as possible. If you're looking for aluminum ramps, steel ramps or wooden ramps, we offer this and so much more. Contact us today for more information on how we can help make your life all-the-more accessible.