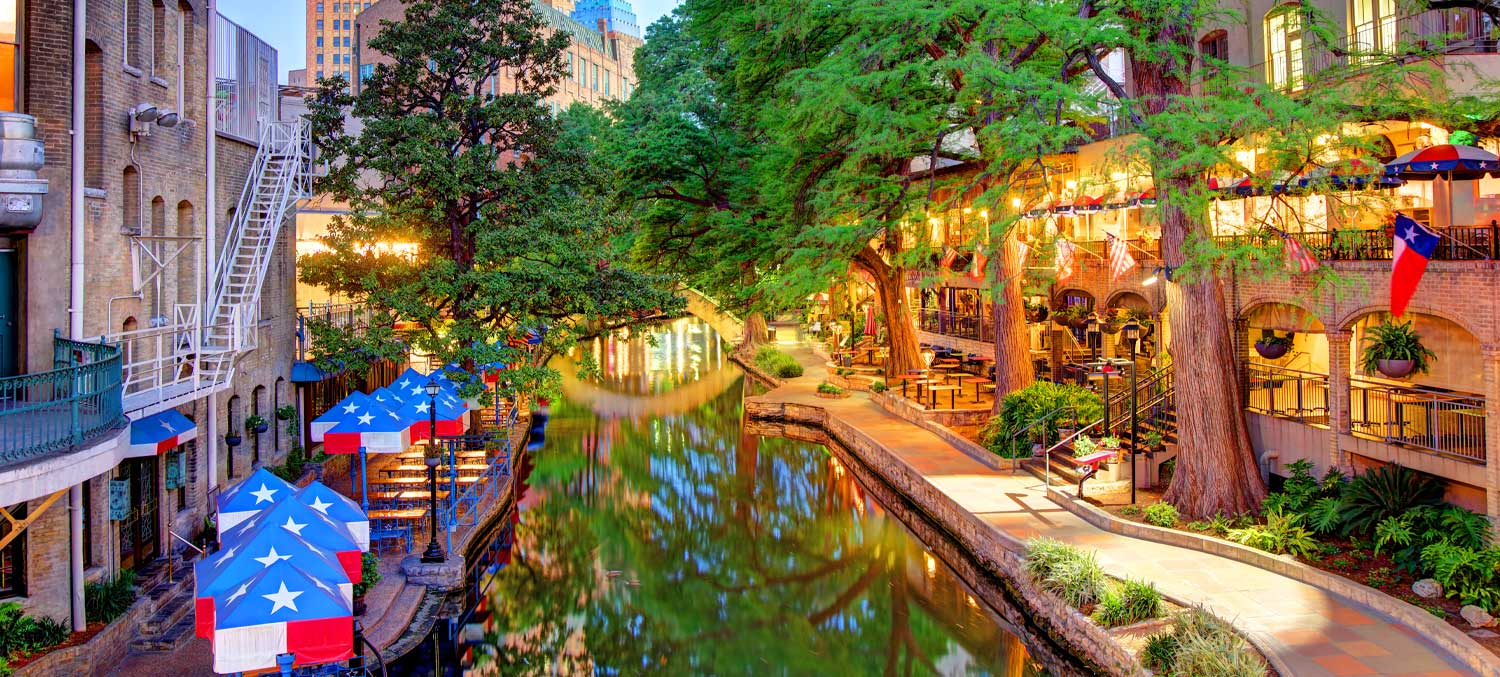 After a year-long staycation, you may be ready for new sights. While some international travel is still restricted (and more expensive), a trip to a wheelchair-friendly US destination can provide a new experience and help support local economies.
While most of the best-known tourist spots are accommodating to people with disabilities, those places tend to be expensive and crowded. Here are a few suggestions for accessible hidden gems that are worth a day trip or as part of a longer getaway.
Before your vacation, make sure to get clearance to travel from your doctor. We also strongly encourage you to visit the websites provided for each destination before hitting the road to make sure they are open and to inform them of specific accommodations you may need.
San Antonio River Walk, San Antonio, TX
The San Antonio River Walk is a popular tourist destination in San Antonio, with many accessible pathways for wheelchair users. Accessible maps show the ramps, elevators, and paths to travel along with the various attractions. There are many different shops, restaurants, and even museums to visit along the 15-mile scenic route.
Plus, visiting San Antonio will also bring you close to two other attractions worth visiting: The Alamo and Morgan's Wonderland, the first theme park designed to be fully inclusive to all people with disabilities.
Brookgreen Gardens, Murrels Inlet, SC
Brookgreen Gardens is a unique mix of sculpture gardens and animal preserve located in Murrels Inlet, SC, about a half-hour south of Myrtle Beach. Brookgreen Gardens is wheelchair accessible and features many outdoor areas of interest. The sculpture garden is massive, and the sculptures are all spread out and even sometimes hidden around corners, making exploring the grounds a real treat.
Brookgreen Gardens is also home to the Low Country Zoo, allowing you to see various animals native to the environment.
There are some indoor educational buildings as well, plus outdoor picnic areas. And if you weren't able to check every item off your list on your first visit, your admission is good for seven days.
Ohio Amish Country, Holmes County, OH
If you're looking to slow down and enjoy some beautiful scenery and a simpler way of life, Amish Country in Ohio might be just what you need.
The wide-reaching area has something for everyone. With many wineries to sample, working farms to visit, shops to explore, and restaurants to enjoy, you'll be able to plan a family trip or adult weekend away at Amish Country.
Many of the attractions and businesses are accessible, but you can contact the tourism board or individual businesses when planning your trip.
And if you need a little taste of modernity before you leave, the Pro Football Hall of Fame in Canton, OH, is within the larger footprint of Amish Country.
Lan Su Chinese Garden, Portland, OR
Portland is known for being an accessible city, with flat streets and accessible public transportation. One area of interest that will make you feel like you're getting away, even while you're away, is Lan Su Chinese Garden.
As its name implies, the grounds are styled like a traditional Chinese garden and was built by Chinese artisans for authenticity.
The grounds are fully wheelchair accessible and have benches throughout for those walking who need a rest.
Smithsonian Institute, Washington, DC.
With the wide variety of federal buildings and attractions in the city, the nation's capital is very accessible. Between wheelchair ramps and elevators on the outside to large hallways inside, DC is very friendly to people with disabilities.
While there are many historical and cultural attractions to see during a visit to DC, the Smithsonian museums have something for everyone. Whether you wish to immerse yourself in United States art, the experiences of African or Native Americans in the United States, the history of flight, or the pop culture highlights of the 20th century, the Smithsonian offers an accessible experience for all interests.
National Park System (across the US.)
If you're unsure where to start, search for a National Park that you've never visited. You can search based on desired activities or locations. While the National Park System is inclusive for people with disabilities overall, check with the visiting center for the attraction you're interested in to make sure it is accessible for your needs.
Before you leave for your trip, make sure to spend some extra time preplanning.
Check the website or call any destinations to check that they are open, if there are any changes to operating hours, and if time-specific reservations are required.
Find out if your destinations and lodgings have entry wheelchair ramps or if they have lifts that require notification and assistance to operate.
Add extra time into your itinerary for delays or attendance restrictions.
Don't forget your Freedom Folding Ramp to keep in your vehicle for any unexpected curbs during your trip.
If you're planning on taking a road trip to your destination, check out these tips from Curb Free with Cory Lee.
If you're itching to see something new and get out of your house, there are lots of destinations around the country you can safely visit. If a getaway outside the home isn't a viable option for you, many attractions offer virtual tours for your at-home pleasure.