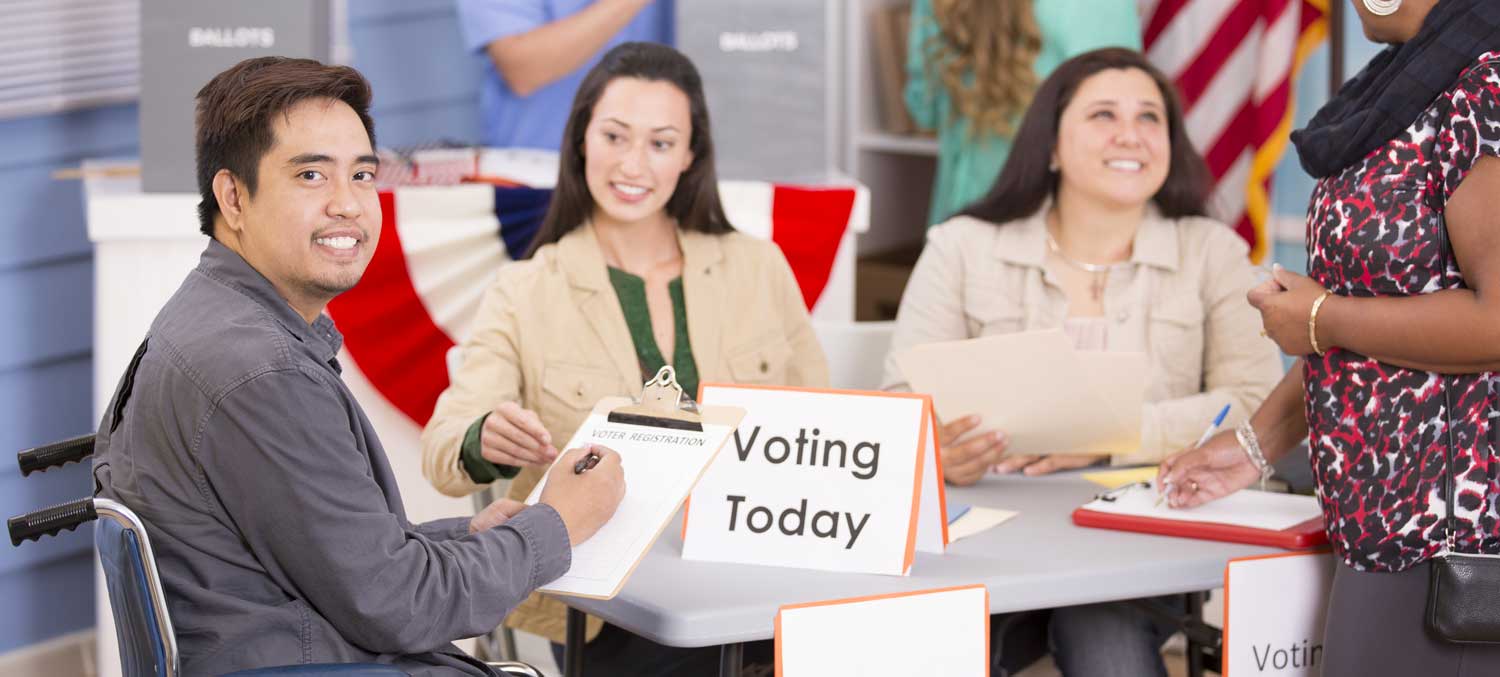 Numerous federal laws, including Title II of the ADA, the Voting Accessibility for the Elderly and Handicapped Act of 1984, and the Help America Vote Act of 2002 secures the rights for disabled people to exercise their right to vote without physical restrictions.
Your physical limitations should never impede your rights, and the law is on your side.
Building Accessibility
While government buildings are required to be accessible to people in wheelchairs or who have visual impairments, among other disabilities, many polling places are a mix of private and public buildings, and some of the private buildings may not be fully accessible.
Access requirements include:
making sure wheelchair users can get into buildings and to the polling locations safely
people with visual impairments do not bump into protruding objects
doors do not require tight pinching or twisting to open
If your polling place has been inaccessible in the past, call your board of elections to make them aware of the problem and ask how they plan on correcting the issue.
"We've worked with municipalities across the country to provide short and long-term access to polling places," said Garth Walker, Managing Director at National Ramp. "It's important that we remove the physical barriers that could be preventing a fellow citizen from exercising their civic duties."
Modifications
Temporary low-cost measures can make your site accessible, such as:
traffic cones creating accessible parking spaces
a commercial modular ramp with handrails
propping doors open or a poll worker who opens a door when needed
using cones to alert a person who uses a white cane to a protruding object
the use of clearly marked signs leading to accessible entrances and polling locations
Curbside voting may be an appropriate substitute if the interior of the polling place is entirely inaccessible. But curbside voting has strict regulations, as well. Check with your state to see if curbside voting takes place, and what the guidelines are.
The primary location inside the building for voting may be inaccessible, and it is acceptable in those situations to use an alternate accessible polling site. However, private and independent voting is still your right.
You can bring someone to help you vote. That person cannot be your employer or union rep. Make sure to tell the election workers that the person is your helper. Depending on your local regulations, that person may need to sign an oath stating they are assisting and not influencing your vote.
Advocacy
If you face barriers to voting, including being refused a provisional ballot or accommodation, call 866-OUR-VOTE, an election day hotline run by Election Protection, a non-partisan coalition of lawyers' groups.
The US Election Assistance Commission website has a list of Resources for Voters With Disabilities.
The Department of Justice takes voting restrictions very seriously, and counties that do not remove obstacles to voting have faced hefty fines in the past. If you feel that your voting rights were violated because of your disability, you can file a complaint with the ADA. Directions are at https://www.ada.gov/filing_complaint.htm.