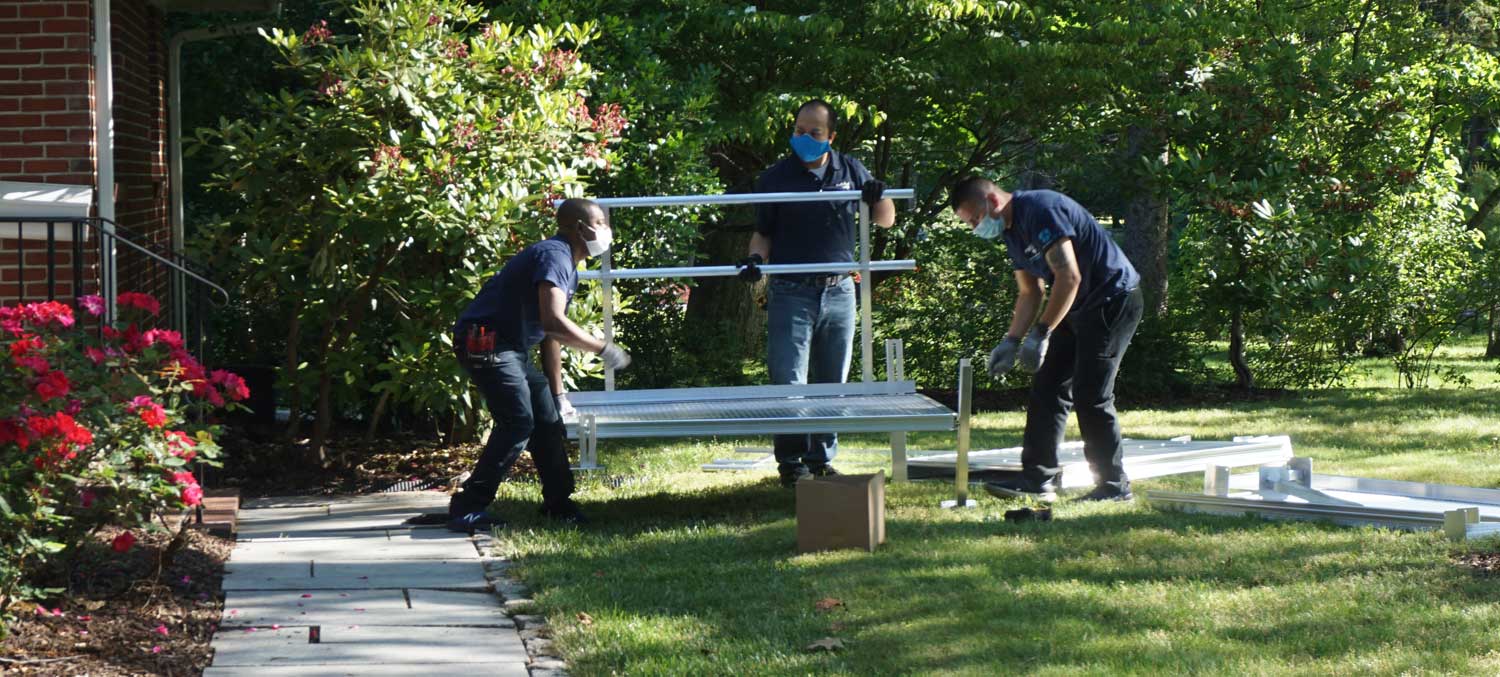 We understand that the promises we make are bold – Freedom Now! Many times our handicap ramps can be installed on the same day! But this isn't a telemarketing scam or a get-rich-quick scheme. These are real promises that we make to our customers, and here's why we can back them up.
1. Our Ramps are Modular
We use the term modular ramp a lot, and it's understandable if it's a new term to you—modular means made from smaller components. Think of them like a child's building block toy (the type you hate to step on). Smaller pieces fit together to create a durable final product. In the same way that a modular home is installed quicker than traditional home construction, so are our handicap ramps.
Modular wheelchair ramps are quicker than permanent wheelchair ramps in a few ways. For starters, once there's a layout designed, we can pull the needed components off the shelf for your ramp. We don't need to special-order every single wheelchair ramp.
Unless there are specific landscaping challenges or obstacles at your home, there is no major digging or extensive site prep needed for the wheelchair ramp installation.
Because of the way our wheelchair ramp pieces connect quickly, nearly all wheelchair ramp layouts can be installed in just a few hours.
The modular design also allows for flexibility. We can quickly troubleshoot in the field, switch some components around, or even move the wheelchair ramp to work around an obstacle.
Once the installation is complete, the wheelchair ramp is ready to use. There is no drying, curing, or settling time needed.
What goes up quickly can also come down quickly. While the wheelchair ramps are stable for years of use when assembled, they can be removed when the ramp is no longer needed. Since the ramp is non-permanent, building permits are often not necessary for our modular wheelchair ramps.
2. We Keep Our Warehouse Fully Stocked
Our warehouse is always prepared, keeping all components of every wheelchair ramp model in stock so we can offer same-day shipping for all orders – no backorders!
3. More of Our Dealers Keep Their Warehouses Stocked
We offer bulk ordering for our dealers, so that they keep inventory on-hand, instead of having to order the needed components after an evaluation. This shortens the window for our dealers' schedule, which means your wheelchair ramp can be installed next-day, or in some cases, even the same day!
It's natural to be skeptical of an offer that seems too good to be true. But our years of working with customers whose lives are on hold until they get a home wheelchair ramp has been the motivation for us to expedite our process to shorten and even entirely remove delays.