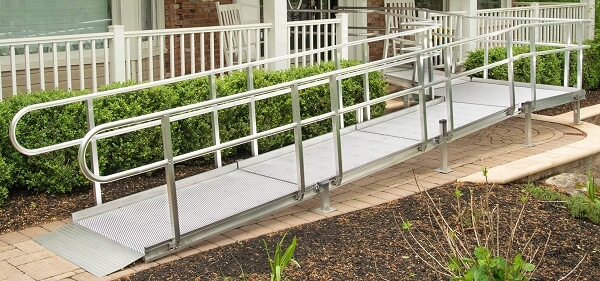 If you are facing mobility challenges, you may have considered getting a ramp for your home. As you start exploring your options, one of the first questions you may have is whether you need a building permit to install a wheelchair ramp. The straightforward answer is yes. Learn more about what a wheelchair ramp permit is, how much it costs and what you need to navigate the application process.
In This Article
What Is a Building Permit for a Handicap Ramp?
Any time you make significant modifications to a home, your county or city requires you to secure a building permit to confirm the work. A building permit for a handicap ramp is issued to verify that you added to your home, and once the permit is official, it ensures that everything is correct and compliant.
Permits are different from licenses because they are only valid for a certain period, so you must keep them for inspection purposes.
Do You Have to Get a Building Permit to Build a Ramp?
Most cities and counties require a permit for building a wheelchair ramp since these structures are considered an extension of your home.
Bear in mind that each state, city and county has different rules and regulations. To ensure it's possible to install a ramp at your home quickly and efficiently, it is vital that you check with your local authorities and get the necessary permission from landlords or boards if it's applicable in your situation.
Some cities require you to first obtain a building permit to install a ramp and then take the extra step of having a building official review your plans. Although a residential ramp may be designed specifically for you, it must meet the local minimum codes for construction materials and requirements. Considering that, using a professional service provider who knows how to navigate these issues can save you a great deal of time and effort.
What Is the Cost of a Permit to Build a Wheelchair Ramp?
Costs vary between cities and counties. You can find the cost of the specific permit you need by looking through your county's guidelines. The price of the permit will likely also depend on the scope of your wheelchair ramp project — the bigger the build, the bigger the fee.
An average building permit can range from $150 to $1,500. Though permits cost more in some areas than others, they are all more affordable than the fine you may pay if you needed a permit for your ramp and didn't get one.
How Do I Get a Building Permit for My Wheelchair Ramp?
You can apply at the building department of your local public works office to get a wheelchair ramp permit. The department can advise on your next steps and inform you of anything important you need to know.
How Long Will It Take to Get My Building Permit?
Unfortunately, there's no definitive answer to how long it will take you to get a handicap ramp building permit. The length of time differs depending on how many applications your local department has to approve and other factors.
Working with a reputable wheelchair ramp service provider is advised to help speed up the process. The service providers will know the necessary codes and requirements involved in getting a permit, which will help you submit an error-free application and expedite your ramp installation.
Do Residential Ramps Need to be ADA-Compliant?
Your home's wheelchair ramp does not necessarily have to be Americans with Disabilities Act (ADA)-compliant. However, it is still always advisable to follow these guidelines because they are created to give people living with disabilities greater access. ADA legislation specifically opens access and opportunity for Americans with disabilities, so the best wheelchair ramp service providers always ensure their ramps comply with ADA standards.
Choose Freedom Now With National Ramp
At National Ramp, we prioritize helping individuals get freedom and gain independence at home. We are flexible and install a variety of ADA-compliant ramps quickly. Our team is available to answer any questions you may have or clarifications you need.
If you are overwhelmed with everything you need to install a wheelchair ramp, like getting a permit, booking an evaluation and deciding on the right model for your property, National Ramp offers guidance and advice.
Allow our friendly team to assist you in getting the solution that suits your budget and needs. Get your freedom now — call 877-596-7293 or contact us online to get started!