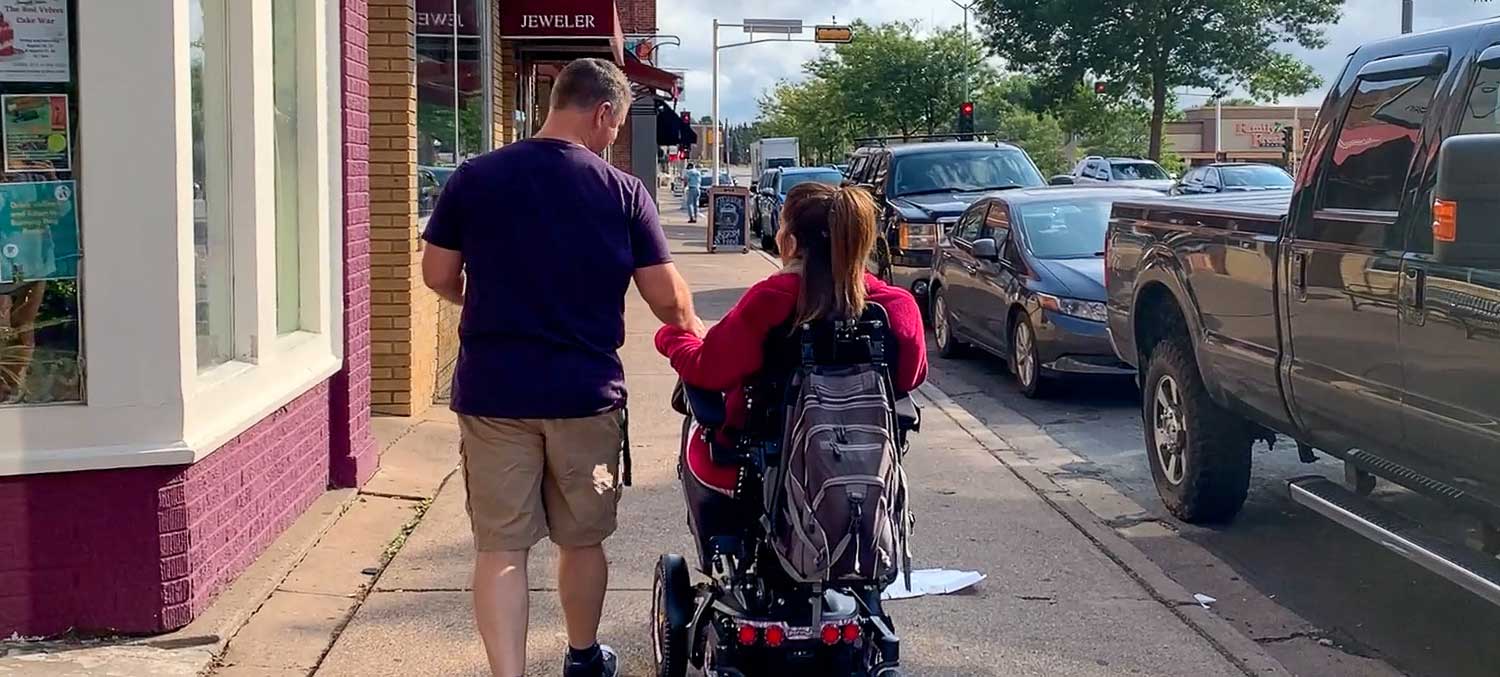 In our newest guest blog, National Ramp brings you an exclusive video from Speaker, Author, and Resilience Expert Tasha Schuh. The video can be seen below, and a transcript is also provided for your convenience.
Video Transcript
Hi everyone! My name is Tasha Schuh, and I am a speaker, author, and resilience expert.
I have been in a wheelchair since the age of 16 when I was in a theater accident that left me paralyzed from the chest down.
However, nothing has stopped me from living a rich and fulfilling life!
I travel around the country speaking to mostly middle and high school students about mental and emotional health and teaching them how to be resilient in their own lives.
I also speak to adult audiences and do virtual engagements, too!
I've put together this vlog to show you what it's like to go on a date night with my husband, Doug.
We work really hard to make sure our busy schedule always includes a date night at least once a week, especially in the summer months when it's nice out.
We love going out to eat and trying new restaurants. Enjoy!
So, before Doug and I go on any date nights, we always have to make sure that the places that we're going to are accessible, wheelchair accessible.
No steps and can get around.
(phone rings)
one for the downtown Hudson store, press two for wholesale and marketing
(ring)
Oh yes. I'm wondering is your building wheelchair accessible.
I'm gonna say no, just because we have stairs coming up to our doors.
Okay, and do you have a back entrance at all that's accessible?
No we do not.
Okay, all right. Thank you for your help.
(unintelligible)
You too. Bye. Bye.
Not that place.
(phone ringing)
Thank you for calling. Yes, I'm wondering, is your building wheelchair accessible?
Umm, I believe so. There's like a little step to get into the front door.
Otherwise, it's all wheelchair accessible.
But there, but there is a step in, because I'm in a power wheelchair, so I couldn't do a step.
Oh, sorry yeah, that's the only thing, that's just getting in. Okay. Okay.
Well, thanks for your help. All right. Sorry about that.
No, that's okay. All right. Thank you, have a good day. Yep, you too. Bye bye. Bye.
Lots of people do not know what wheelchair accessibility is. Oops.
(phone rings)
Hi, Nutty Squirrel, this is Ronald, how can I help you? Yes. I'm wondering, is your restaurant wheelchair accessible?
Yes, it is. we do not have any steps on our front door or our back door.
Wonderful. Thank you so much.
Oh, you know what, I lied, we do have steps on our back patio but there is, probably I can take you through if you would like to sit on the patio that does not have steps.
Okay. All right. Well, I really appreciate that. We'll be in in a little bit. Okay, see you soon. Thanks, bye bye.
And that's how it's done.
We're very excited for a fun date night tonight it's gonna be fun
all right
I don't like to bring that in.
Couldn't get in here
(talking in background)
(undistinguishable conversation)
Oh, we got this. We're trained professionals here. (laughing)
(kiss)
(undistinguishable conversation)
As you can see, date night as a wheelchair user looks just a little bit different.
We can't be quite as spontaneous, as we need to make sure the places we are going are wheelchair accessible.
Once in awhile, we find ourselves at places that say they are accessible but in reality, they're not… either there's a step up or the turn is too tight to get in the door.
And sometimes, the front of a building isn't accessible, but the back is!
So, we've been able to get into some buildings through a back door.
You also saw in the video how I need to adjust my power wheelchair to fit under the restaurant table.
If that's not possible, I will pull up to the table, right next to it, because tilting all the way down at a regular height table is not as comfortable for me.
We also run into this when we sit at patio tables. That's when I'll just sit to the side of the table.
The most important thing that I want people to know is that accessibility is really important.
It can be frustrating when we try to have a date night but our options are limited.
This particular date worked out really well, because by the third phone call, I found a place that we could go – and we had a great time!
Thanks so much for listening!
Thank you, Tasha, for showing us what date night looks like for a power wheelchair user.
And be sure to check out our Freedom Series ™ folding ramp to help make date night even more accessible.