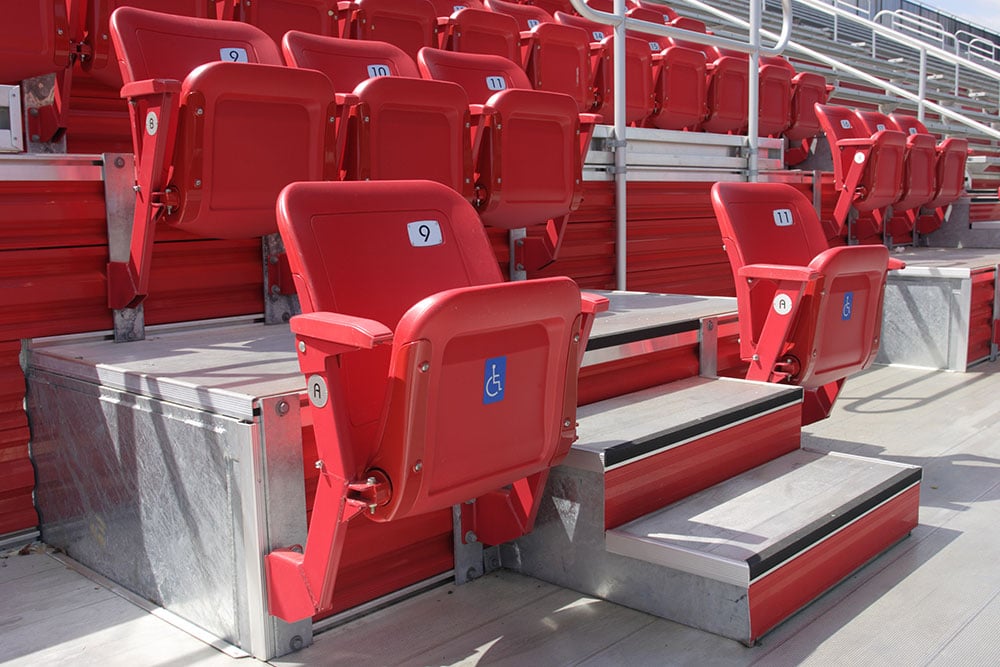 Sports fans who use wheelchairs are not at all excluded from cheering on their favorite teams in person. With a little bit of planning, a trip to a stadium can be an enjoyable afternoon (especially if your team wins!).
While older stadiums may be a bit clunky in their access for patrons in wheelchairs, newer stadiums are built to the specifications of ADA (the Americans with Disabilities Act). In addition to requirements for safe ramps and accessible restrooms, like all public buildings, ADA protections for stadiums include the following:
Wheelchair accessible seating is required, and these seats must be an integral part of the seating plan, with a companion seat provided next to each wheelchair seating location. Wheelchair seating locations also must be equipped in all areas, including skyboxes.
Wheelchair seating must be on an accessible route that provides access from parking and transportation areas, connecting to all public areas, including concessions, restrooms, and exits.
Wheelchair locations must provide a line of sight over standing spectators.
Concessions, condiments, and self-serve food items must be accessible to a person using a wheelchair.
Accessible parking spaces, drop-off areas, and entrances are required.
With new guidelines issued regarding accessible ticketing by the Department of Justice in 2011, there are further protections to consumers, including: accessible tickets must not be sold at a higher price than non-accessible seats in the same section, the venue must be able to describe the features of accessible seats to determine if they will meet an individual's specific needs, and the venue must provide materials such as maps and seating charts when requested.
Consulting the stadium map as well as speaking with a representative from the stadium (depending on the stadium, the employee may be from Disability Services, Guest Relations or Customer Service) is highly recommended before purchasing your tickets. This way, you can find the seat that will suit your needs best, based on parking, ramp locations and access to any other accommodations you prioritize.
Before game day, be sure to plot out your route using an amenities map. Then you won't need to use the stadium signs to figure out how to get from the parking lot, up ramps and to your seat. You can also map out multiple routes from your seats to exit the stadium, so if one entrance gets backed up, you can have another way in mind.
Conducting an internet search for "stadium name + wheelchair" will show results for the stadium's web page relating to wheelchair access, as well as reviews from disabled bloggers on how accessible and accommodating they found that stadium to be – with some tried and true tips!
During the game, make sure that you or someone in your party seeks out Guest Services for any questions, issues, or accommodation requests you may have.
With a little bit of planning and allotting extra time to deal with crowds, game day can be just as exciting for fans using wheelchairs.
(Sources: https://adata.org/factsheet/ticketing, https://disabledspectator.com/, https://www.ada.gov/stadium.pdf)