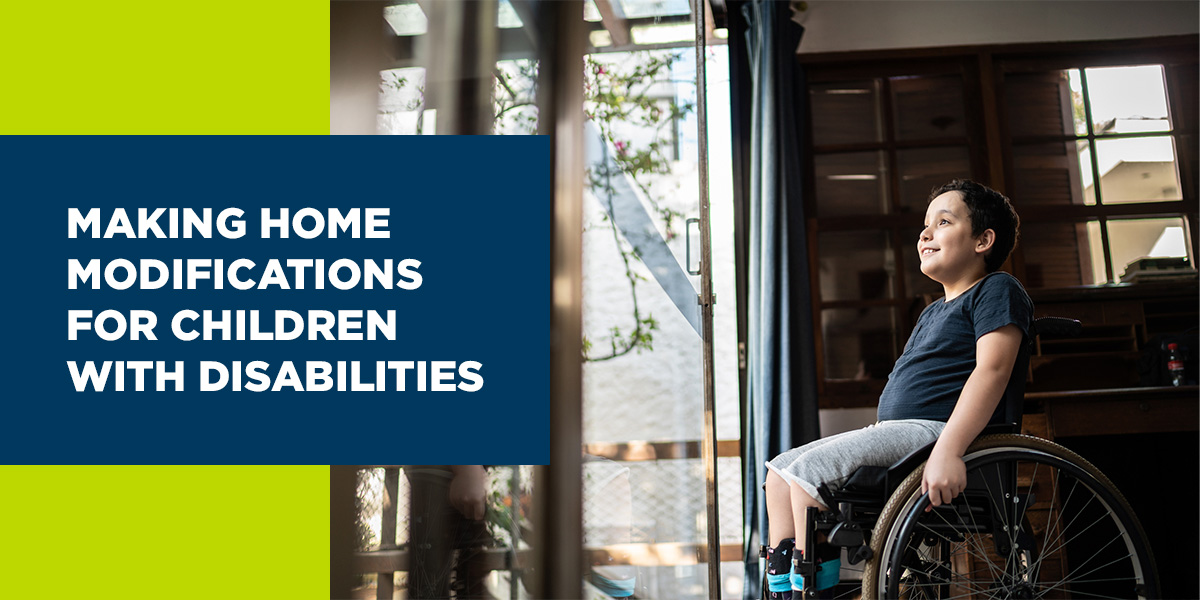 A child's home should be a sanctuary from the outside world. When your child has healthcare needs related to a physical disability, you might have to modify your house to make it a comfortable environment. A child in a wheelchair needs enough space to safely maneuver through hallways and into rooms, and if your home has stairs, alternate routes or ramps must be available. Making your home accessible will help your family feel unified.
Keep reading to discover accessibility home modifications that you can put into place for your child's safety and freedom.
In This Article
Solving Common Accessibility Challenges for Children With Physical Disabilities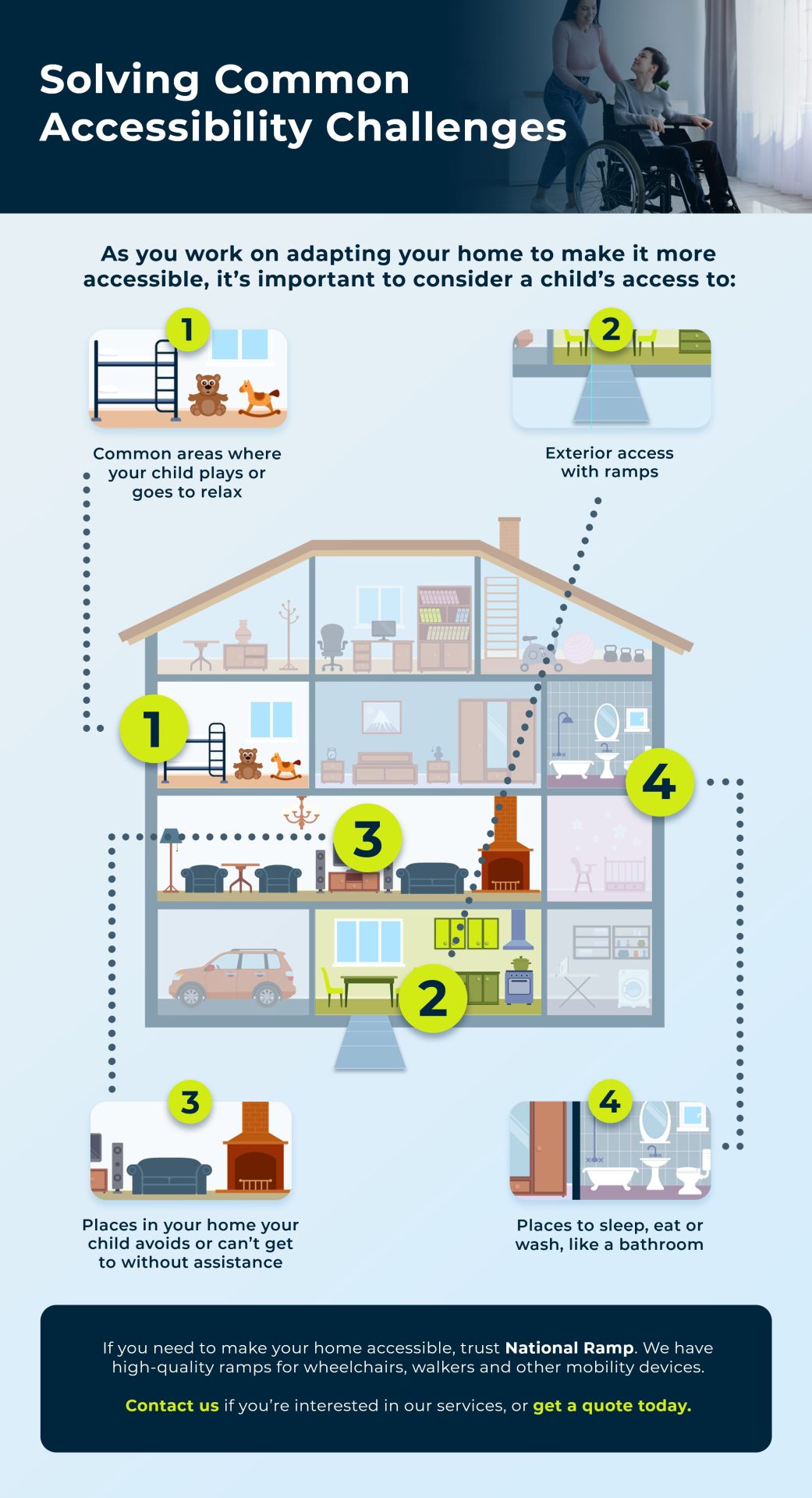 As you work on adapting a home for wheelchair accessibility and look at the best ways to make your home more accessible, it's important to consider the child's access to:
Common areas where your child plays or goes to relax.
Places in your home your child currently avoids or can't get to without assistance due to access difficulties.
A bathroom.
Places to sleep, eat and wash.
As you work on addressing any accessibility challenges in your home, check for difficulties:
1. Using the Exterior Steps
Can your child navigate to the front door and go inside easily, or does someone provide assistance? If your child is unable to enter or leave easily, they will feel less comfortable with daily tasks, such as going to school, participating in extracurriculars and attending doctor's appointments. They might prefer to stay indoors instead of going out for exercise and sunlight if leaving involves challenges they can avoid inside.
If your home has stairs, consider adding a ramp or lift. Ramps are more affordable to install and generally require fewer repairs with long-term use. With a ramp, you can stop laying boards over your steps for your child to wheel up or down.
If the rise is small with only a few steps, a portable ramp can be a go-to option for extra convenience. If your yard lacks space or your porch is set up at an angle where using a ramp is less than ideal, you might have to go with the lift instead.
2. Navigating the Landscaping
Thick grass and tiny stepping stones can present problems for kids in wheelchairs. Check your landscaping for small imperfections that you can fix or replace. If your sidewalk is uneven and full of cracks, it might pose a hazard for a child using an assistive device.
You can level the ground and repour concrete walkways. A wheelchair-friendly path that leads from the home's entrance to the end of the yard or the driveway makes getting in and out much easier.
3. Going Through Doorways
Narrow doorways are difficult for your child to use with a wheelchair or another assistive device. Hiring a contractor to widen the doorways can help. You can also install doors that use special hinges to open in the opposite direction, making it easier for your child to enter.
All doorways should be at least 36 inches wide for the passage of a child or adult using a wheelchair. Even if your child uses a walker or a smaller assistive device, the doorway should be wide enough to meet the Americans With Disabilities Act (ADA) standard and accommodate them.
4. Navigating the Flooring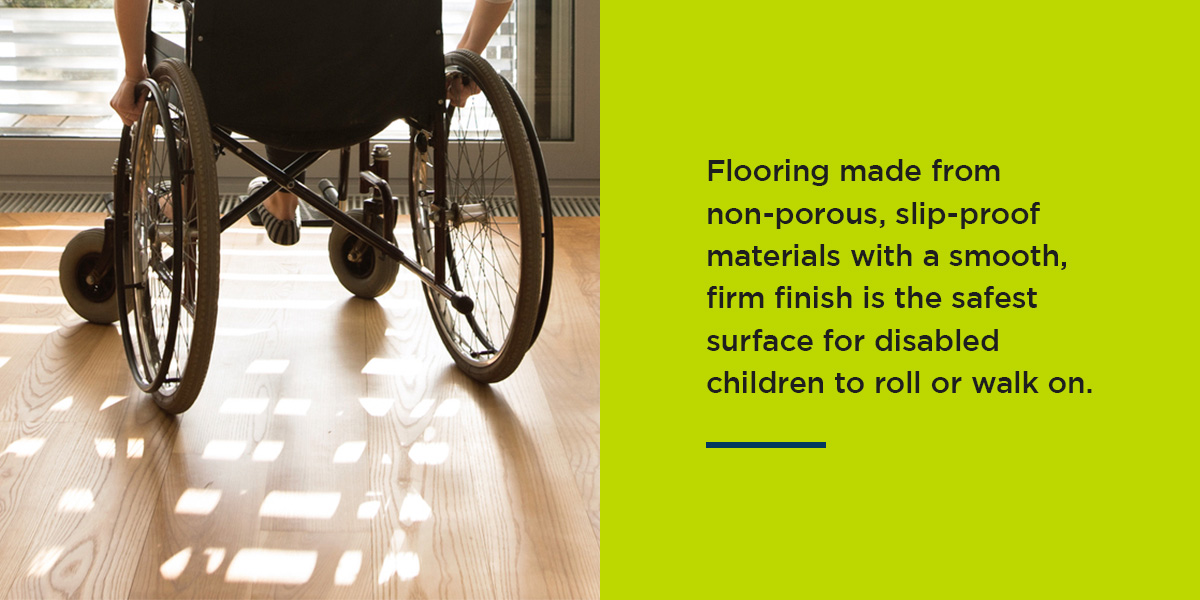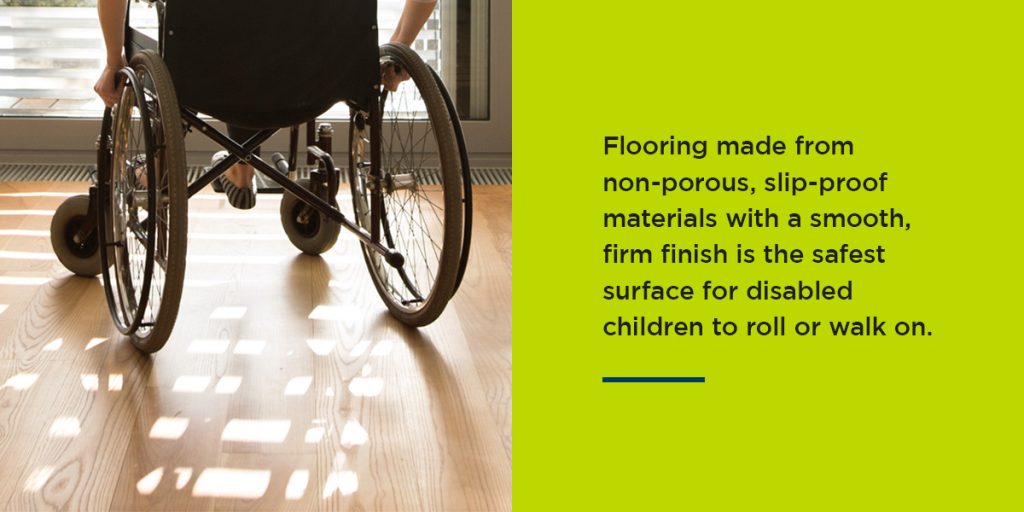 Children using mobility devices may have more difficulty traveling over dense, fluffy carpet, shag rugs and other soft, fibrous flooring. Thin, low-pile carpets and hard floor mats are easier to navigate for a child on wheels or those using other assistive devices to get around. Hard flooring, such as vinyl, laminate and hardwood, creates the least resistance and is the easiest to use.
If your child keeps getting stuck or expresses frustration with your home's floors, it might be the right time to replace your current flooring with a more accessible option. Flooring made from non-porous, slip-proof materials with a smooth, firm finish is the safest surface for disabled children to roll or walk on. Hard floors are also easy to clean and less likely to get stained by pets, which is important if your child has a service animal.
5. Using Electrical and Technology Controls
Your child will feel the most comfortable at home with easy access to lights, controls and your entertainment systems. If you notice the child straining to reach a light switch or the thermostat, consider making adjustments so everyone can use these devices when you are absent.
The best way to correct this issue is to lower the controls or switches. For portable electronic devices, moving them to a lower position could help with accessibility. You might also have to make adjustments for the angle of some controls so the child can reach them better. Install hanging chains to go with ceiling fans and lights. You can also get devices that come with remotes.
Smart technology provides control over the child's surroundings through automation, often using voice activation, sensors or other more accessible methods. Your family can use smart technology for lights, thermostats, music, door locks and many other controls.
6. Safely Accessing the Bathrooms
For children with disabilities, the bathroom can be the most dangerous room in a house. Make your bathroom more accessible by altering the:
Bathtub and shower: If your bathtub or shower requires taking a high step, consider installing a roll-in or walk-in bathtub or shower. Affordable solutions include installing a shower chair, handheld showerhead attachment or handlebars to make washing easier. A mid-range option is adding a lift to an existing shower or bath area.
Toilet: Transitioning onto a toilet seat can be a challenge for a child with a physical disability, but you can install a lower toilet seat and handlebars to improve safety.
Sink: A child in a wheelchair may have less difficulty with sinks placed higher than average, surrounded by enough open space to navigate. You can use lever handles or touch-activated controls on the faucets instead of turn-knobs for children with mobility challenges.
7. Safely Accessing the Kitchen
Kitchens pose safety hazards for all children, but if your child has disabilities, it's important to make the kitchen accessible. You can improve your kitchen by altering the:
Stove: Install controls that are easy to use and close to the front of the appliance. You want to make sure everyone can use the stove without reaching over a flame or hot pan.
Counter: A lower countertop is easier to access. Installing cabinets under the counter with pull-out shelves can help.
Sink: Lever handles and a hose attachment make the faucet easier to use. You can also change the basin to something shallow and lower.
8. Accessing Living Areas
The family room or other open spaces in the house should also be accommodating. To make the space more practical, you can:
Move furniture around and remove clutter.
Replace rugs with hard mats.
Move electrical cords to safe positions against walls.
Place padding around sharp corners.
Install railings near the bed.
Install a landline or phone charger near the bed.
Temporary Home Modifications for a Child With Disabilities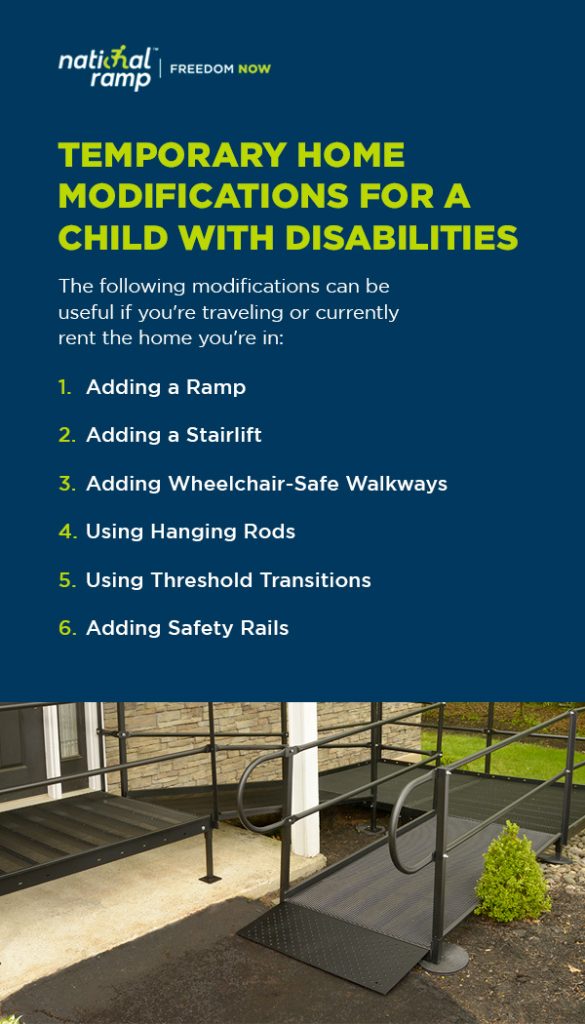 Your home is accessible and safe for your child, but what happens when you stay somewhere else, or you're renting and need to modify your apartment or house in ways your landlord will allow? Generally, rental home remodeling for children with disabilities is allowed as long as the next lender would reasonably find the changes acceptable.
Thanks to the Fair Housing Act, you can make some reasonable modifications for your child without the landlord's approval. This act also protects your family from discrimination when submitting a rental application. If you need to significantly modify the rental for a family member with a disability, you might have to pay on your own, even with these legal protections.
Some landlords might allow you to alter a property if you make additional payments they can use to reverse the changes after you move out. The worst-case scenario is that you can pursue legal actions against your landlord if you feel like your requests for accommodations are being ignored or refused.
The following modifications can be useful if you're traveling or currently rent the home you're in:
1. Adding a Ramp
If your child needs to use a mobility device like a walker or a wheelchair, you know that going up and down steps can be difficult or impossible. Have a ramp installed to provide access to the front entrance, garage or another area of the rental. Even if your child can walk without a wheelchair, a ramp might be needed to make the environment safe for mobility limitations.
2. Adding a Stairlift
If your property lacks the space for a ramp, install an outdoor platform lift to provide access to the entrance. A lift can also be installed on the interior of your living area to help your child get past stairs or onto a patio, terrace or other upper levels.
3. Adding Wheelchair-Safe Walkways
The outdoor areas of your living environment need to be accessible. If your landlord can't pave a new walkway, you can purchase a system of weatherproof mats or pre-cut concrete blocks for your child to use. Your child should be able to approach the entrance without having to navigate through sand, grass or rocks.
4. Using Hanging Rods
Using rods can make closet spaces and shelving more accessible. These items are affordable, and you can easily remove them when it's time to leave the rental. They are simple to install and leave no evidence of their presence.
5. Using Threshold Transitions
If your rental has uneven flooring between rooms, adding a transition piece allows for smooth entrances and exits. Consider using a transition strip between the interior and an outdoor area like a patio or deck.
6. Adding Safety Rails
Railing and grab bars are easy to install and remove later. These items can help make the child's bedroom, bathroom and kitchen area safer. Your child will have support when using the toilet, shower or other features of the property. These simple disability aids for children are especially helpful at night or in low light.
How to Find Financial Support for Home Modifications
Some home modifications for disabled people are more costly than others. If you plan to renovate your home, install new appliances or make other extensive changes, you might be concerned with how to pay for the modifications.
Several organizations and companies aim to help children with disabilities and may provide the funding you need as you tackle these challenges. Below are resources that can provide valuable financial assistance for your family:
1. Medicaid
If your child qualifies for a Medicaid Waiver, you can receive funding specifically for making accessibility modifications to your home. This program typically helps with modifications to an existing home instead of a new home you are currently building.
2. Tax Deductions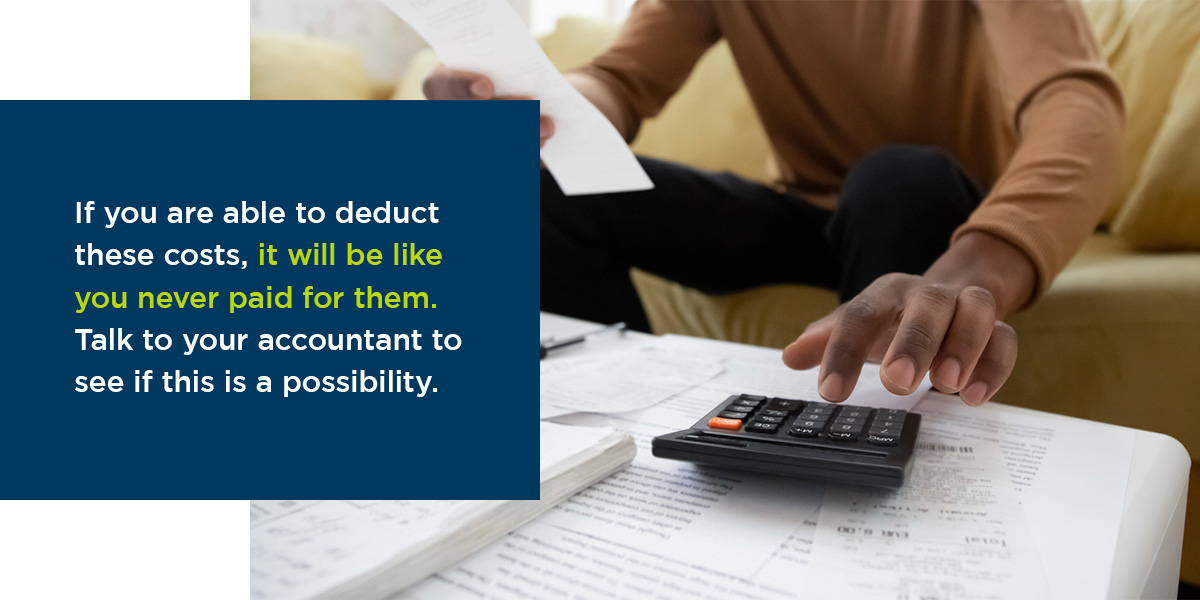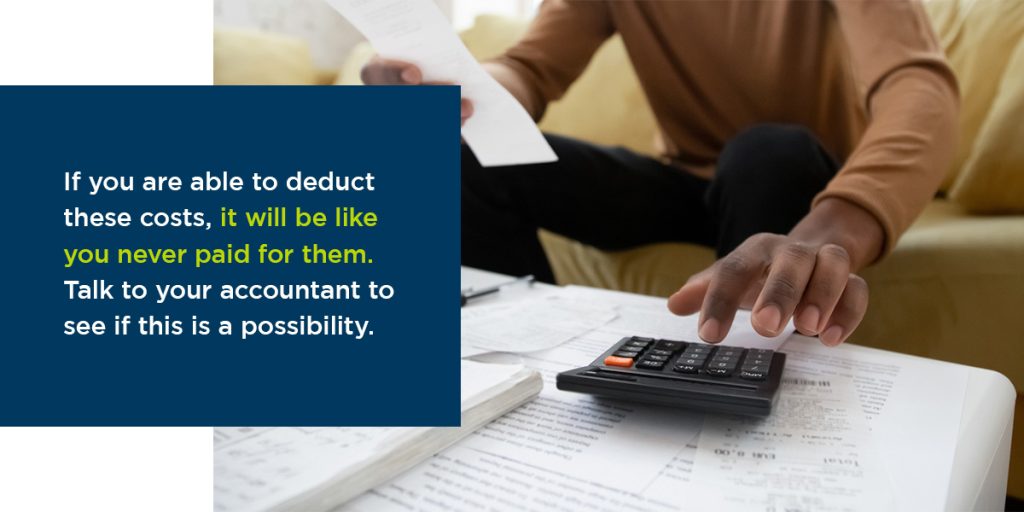 You might be able to get tax write-offs for the expenses of making modifications intended for a disabled member of your household. If you are able to deduct these costs, it will be like you never paid for them. Talk to your accountant to see if this is a possibility.
3. Rebuilding Together
Rebuilding Together is a national nonprofit organization that provides home repairs or modifications for people with disabilities. A dependent child qualifies as a member of your household, making you eligible to receive these services.
4. The Center for Independent Living
This organization aims to make people with disabilities independent, starting with an accessible living environment. They provide financial assistance for families in need. Check to see if a center is available in your area and what programs they offer.
5. USDA Rural Housing Home Repair
The USDA offers a grant and loan program for low-income households. Funding is provided for assistance with home improvement or repair projects related to correcting health and safety hazards. To receive a grant, someone in your household must be at least 62 years old, or you can apply for a low-interest loan of up to $40,000.
6. Christmas in Action
This nonprofit program centers around helping homeowners with disabilities or specific healthcare needs. They offer volunteer assistance with home modifications or repairs. As a member of your household, your child may qualify your home for their assistance.
Make Your Home Accessible With National Ramp
We have high-quality ramps for wheelchairs, walkers and other mobility devices to help modify your home into a safer and more accessible place. Our team can even install your ramp on-site. Contact us if you are interested in our services, or get a quote today.