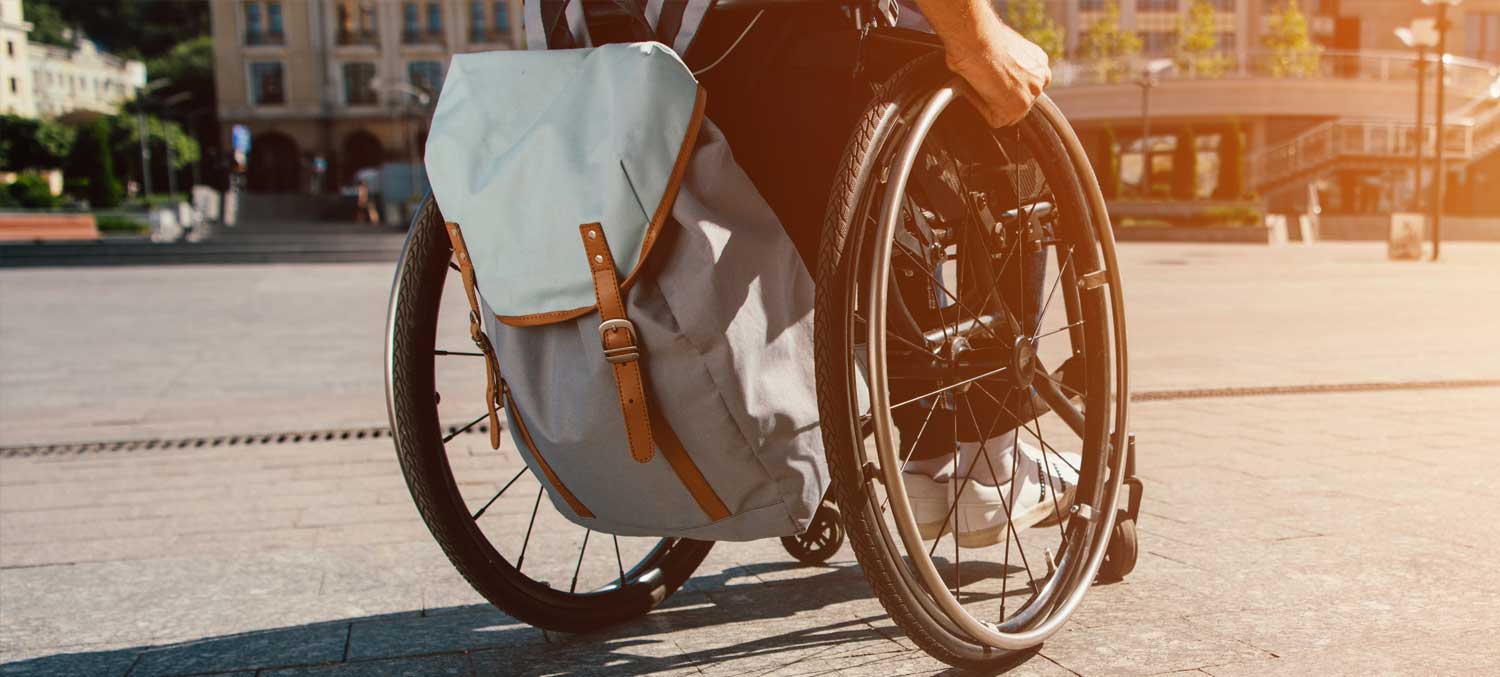 In our latest guest blog, we brought back one of our favorites, Tasha Schuh – Speaker, Author, and Resilience Expert. The video can be seen below, and a transcript is also provided for your convenience.
Hello. Let me introduce myself. My name is Tasha Schuh, and I'm a speaker, author, and resilience expert. I've been in a wheelchair since the age of 16, when I was in a theater accident that left me paralyzed from the chest down. But today I travel around the country speaking about resilience and mental and emotional health. I also do virtual speaking engagements. I've put together this vlog to show you what it's like to pack for a trip. This past fall, I've had to speak at ten schools in one week, so we packed my van for a whole week. Here's what it looks like.
So here I am. We are getting ready for a trip where we're going to be speaking at a bunch of schools next week. And so, I've been packing up and I have certain things that I do when I pack. So, I have a suitcase, just of medical supplies. And then I have a suitcase for my clothes if it's just going to be overnight. I bring just a duffel bag for my clothes, but I always have this suitcase with me. So, I have all the medical supplies in here so that if anything were to happen, I have everything that I would ever need. I usually bring enough for two weeks within case where to get stranded because medical supplies are not always easy to find when you're on the road. So here is something that I want to share because as we travel, I don't like to pack doubles or I try to pack doubles of everything so that when we travel, we don't have to I don't have to bring my toothbrush. That's here from home. I have a separate toothbrush, so come on in here a little closer. You'll see that I have these bags that my awesome Aunt Marlene got me. I think they came from QVC. I don't know if they sell them anymore, but I have soap, Q-tips. I have contacts. All my contacts. I have my toothbrush, my toothpaste, my charger. I have lotion and perfume and hairspray, and all my contacts are down there, razor. Everything that I would need. I have this with all. I have this packed all the time so that if we have to leave quickly, I've got this set and it has everything that I need. So literally all I have to do is close it up, put it in my suitcase and I have all my things that I need with me, the small things and getting ready in the morning. And the only thing I don't have doubles of are my makeup and my face prescriptions that I have. And so, this really helps us pack up quickly and makes traveling so much easier because when we get there, we just have to open it up and everything is there. So, I will show you a few other tricks and tips as I pack, but this is really for us traveling the easiest way for packing. So, thanks.
OK, so here we are. I'm all packed up. We're getting ready to leave. Here are my suitcases. I actually did have to bring my black and white bags. So, this has all my makeup and everything and that and I have my blankets because I'm always cold. And if you come over here, I'm going to show you a travel list that I have. OK, so if you see I have this travel list every time I travel, I have everything written out that I need to bring with me so that I never forget anything. I even have cold-weather travel, warm weather travel, last-minute, everything so that I know that when I go through my lists that I have everything packed. So, this is the way that I stay organized in a way that I don't forget anything when we travel. So, thanks. And when we travel, we always carry ramps with us. I have my six-foot ramps, my three-foot ramps. Just in case we need to get in and we encounter a building that's not accessible. OK, so here we are. We are all packed up. As you all see, we do not travel lightly, but we are going to be gone for a week. So, if you notice in the back of the van, you're going to see all of the suitcases and you're going to see everything that we bring for us to be to have everything that we need. So, we've got lots of stuff for the speaking engagement lots of stuff for the hotel. And yeah, we're going to have an awesome week. So excited. There you have it. That's how I pack for my many travels. Thanks for listening, and I'll see you next time. There you have it. That's how I pack for my many travels. Thanks for listening, and I'll see you next time.