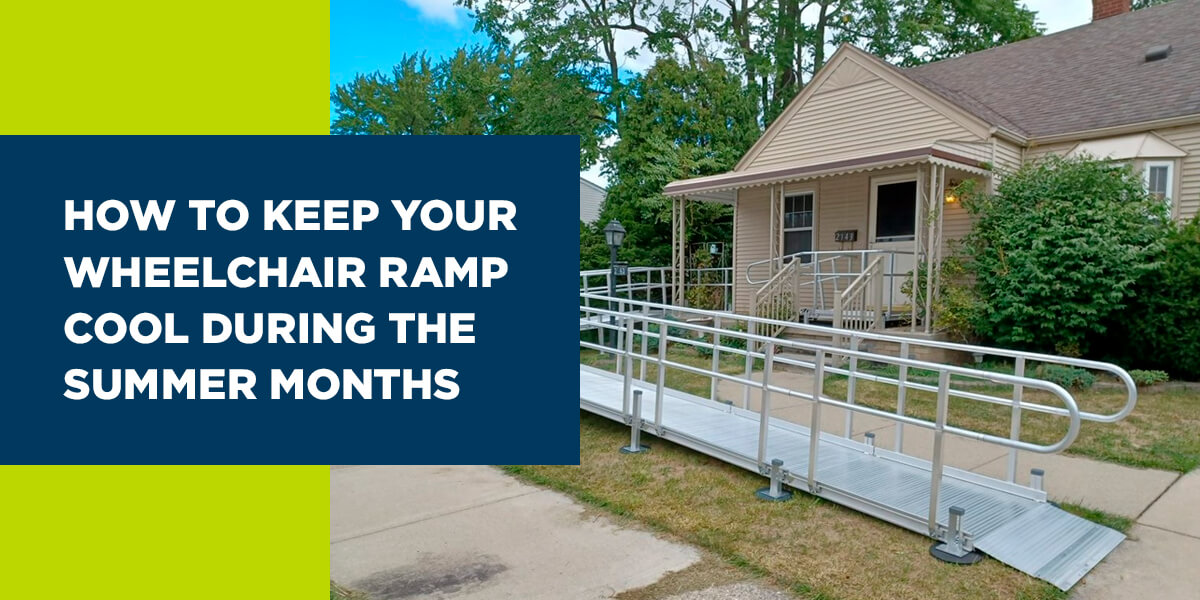 When most people think of summer, they think of basking in the sun, enjoying the warm temperatures and spending time on vacation. However, some people have to worry about risks in the summer, particularly wheelchair users who need to take care of their ramp.
Many wheelchair ramps are made from metal, such as aluminum, and can generate heat in the summer that's scalding to the touch. A burning wheelchair ramp can create safety issues for people with disabilities who rely on these ramps to access their homes.
In This Article
Why You Need to Cool Your Wheelchair Ramp in Summer
Keeping your ramp cool is an essential summer safety tip for wheelchair ramps. Metal or aluminum ramps get hot quickly, creating a safety hazard for wheelchair users. While some ramps may be covered by natural shade, such as trees, others may be vulnerable to the sun's heat, and you'll need to install something to cover the area.
You also need to ensure that whatever you install won't interfere with the ramp's safety. Some states have stricter regulations concerning wheelchair ramps, so you'll want to check local laws and regulations to ensure your method of cooling down a metal ramp won't restrict a wheelchair user or cause you to incur fines.
Ways to Keep Your Accessibility Ramp Cool
There are creative ways to keep your accessibility ramp cool while maintaining the aesthetic of your home. Below are some ways to add shade to your wheelchair ramp.
1. Canopies
Canopies are one of the most popular ways to keep your accessibility ramp cool. You have numerous options for canopies, including designs with retractable curtains, full overhead coverage and more. You can also create an easy DIY canopy to build and remove, allowing you to shade your ramp in the summer and remove it when winter comes around. DIY canopies are easy to make and excellent in a pinch when you need to shade your ramp fast.
If you want to make an inexpensive DIY canopy, all you'll need is the following:
4 5-gallon buckets
4 bags of concrete
4 tall planters
1 bag of soil
4 bamboo poles of PVC pipe around 6-8 inches
4 zip ties
1 big piece of fabric
Once you have your materials, you can start crafting a simple canopy.
First, you'll place one pole into each bucket and fill it with concrete, giving it plenty of time to dry. Once dry, you can place the buckets in the planter and top them with pebbles or whatever you'd like to make it look more natural. You can also fill the remainder of the planters with soil to plant flowers or other flora.
Add a grommet to each corner of your fabric to make the top of the canopy that will shade your home ramp. You can use shower curtains, king-size sheets or any other material. Finally, you'll attach the fabric to the poles using zip ties.
If you don't have the time to make a canopy or want something more professional, you can always purchase a canopy from a retailer. Many retail stores with garden centers have various canopy options, or you can shop online for something that suits your style and will cover your ramp!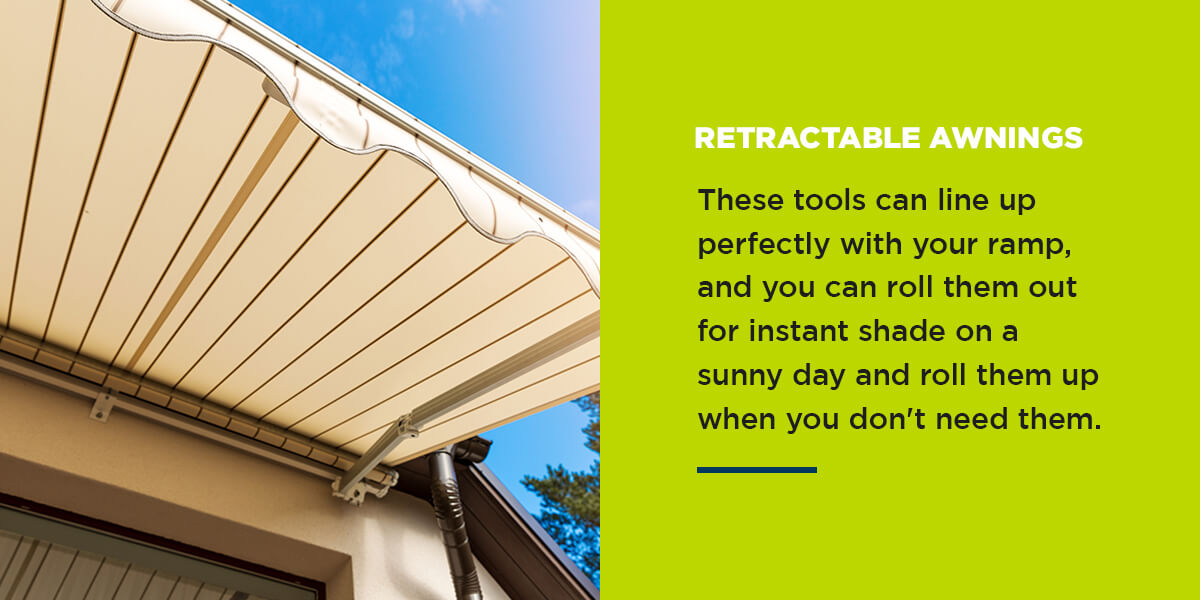 2. Retractable Awnings
Another option for cooling your ramp in the summer is using retractable awnings. These tools can line up perfectly with your ramp, and you can roll them out for instant shade on a sunny day and roll them up when you don't need them. Since they always stay up, you don't have to worry about storage. You also don't have to create a permanent structure over the ramp to install them, making them an easy and quick method for cooling your wheelchair ramp.
3. Shade Sails
Shade sails are stretched piece of vinyl or fabric that comes to two or more points. Shade sails are an aesthetically pleasing option for shading your ramp, but they also offer impressive coverage, ensuring that your wheelchair ramp will stay protected from the sun's rays.
However, keep in mind that shade sails are one of the more challenging options to install. You'll need to know the exact specifications to get the tension, angles and heights just right for optimal shade coverage. Despite these challenges, shade sails can effectively cool off your home ramp in the summer.
4. Outdoor Shades
Depending on where your outside ramp sits in your home, you could use outdoor shades to cool your ramp. Outdoor shades work like interior blinds and attach to the outside of your home. They can also attach to other structures to help block or filter the sun. Many outdoor shades can allow airflow in, preventing the space from feeling stuffy or hot.
You can choose various designs, colors and textures to suit your aesthetic. You can also choose customized sizes to ensure your entire ramp will be covered during the summer. Some outdoor shades are even motorized, allowing you to control them with a remote or from your phone, making them convenient for those who may find it challenging to pull them down or put them up daily.
5. Pergolas
Pergolas are free-standing structures that can help you filter light or create partial shade using a lattice roof. While they don't completely block the sun on their own, you can attach outdoor shades to them or lay a canopy on top to create the perfect shading for your ramp. Pergolas are inexpensive and low-maintenance additions to your home that can improve the aesthetic appearance while providing plenty of shade to keep your ramp cool.
6. Shading Walls
Another way you can create shade for your ramps is by using privacy walls. These walls don't block the sky but can cast shadows that cool your ramp. Whether you can use shading walls will depend on which way your ramp faces. Shading walls work best for west or south-facing wheelchair ramps so they can get the most shade during the day.
Ideally, you'll want to choose walls with small gaps to allow airflow, preventing the walls from trapping hot air and creating a warm, stuffy environment. You can also attach other materials to these walls for maximized shading, including canopies, retractable awnings, shade sails or outdoor shades.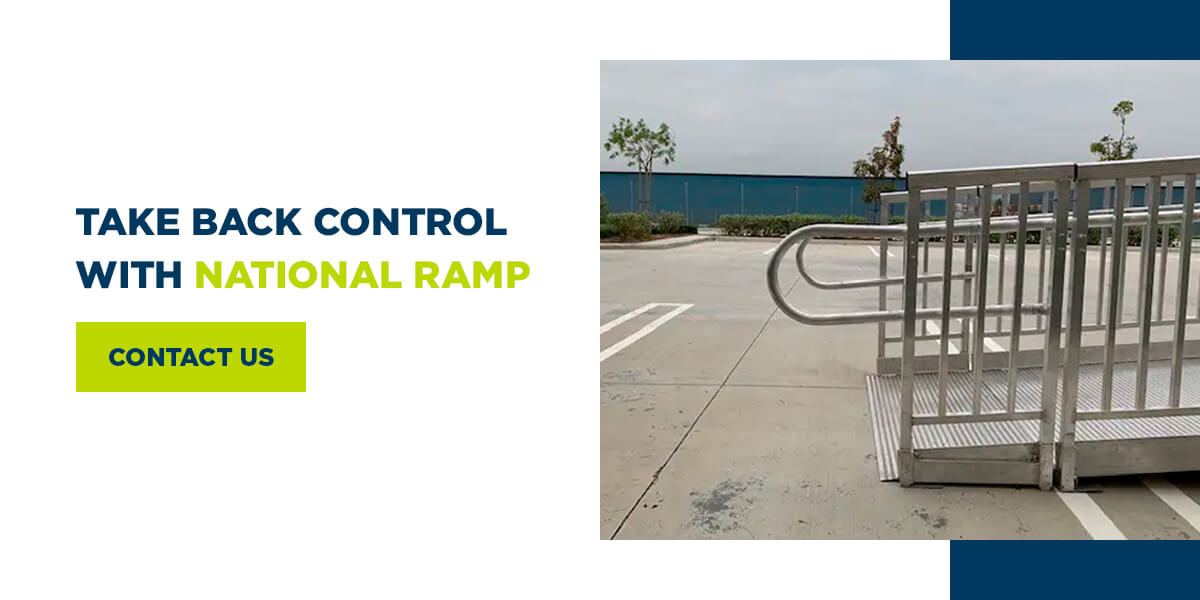 Take Back Control With National Ramp
Wheelchair or accessibility ramps help people living with disabilities or mobility concerns take back control of their life, increasing mobility and confidence during daily tasks. National Ramp can help give you the independence to get in and out of your home with our numerous ramp options.
We have ramps to suit every lifestyle and can deliver and install them quickly, helping you get mobile as soon as possible. Our experts will help you find a style and configuration that meets all your needs. Our individualized attention can help you find a custom-fit ramp to give you back control in your life. Contact us today to learn more about our mobility solutions!