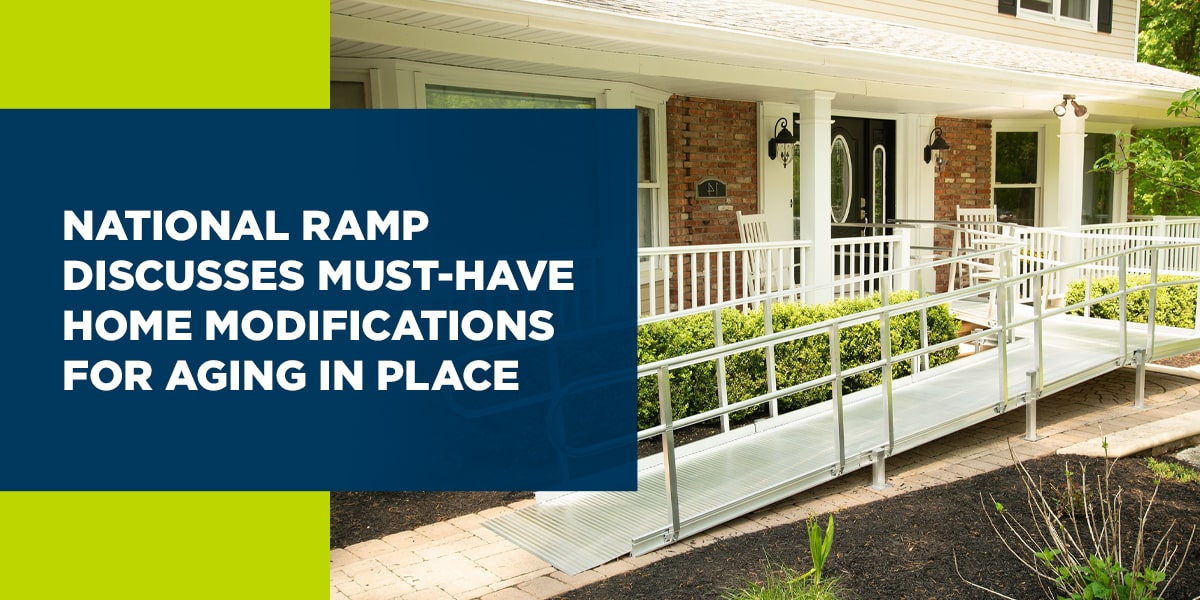 While for many years America's seniors have opted for the amenities and services offered by assisted living communities, this trend is quickly coming to an end. Today, reports from the AARP have shown approximately 90% of seniors hope to remain in their homes as they age. This change is largely driven by the rising costs of assisted living, greater availability of home services such as meal delivery services and home nurses, as well as the advancement of age-appropriate home modifications. The devastating impact that COVID-19 had on nursing homes has also added to this shifting change.
In This Article
Due to increased life expectancy, rising education levels, lower poverty rate, and long-term work opportunities, more Americans than ever are electing to age in place. There are many benefits to aging in place, such as being close to family and friends as well as staying connected to the local community. Additionally, these benefits, staying close to family and connected to younger generations, have been shown to significantly improve elder cognition and reduce the effects of Alzheimer's and dementia.
Although for many years homes were not designed for long-term care, today, there are numerous home-modification options American seniors can utilize to help stay in their homes well past retirement. The following are some of the many home modification and assistive living technologies that can help older generations age in place both safely and comfortably.
How to Modify Your Home for Aging
If you're like many other seniors, you want to remain in your home as you age. Choosing to stay independent instead of moving to a retirement community or assisted living facility is called "aging in place." It's important for you to make home modifications for aging in place safely.
Below are ways you can plan ahead for future needs with modifications to your residence for your accessibility and comfort:
1. Set Up a Personal Alert System
Each year, roughly one-fourth of Americans over the age of 65 suffer from a fall injury. One out of five of these falls will cause a serious injury such as a broken bone or head injury, which will double the risk of falling again. While falling is one of the most common issues among older generations, less than half of all elders will tell their doctor.
A home monitoring system, otherwise known as a medical alert system, is an inexpensive and essential tool for elders aging in place as they can alert medical response teams in the event of a fall. Home monitoring systems can provide peace of mind for both individuals and their families and ensure that seniors who have fallen receive immediate medical attention.
There are various types of person alert systems, ranging from devices that alert when pillboxes have been opened to devices that can alert family members or caregivers when a person has been inactive for a long period of time. These devices are most commonly worn around the neck and range from $20 to $80 a month.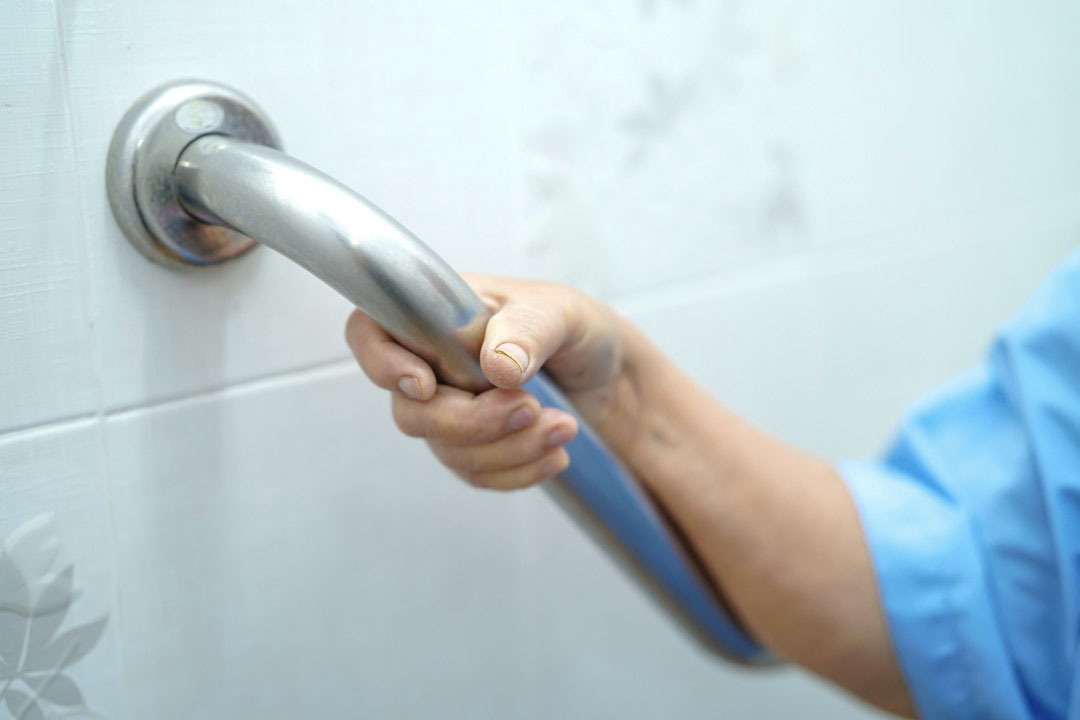 2. Install Grab Bars
When modifying a home for aging-in-place, elders are encouraged to prioritize their bathroom modifications. One of the most dangerous areas of the home is the bathroom, with more than one-third of home injuries taking place while bathing or showering. For this reason, seniors can become reluctant to bathe or shower for fear of falling or injury. However, without frequent bathing, seniors can run the risk of developing staph infections and other skin problems.
Grab bars are an inexpensive and effective home modification that can help elderly people and those with disabilities with strength, balance, and mobility issues continue to bathe with confidence and without the help of an aid. Grab bars can be placed in various rooms throughout a home; however, seniors are encouraged to look for grab bars that can hold more than 250 pounds.
3. Install Ramps for Entryways With Steps
Falls are the leading cause of injury for individuals over the age of 65. Therefore, many of the modifications made for aging-in-place homes are done to limit the risks of falls. While many of these falls occur due to small hazards such as throw rugs and obstructed pathways, it is important that seniors aging-in-place take extra precautions to modify their home's fall risk locations.
Home entry points are among the most common fall zones due to the high number of steps and frequency of use. In order to limit entryway fall risks while aging in place, many seniors opt to modify their entryway by installing a wheelchair ramp or threshold ramp. Threshold ramps can help you get over rises where two uneven floors meet. You might have trouble entering your home if you use a mobility aid, but filling the rise with a threshold ramp creates a no-step entrance.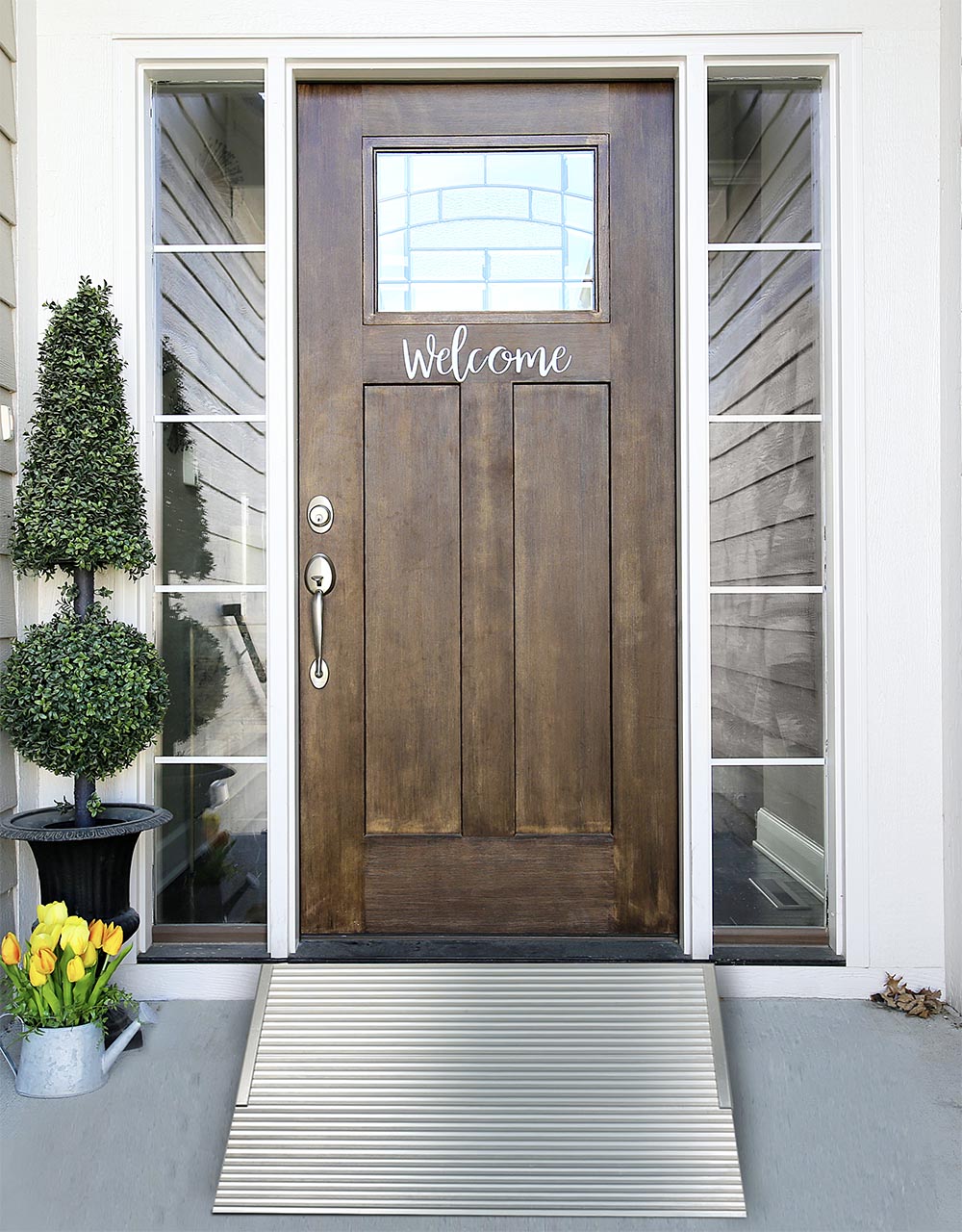 4. Install Threshold Ramps
When asked about the word "ramp," oftentimes, people will envision a long wooden wheelchair ramp leading up to a commercial or residential entranceway. However, ramps come in a variety of different sizes meant to solve various mobility issues around the home. Threshold ramps, often called step ramps, are ramps designed to help seniors transition between the interior and exterior door threshold or any small steps throughout the home.
Threshold ramps prevent falls from occurring between any floor transitions throughout the home. These ramps come in various heights ranging from ½ inch to 2 inches and four adjustable leg models ranging from 1 ½ inch to 8 inches.
According to the National Council on Aging, falls are the leading cause of fatal and non-fatal injuries for older Americans. A fall can happen to anyone at any time, and the effects can be devastating or even deadly.
If you have stairs leading to your home, you can be susceptible to a fall even if otherwise in good health.
A change in medication with side effects such as dizziness or vertigo
Carrying shopping bags in poor weather
Deteriorating stairs or handrails
A squirmy grandchild or leashed animal darting away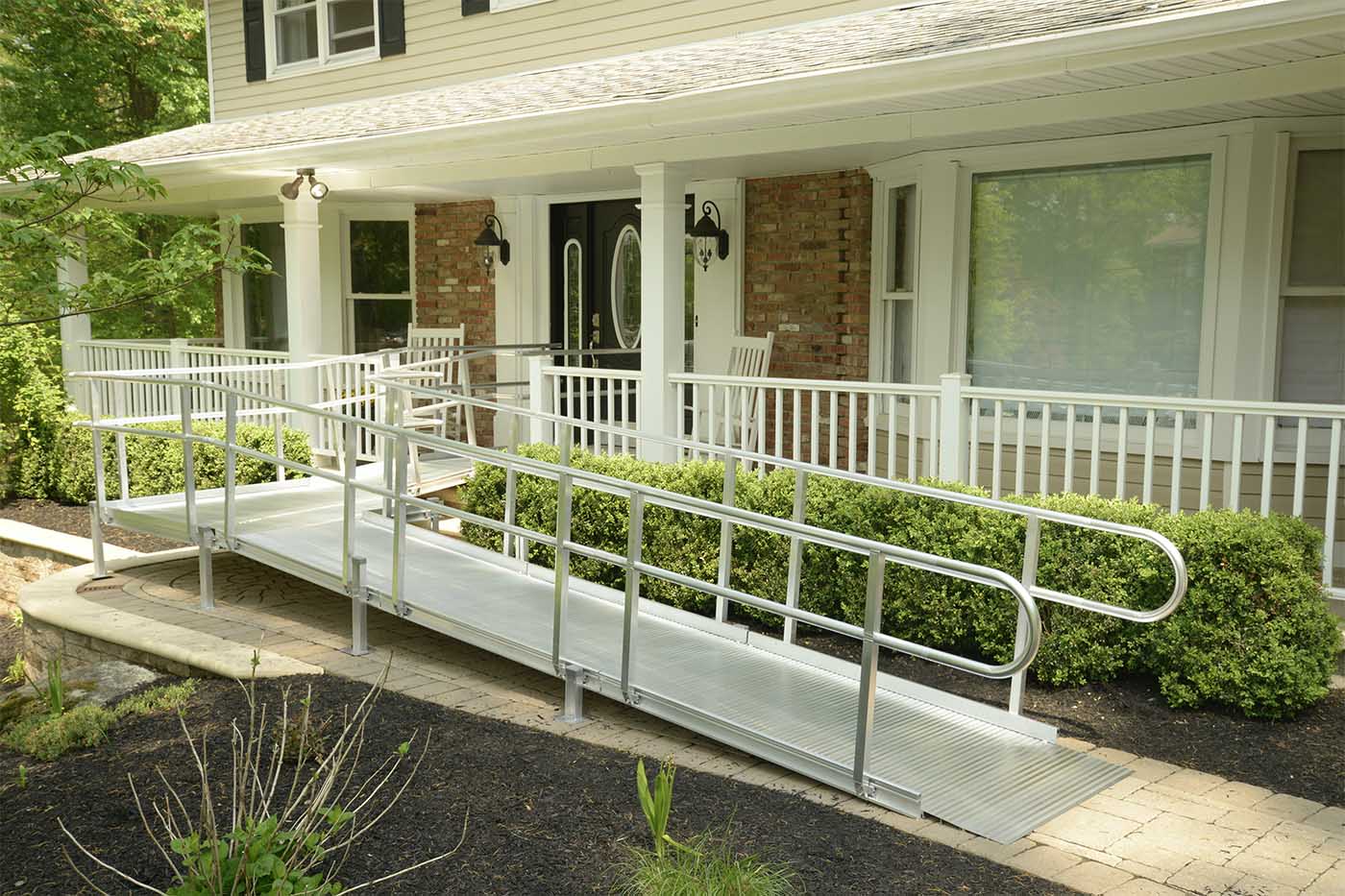 5. Install a Wheelchair Ramp
One of the most widely used ramps in both residential and commercial settings is the wheelchair ramp. Although wheelchair users are the most common people who utilize wheelchair ramps, these ramps are also recommended for seniors who use a cane, walker, crutches or artificial joints.
Wheelchair ramps help those with mobility and balance issues, reducing their fall risk while providing easy access to the home. When researching what ramp best suits a home, it is essential that potential buyers look for ramps that follow Americans with Disabilities Act (ADA) guidelines for home modifications. ADA ramps adhere to specific guidelines for ramp safety.
6. Replace Throw Rugs
Thick rugs are difficult to clean, bunch up and can lead to accidents. It's best to replace anything at your residence that presents a tripping hazard, especially if you need to use a walker or another mobility device. Moving a wheelchair across fluffy rubs or thick carpet is challenging and could lead to an awkward situation getting stuck.
You can replace rugs with slip-proof mats, but if you want to keep your rugs for any reason, stick double-sided tape underneath the rugs to secure them. You can also move the rugs to larger rooms, keeping them out of the way if you need to go around them.
7. Rearrange Your Furniture
If you use a mobility aid or will need one in the future, make sure you have clear pathways throughout your home.
With a wide berth between furniture, you can get around easier — wheelchairs require a more expansive space for moving around indoors. If you have any fragile decorations that could present a hazard, move them away from parts of the house you need to frequent. Relocate any furniture that could present a hazard.
8. Replace Doorknobs and Cabinet Hardware
Round turn knobs can be tough to use for someone with mobility issues. Install accessible lever handle replacements that are easy to open in place of your old doorknobs and cabinet handles. Lever handles are easier to grip if your hand strength is weak and gentle on your joints if you have arthritis.
9. Install Lighting in Dark Places
If you have a dim basement or cellar, consider adding additional lighting. Illumination is especially important for stairways where you'll need maximum visibility to stay aware of your surroundings. Additional lighting can reduce your risk of an accident.
You can also install rocker-style light switches for easier use. If you'd prefer not to hire an electrician, you can add automatic nightlights in narrow hallways or small bathrooms.
Many seniors require more light to see clearly, and small adjustments can make a difference.
10. Make the Stairs Slip-Proof
Any staircase in your residence should have railings. If you want to save money on remodeling, you can stick non-slip tape on uncarpeted stairs. Stairs are a hazard in general, but when the steps lack cushioning, they're more dangerous because of the hard edges. You can create better traction on the stairs if you use non-slip tape.
11. Utilize a Smart Vacuum
Heavy vacuums with multiple attachments can become more difficult to maneuver as you age. A great way to make the vacuum process easier is to utilize a smart vacuum. Smart vacuums will do the work for you! Plus, the low height of the vacuums allows them to reach under furniture and other hard-to-reach spots with ease.
12. Get Smart Medication Dispensers
Medication dispensers have gone beyond the weekly containers we've all seen for years. There is a wide array of products and apps on the market to help track medications and times, as well as alert caregivers to prescription refills or missed doses. The options are as low-tech as having the pharmacist pack your monthly medications into a pill organizer, to a machine that tracks and dispenses up to 10 different medications on schedule. The product best for you will depend on the number of medications you take, and how complicated the schedule is.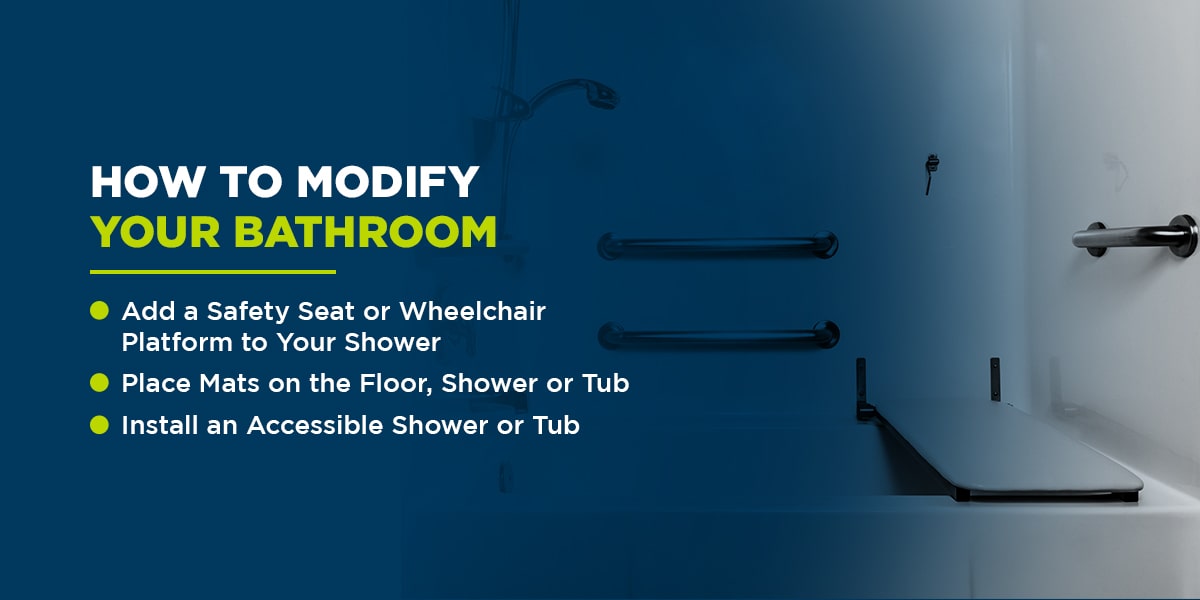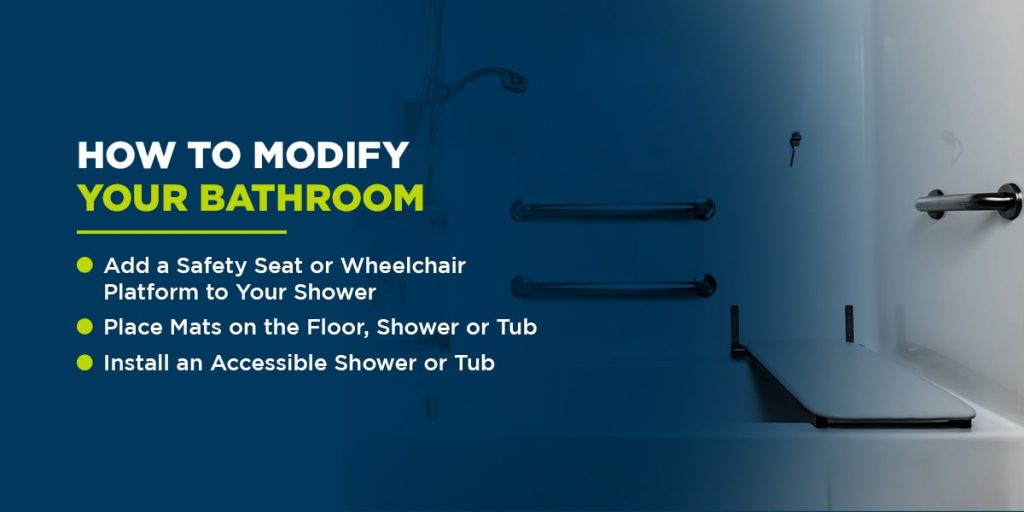 How to Modify Your Bathroom
Remodeling a bathroom for accessibility is an entirely different process from remodeling for aesthetics. You'll have to think ahead to make decisions about how the design will affect your future needs.
Below are some ways you can remodel your bathroom for maximum safety and comfort:
1. Add a Safety Seat or Wheelchair Platform to Your Shower
Adding a safety seat to your shower is ideal if you use a wheelchair. A seat is also helpful if you're unable to stand long enough to take a shower. This type of seat is affordable for homeowners, and you can find them in many home goods stores. If you have to remain seated because of a medical condition or physical disability, adding a seat to your shower is probably necessary.
You can add a shower seat without remodeling your bathroom, but if you have the funds for a built-in stool or bench, you should consider how much space you have available before requesting the update. Many of the same features are available for moveable chairs or benches, which you can move to other parts of the bathroom if needed. Removable benches are easily replaceable if they are ever damaged.
2. Place Mats on the Floor, Shower or Tub
The tile floors that are common in bathrooms can be dangerous for seniors. Water pools on top of the tile and is difficult to clean up without bending, leading to a slip hazard. You can use non-skid floor mats to make sure your bathroom floor is safe to walk or roll over even when the floor gets wet. You can also buy mats designed to go directly in your shower or tub for additional safety.
3. Install an Accessible Shower or Tub
Having to take a high step to get out of your bathtub or shower can be riskier as you get older. Having to balance on one foot, bend your knee and raise your foot high enough to enter the tub can be problematic if you have limited mobility. This is why you might want to replace your standard tub with an accessible model that has a door on the side.
If you want to keep your step-in tub or lack the funding to buy a new bathtub, make sure you have an alternative way to bathe if you ever require one. A stand-alone shower without the attached tub might be the right solution for your household — all you'd have to do to make it accessible is add a removable seat.
Curbless showers are another option. This type of shower lacks a lip on the outer edge, allowing accessibility aids to cross over without climbing a bump. Curbless showers allow for a smooth transition in and out of the unit and reduce your risk of having an accident.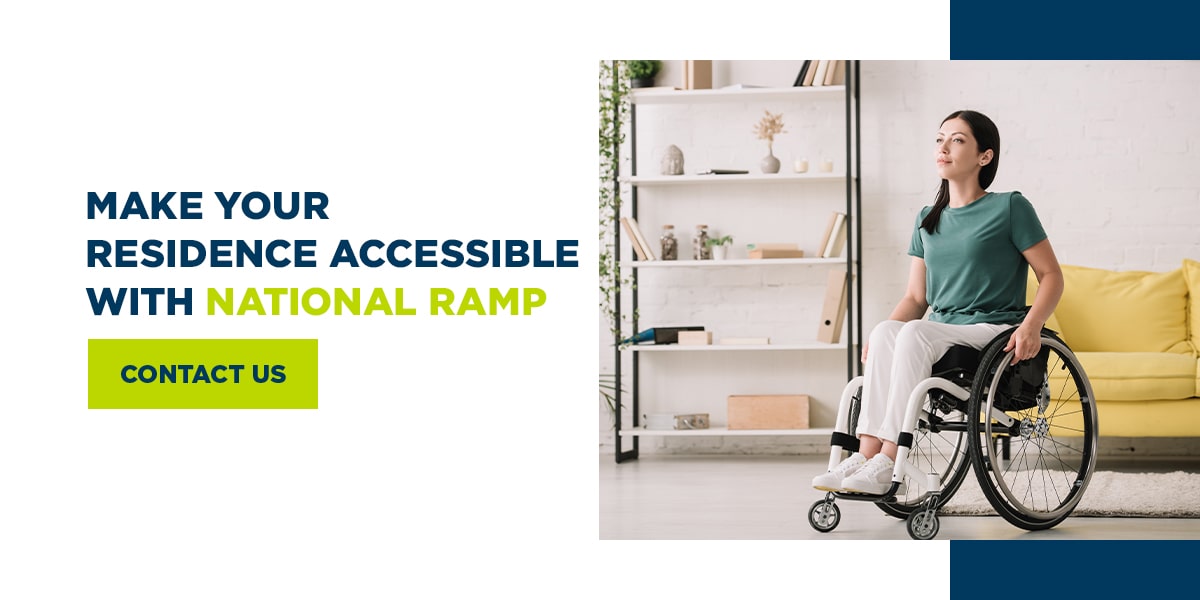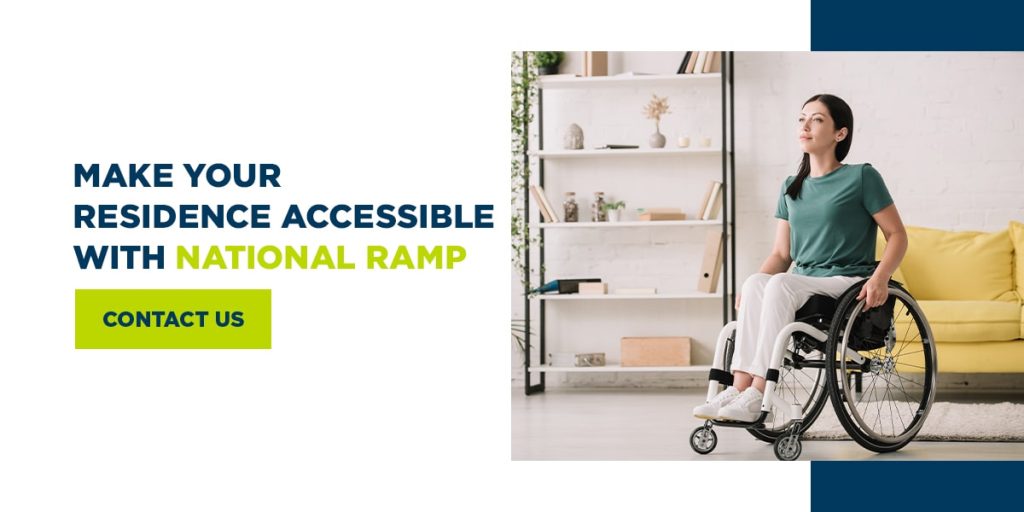 An Ounce of Prevention is Worth a Pound of Cure
According to the US Centers for Disease Control and Prevention, senior falls result in over 2.8 million injuries treated in emergency departments annually, at the cost of about $50 billion on non-fatal fall injuries.
A survivable but damaging fall can result in months of rehabilitation, loss of wages for those still working, and permanent changes to mobility. Seniors are often well-informed of the genuine risk of heart disease or diabetes, but fall prevention should be at the top of mind for all seniors and those who care for them.
Says Walker, "A National Ramp manufactured, safely installed ramp with handrails is an investment that can pay dividends in both the quality and length of your life."
Make Your Residence Accessible With National Ramp
We carry high-quality ramp products that can make your residence safe and comfortable for aging in place. Our ramps are ADA-approved and possess a high degree of safety.
Contact us today if you have questions related to the materials, dimension calculations or any other aspect of a product. If you're interested in installing a ramp, call us to get a quote or check out our pricing guide.