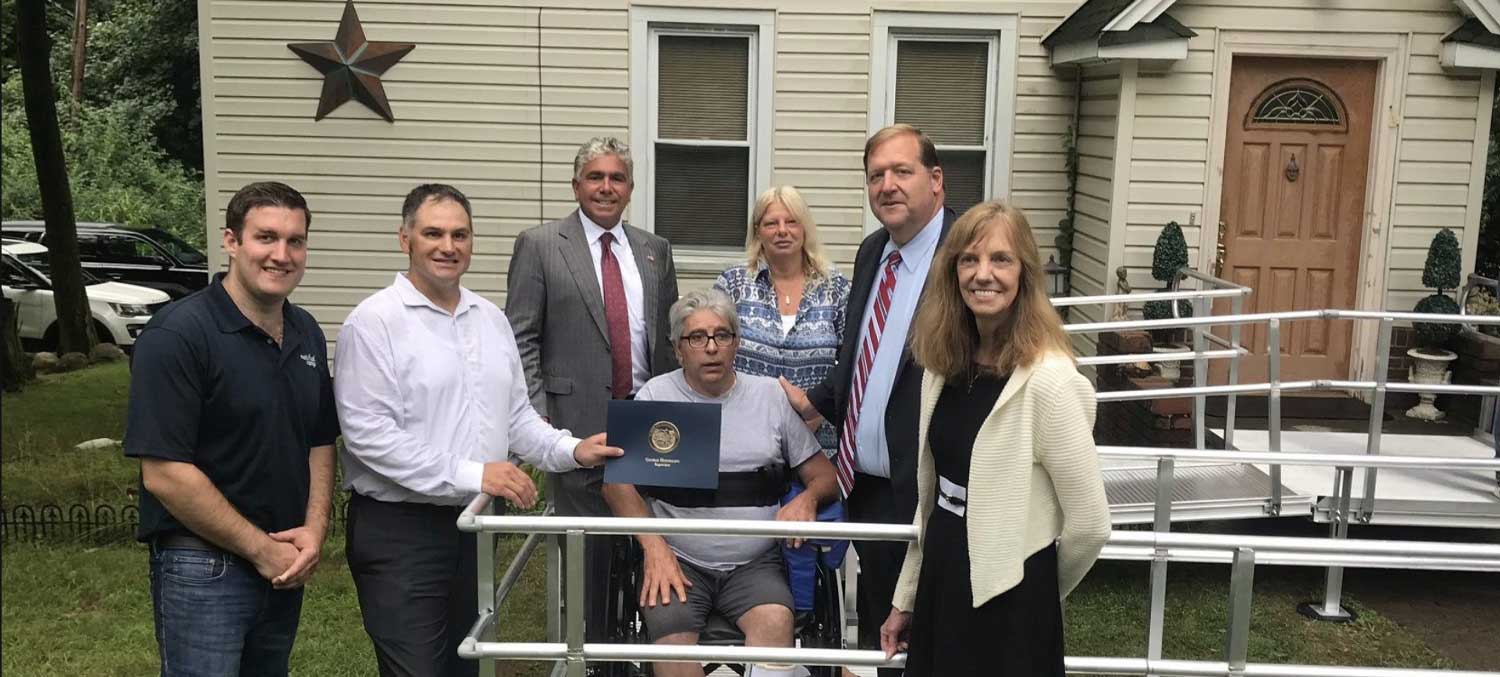 Bardonia, NY — On Thursday, July 18th, National Ramp donated a ramp to Rudy Ferezza, a retired Clarkstown Highway Department employee who had been homebound following a stroke suffered last year.
"We are happy to do whatever we can to give back to the community in which we live and work. Once we heard about the plight of our fellow Clarkstown citizen, we felt obligated to donate the ramp and the installation," said Garth Walker, Managing Director at National Ramp.
https://www.youtube.com/embed/fR-3-asXjAg National Ramp became aware of Mr. Ferezza's need for a ramp when a friend of his contacted National Ramp regarding the purchase of a ramp system. Mr. Ferezza was a long-time Clarkstown Highway Department Employee who suffered partial paralysis following a stroke last year. The stairs at the front of his house left him reliant on his wife to carry him from their home to the vehicle.
The 21-foot Liberty™ series aluminum solid modular ramp was installed by National Ramp's Operations team, and certificates were issued to National Ramp by Town of Clarkstown Supervisor George Hoehmann and Councilman Frank Borelli as well as the office of State Senator David Carlucci.
"As Chair of the Mental Health and Developmental Disabilities Committee, it's my goal to remove barriers to make New York State more accessible to everyone," said Senator David Carlucci (D-Rockland/Westchester). "Whether you are recovering from a stroke or have a disability, we need more accessible housing, transportation, and infrastructure. I thank National Ramp for seeing a problem and making a difference for Ruddy Ferezza. No one should be stuck inside their house due to inaccessibility. I hope this ramp will improve Ferezza's quality of life, and thank him for his work with the Town of Clarkstown."
"Freedom Now is not just the promise we give to our customers, it's the guiding principle that drives our business. We're grateful that we were able to help the Ferezzas, and wish Rudy much success with his physical therapy," commented Andrew Miller, Marketing Director at National Ramp.