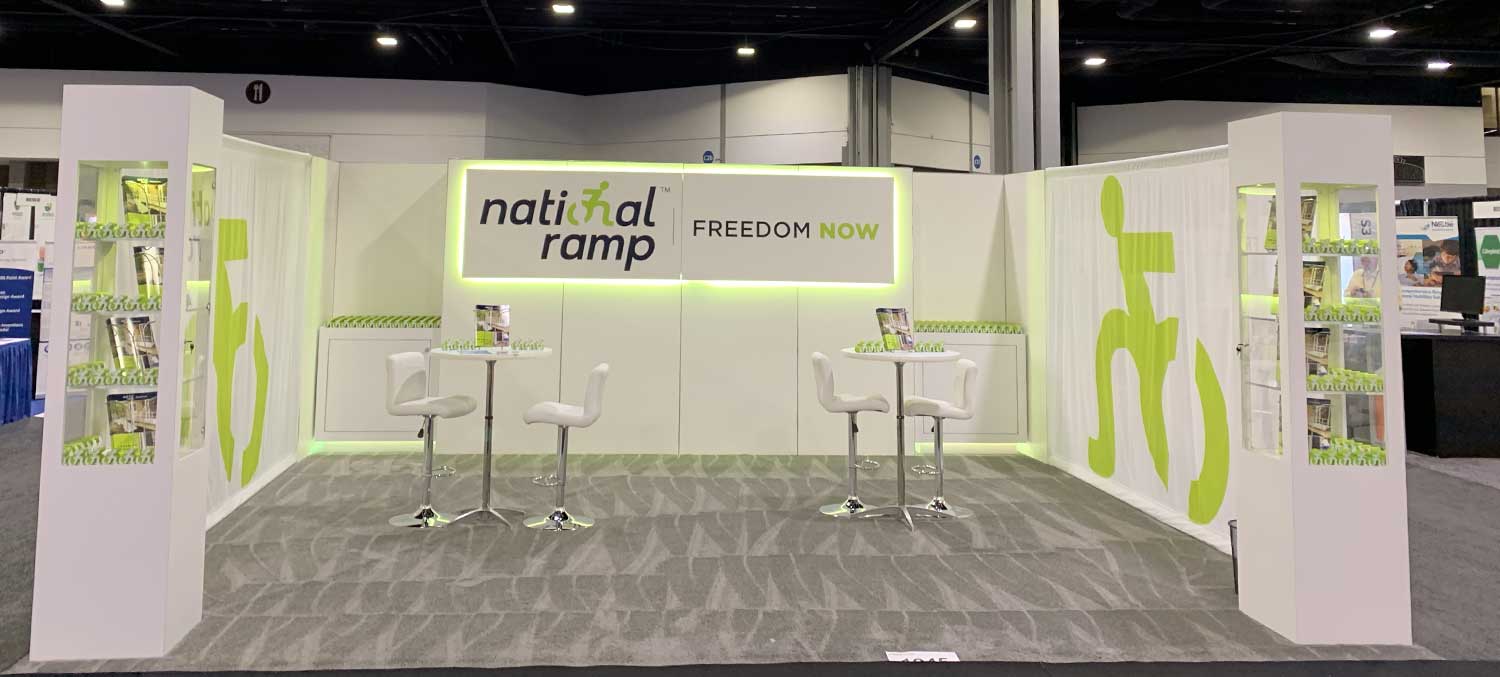 Valley Cottage, NY— October 14, 2019 — In its 9th exhibit at Medtrade, this year located at booth #1945, leading ramp manufacturer National Ramp shares their new online quote feature for end-users and expanded dealer support tools.
"Since we first installed a ramp in the Medtrade parking lot in 2010, we have looked for ways to disrupt the ramp industry. We're excited to share our new online quote feature, which provides our dealers with well-informed leads," said Garth Walker, Managing Director at National Ramp.
Online Quote Feature
The online quote feature, live on nationalramp.com, allows homeowners to get an estimated ramp cost by providing a few basic measurements on their property. Empowered with this information, National Ramp hopes that more consumers are decisive on their ramp purchase before the dealer is contacted for a home assessment.
Dealer Support Tools
The support for National Ramp dealers goes beyond the qualified retail leads offered through the redesigned website and online quote feature. A ramp configurator to allow evaluators to give consumers a visual preview of the ramp, a dealer portal, and new installation videos are some of the tools National Ramp has rolled out this year.
"It's really quite simple. When our dealers succeed, National Ramp succeeds. Our business growth is only possible by the strong relationships we have built with our dealers throughout the years. It is in our best interest to ensure our dealers have as many resources as possible to continue expanding their businesses, and we are excited by the addition of online support, and improved dealer sales bag and new marketing collateral" said Roy Walker, Home Access Business Development Manager.
"Under our new booth design, featuring a hanging halo and a 6' tall spinning "On Icon" logo, we hope to attract and engage visitors to how National Ramp is always innovating and improving the experience we bring to our dealers and end-users," shared Ross Coulter, Home Access Sales Manager.
Founded in 2005, National Ramp is a leading manufacturer of modular ramps.
###
National Ramp and the National Ramp Product Line are either registered trademarks or trademarks of National Ramp in the United States and/or other countries.
The names of actual companies and products mentioned herein may be the trademarks of their respective owners.