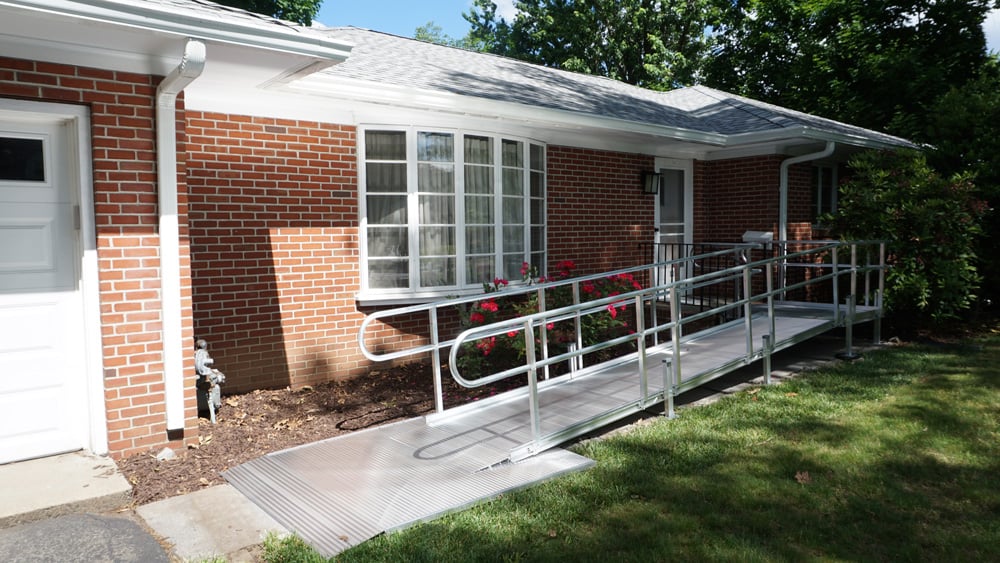 Winter can be wildly unpredictable as even the US's Southern regions can be hit with a snowstorm. While you winterize your property, be sure to give your ramp some attention to make sure it's in the best shape possible before the weather conditions worsen.
Fall cleanup is the perfect time to check your ramp to ensure it is still in good condition. Check the ramp to make sure any Celebration™ Footer Pads are still correctly placed under legs, that the landing pad is still level and securely under the ending of the ramp, that no bolts or nuts are on the ground around the ramp. If you have any concerns about the stability of your modular ramp, call your National Ramp dealer.
If you have an open-mesh Triumph Series™ steel ramp, check your ramp for any scratches in the powder-coated finish. Paint over any scratches immediately to prevent rusting.
If you haven't sealed or painted your Victory Series™ wooden ramp yet this year, be sure to do so before the weather worsens.
REMINDER – Always exercise extreme caution when using a ramp in inclement weather.
In This Article
General Winter Ramp Maintenance
Before the temperature starts dropping, start planning and preparing for the winter season ahead of time. Fall is the perfect time to start taking action so you'll be ready for whatever winter sends your way.
Early preparation is key because the combination of freezing temperatures and ice and snow can impact the performance of your ramp. This buildup can damage many different ramp components. Plus, a buildup of dirt, ice and snow can cause the surface to become dangerously slick, making the ramp a safety hazard.
No matter where you live, here are a few general tips you can follow to maintain your residential ramp this winter:
Use a thick-bristled broom: Be sure to regularly sweep away any fallen leaves, twigs or dirt with an outdoor broom. You can also use a thick-bristled broom to clear away a light layer of snow that has collected on the ramp.
Keep a shovel on hand: A plastic shovel, especially if you have an aluminum ramp, helps you quickly clear away built-up snow on your ramp, making it safer to go up and down.
Apply snow and ice melt products: To prevent snow and ice from collecting on your ramp, you can use melt products. Depending on the type of ramp you have, you'll want to use specific types so they don't cause damage. For example, calcium chloride salt substitutes or magnesium chloride work especially well for aluminum ramps. Clear away the snow and ice and then apply a liberal layer of your ice melt.
Pay attention to all parts of your ramp: While using ice melts and installing rubber mats or non-skid strips can help keep the surface of your ramp safe and secure, don't forget about other parts that can become slippery in the winter — like the handrails. Make sure the rails are still firmly attached, and tighten any screws if necessary. You can also apply a melting product on top.
See more tips for ramp preparation by region below.
Northeast United States:
Connecticut, Delaware, District of Columbia, Maine, Maryland, Massachusetts, New Hampshire, New Jersey, New York, Pennsylvania, Rhode Island, and Vermont
As the colors of fall start to appear, keep them off your ramp! Wet leaves can cause slippery conditions that can be difficult even with slip-resistant decking. Use a leaf blower or stiff broom to keep your ramp free from debris.
Purchase a snowmelt product that is safe for your home ramp material before the ice and snow starts falling.
If any tree sap has landed on the ramp, clean it off with a rag soaked with a bit of acetone nail polish remover, adhesive remover, or mineral spirits.
Prepare your wheelchair ramp for winter by adding some cat litter or sand to it to create extra grip. Doing this will help keep your wheels from slipping and sliding on the way down.
Especially when you live in the Northeast United States where snow is expected, taking extra measures like adding heating pads or heat tape can help keep the snow from collecting.
Southeast United States:
Alabama, Florida, Georgia, Kentucky, Maryland, Mississippi, North Carolina, South Carolina, Tennessee, Virginia and West Virginia
After an active hurricane season, even if your wheelchair ramp has Hurricane Tie-Downs, repeated, intense weather may have caused your ramp to shift out of position. Call your dealer if your ramp suffered any damage, or if it feels loose or unsecured.
If any tree sap has landed on the ramp, clean it off with a rag soaked with a bit of acetone nail polish remover or mineral spirit.
Similarly, if there are a lot of leaves and debris covering the ramp from harsh summer weather, be sure to thoroughly remove them so they don't contribute to a dangerously slick surface once the snow starts to fall.
Midwest United States:
Illinois, Indiana, Iowa, Kansas, Michigan, Minnesota, Missouri, and Nebraska
Preparing your handicap ramp for an intense winter may look different depending on your ramp. If you have a Liberty Series ™ aluminum or Victory Series ™ wood solid decking ramp, you may wish to stock up on your ramp-safe snow melt products or purchase an outdoor rug to expedite the snow removal process.
Specifically for the Liberty Series™, you can use a calcium salt substitute to melt away ice. You can also use salt or a de-icer to make the ramp safe to use. Because the Victory Series™ is made out of wood, avoid products like salt or ice melt chemicals that will damage the ramp.
Place snow mats on your ramp to add extra grip and traction. These mats are quick and easy to lay down and can be shaken off to remove any debris.
Pacific Northwest:
Idaho, Oregon, and Washington
While the anti-slip surface of the Liberty Series™ aluminum ramp will help keep you safe, if you wish for extra support when you need to be on your ramp during heavy rainfall, you can reinforce the anti-slip surface with a textured spray paint from your local hardware store.
Use either a thick-bristled broom or a plastic shovel to clear away fallen snow and keep your ramp snow-free and safe.
Melt away any ice or snow using a calcium chloride salt substitute. Avoid products containing rock salt (sodium chloride), magnesium chloride and antifreeze, which could damage the ramp.
As the colors of fall start to appear, keep them off your ramp! Wet leaves can cause slippery conditions that can be difficult even with slip-resistant decking. Use a leaf blower or stiff broom to keep your ramp free from debris.
Southwest United States:
Arkansas, Colorado, Louisiana, Montana, New Mexico, North Dakota, Oklahoma, South Dakota, Texas, Utah, and Wyoming
Sweep away a light dusting of snow or use a de-icer as a pretreatment if you are expecting a heavy snowfall. You can also use a liquid de-icer to keep the mesh ramping safe and clear.
Apply grip tape for extra traction, making sure to remove and replace it whenever it gets worn out. Leaving old grip tape can create a tripping hazard, so be sure to monitor its condition regularly.
Get Your Life Back and in Control With National Ramp
Since the early 2000s, National Ramp has been an industry leader, providing the quality ramps needed to help individuals safely get in and out of their homes. If you need one of our solutions, we'll provide you with a free face-to-face wheelchair ramp evaluation and get it installed as soon as possible — even as soon as the next day.
Interested in learning more? Give us a call at 877-748-5588 and get your freedom now.