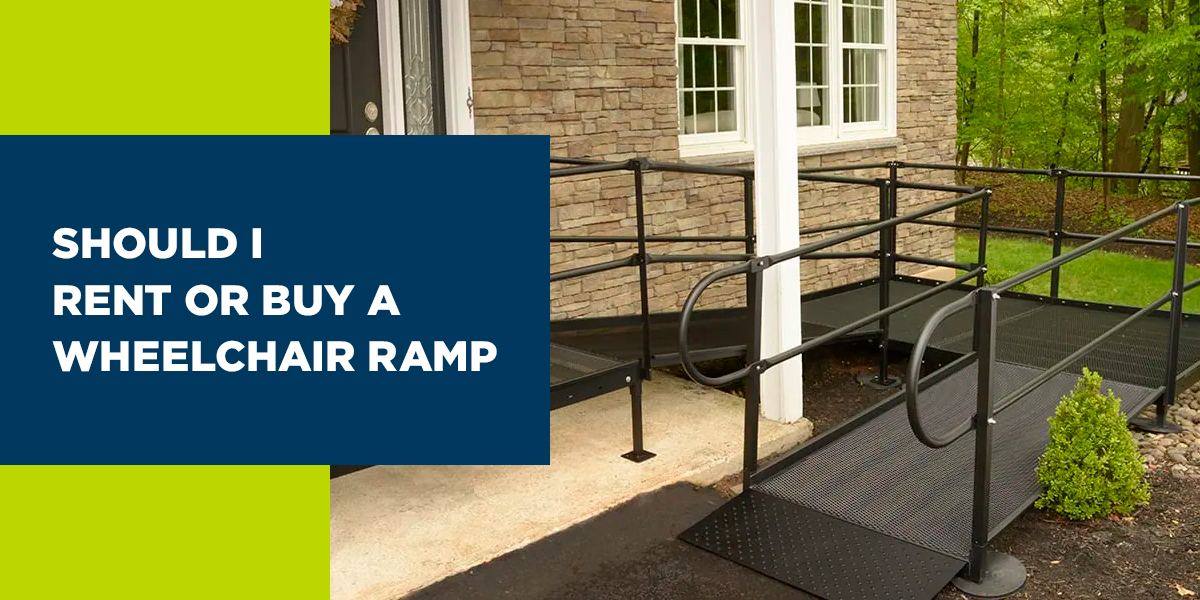 Living a comfortable and fulfilling life involves having the freedom to move around as needed. Wheelchair ramps offer an accessible way to travel from one place to another and are an investment in the health and safety of the wheelchair user. When choosing to buy versus rent wheelchair ramps, follow this guide encompassing the benefits and disadvantages of each option.
In This Article
Benefits of Renting Wheelchair Ramps
If you need a wheelchair ramp for a short amount of time, a rental ramp may offer a perfect solution. The ramps can temporarily accommodate houseguests with mobility challenges or individuals living in rehabilitation, hospice or end-of-life situations. In many cases, rental ramps can also provide a feasible solution for those in transitional periods, recovering from an injury or planning to move from their home in the near future.
Most of our residential ramp rentals have a 3-month minimum. The ramps can offer better access to commercial buildings such as businesses and schools. Sometimes, aluminum handicap ramps for rent can also allow a loved one to attend a special event like a party, graduation or wedding.
Disadvantages of Renting Wheelchair Ramps
A rental ramp may not offer the most cost-effective option if you need it longer than anticipated or plan to use it long-term. Consider buying a wheelchair ramp if you or a family member may need it for over six months.
Benefits of Buying Wheelchair Ramps
It's best to buy a wheelchair ramp if you plan to use it long-term. Investing in wheelchair ramps makes accommodating the day-to-day lifestyle and needs of those with mobility conditions easier. Property owners can permanently make their homes, businesses, churches or schools accessible.
Home improvements for handicap accessibility may provide eligibility for tax deductions. Determining whether you qualify for the tax credits can provide opportunities to save money when you plan to buy entrance or exit ramps for your home.
Disadvantages of Buying Wheelchair Ramps
Setting up a permanent wheelchair ramp involves some upfront costs. However, after paying the expenses for the product and installation, the ramp provides peace of mind knowing you or a loved one has the freedom to move around and live a fulfilling life.
Experience Freedom With Solutions From National Ramp
When you want to rent or buy a wheelchair ramp, trust National Ramp. As an industry leader, we've installed over 60,900 ramps so far. We're proud to transform lives and offer an easy way to access better mobility with excellent customer service, free evaluations and fast installation.
We offer different materials and styles to choose from, including solid surface aluminum, steel mesh and natural wood. Call 877-564-4355 or contact our team to learn more today!