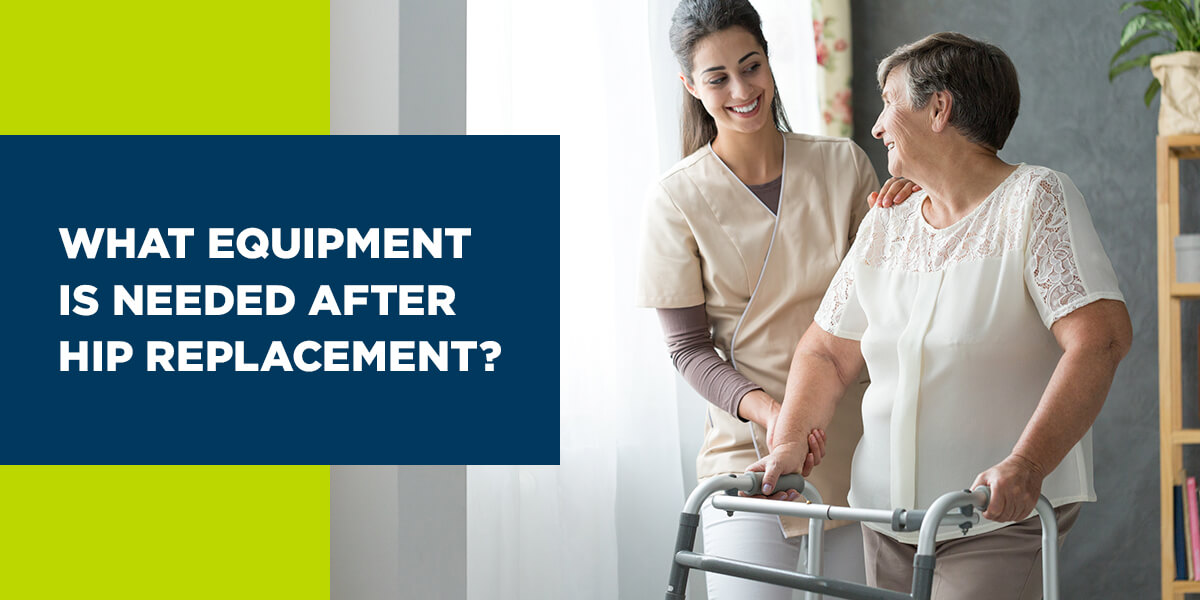 If you or a loved one is preparing for hip replacement surgery, a doctor may have told you that the ability to move around after surgery is very important to the recovery process. Movement keeps the muscles engaged and improves blood flow in the lower body, helping to prevent blood clots. Being able to move around after surgery also gives patients a sense of independence and helps them maintain quality of life.
While mobility is crucial following hip replacement surgery, you must take great care to avoid accidents or mishaps that can lead to injury. Using mobility equipment allows you to safely partake in many of your regular, daily activities as you journey through your recovery period.
If you're curious about what equipment is needed after hip replacement surgery, join us here as we discuss assistive devices for mobility, bathroom activities and other tools and tips for getting around.
In This Article
Equipment for Mobility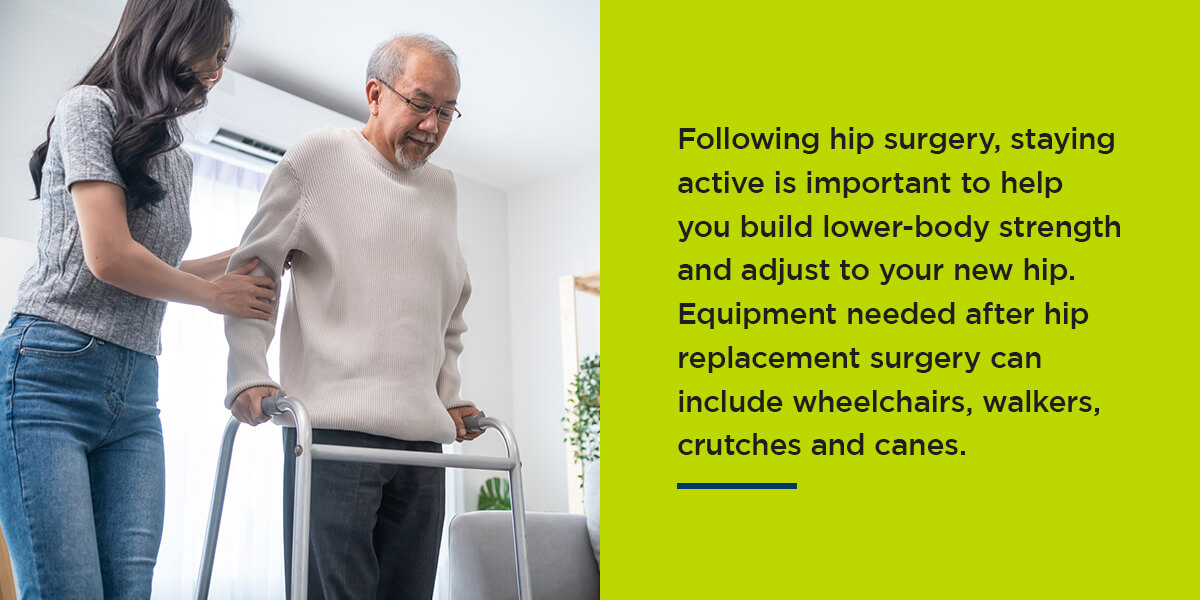 Following hip surgery, staying active is important to help you build lower-body strength and adjust to your new hip. Equipment needed after hip replacement surgery can include wheelchairs, walkers, crutches and canes. Your doctor may recommend one or more of the following assistive devices to keep you mobile and safe:
Wheelchair: You may need a wheelchair in the first few weeks of hip replacement surgery, depending on the layout of your house and how much in-home support you'll have.
Front-wheel walker: Front-wheel walkers have two wheels on the front legs to aid in maneuverability. These walkers are helpful for individuals who need additional support and stability while walking.
Crutches: Crutches can be helpful after hip replacement surgery to aid in walking and to keep weight off the newly replaced hip as it heals. Physiotherapists suggest using one crutch on the opposite side of the operated leg — for example, if you've had a left hip replacement, use the crutch on the right side of your body.
Cane: Using a cane after hip replacement surgery can help you stay mobile and maintain your independence. Your health care team will help you choose the right cane based on your height and weight, as well as the cane's durability, material and adjustability.
Equipment for the Bathroom
You may experience pain, weakness and limited range of motion in your new hip following surgery. These symptoms can make it difficult to stand up, sit down and move around safely, particularly in the bathroom, where surfaces are often slippery. However, there are many ways to make bathroom activities easy and safe for hip replacement patients. Consider outfitting your bathroom with the following helpful items after hip replacement:
Raised toilet seat: A raised toilet seat makes it easier for hip replacement patients to access the toilet. These devices can improve comfort, safety and surgical recovery at home. Raised toilet seats help protect the hip, allowing your knee to remain lower than your hip when you sit down. This position helps to avoid hip replacement complications such as knee pain and osteoarthritis.
Toilet safety frame: A toilet safety frame provides support and stability when hip replacement surgery limits your mobility, balance and strength. The frame is typically made of lightweight, sturdy metal and fits around the toilet to provide a secure, stable handhold as you sit down and get up. Toilet safety frames also usually have two armrests positioned on each side of the toilet. These armrests are height-adjustable and sometimes feature padded grips or non-slip surfaces for additional comfort and safety. Toilet safety frames can also be used in combination with a raised toilet seat to further your safety and comfort.
Grab bars: Bathroom grab bars provide support and stability as you move around your bathroom, reducing the risk of falls and injuries. You can have them installed near the toilet, shower and bathtub to make these areas safer and more accessible as you recover from hip replacement surgery.
Tub chair: A special tub seat or a stable plastic chair allows you to sit while bathing, eliminating the risk of slips or falls.
Tub transfer bench: A transfer bench can provide extra stability and safety when you get in and out of the bathtub, which is important for preventing falls and injuries. These benches straddle the edge of the bathtub, allowing you to slide over the edge of the tub instead of lifting your leg and stepping over, which can be difficult and dangerous for someone with limited mobility.
Hand-held shower head: A hand-held shower head allows you to control the water stream from your seated position.
Long-handled sponge: A sponge with a long handle makes it easy to reach and bathe every part of your body without bending or twisting.
Other Tools and Tips for Getting Around
In addition to the equipment described above, the following items can make everyday tasks, like tying shoes, easier and safer:
Reacher: Reachers help you grab items from higher and lower levels. They can also help you put clothes on the lower part of your body.
Sock aid: A sock aid allows you to slip socks on quickly and easily without needing to reach down or bend over.
Elastic shoelaces: Elastic shoelaces allow you to slip your feet straight into your shoes without needing to loosen, tie or untie the laces.
Long-handled shoe horn: A shoe horn helps you guide your foot into a slip-on or already-tied shoe.
And here are a few general tips to help make your home conducive to recovery:
Ensure you have a stable chair with a firm seat cushion, back and two arms to rest in while you recover.
Create a "recovery zone" in the room where you'll spend the most time, keeping commonly used items like the TV remote, telephone, books and medications close by.
Remove any tripping hazards from the walkways in your home, such as electrical cords and loose carpets.
Find Freedom Now With Mobility Ramps From National Ramp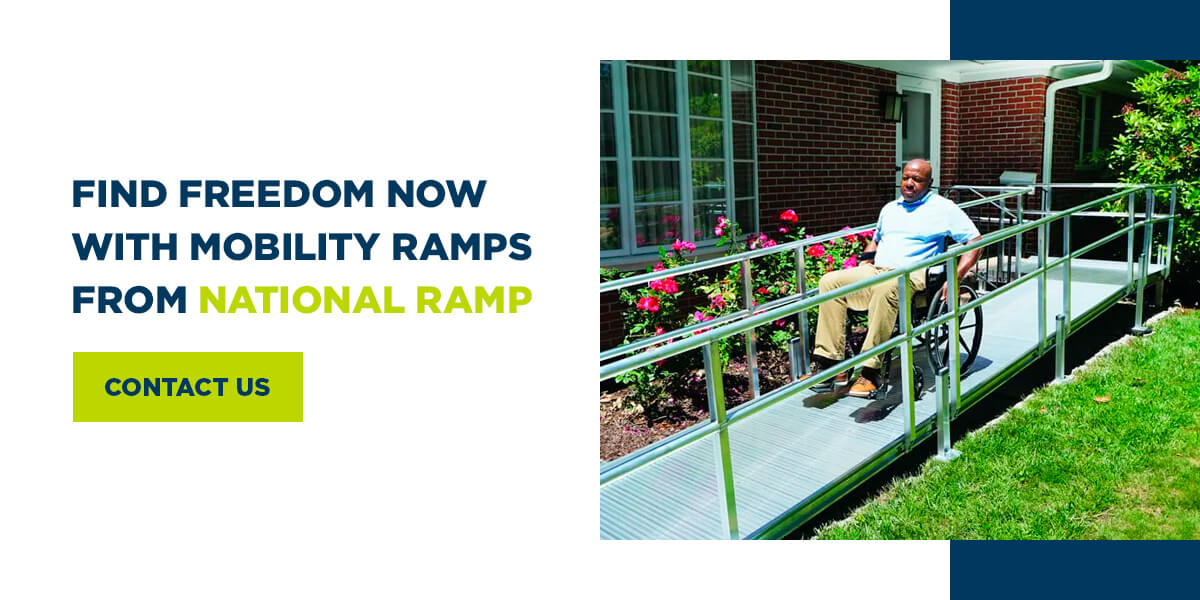 Mobility after hip replacement surgery promotes a healthy recovery and allows patients to retain a level of independence. Assistive equipment such as wheelchairs, walkers, crutches and canes, as well as other aids like raised toilet seats, grab bars and tub chairs, can help hip replacement patients move around their homes and complete everyday tasks safely.
Installing a ramp outside your home is an excellent way to supplement your mobility equipment. Ramps make it easier and safer for hip replacement patients who use a wheelchair, walker or other assistive device to move in and out of their homes.
At National Ramp, our mission is to provide freedom now. We sell and install mobility ramps so people who are disabled due to disease or injury can enjoy freedom and independence. We offer a variety of ramps to meet any need and budget, as well as fast, expert installation. Learn more about our ramps and how they can provide the independence you deserve by contacting National Ramp today!