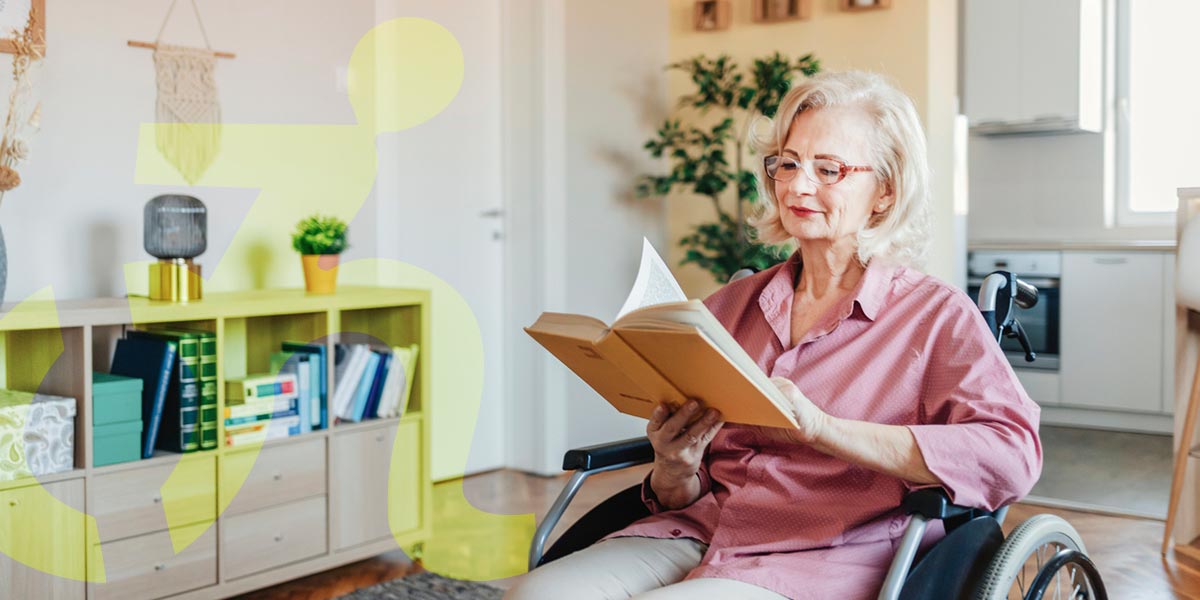 When you need assistance in your daily life, you might wonder how to live independently with a disability. Thanks to advancements in technology, it's easier than ever to transform a space so it is fully accessible and allows for independent living for disabled people.
Living independently with a disability brings a measure of control back into your life. It enables you to feel like you have your freedom back, and allows you to be comfortable in your home. We've put together this guide of tips and resources so you can learn how to prepare for independent living.
In This Article
Housing Options
There are many independent living options available for those with needs. Frequently, people with disabilities choose to live with a caregiver or family member, but supportive and assisted living facilities can also be a home. Your ideal living environment will depend on your wants, needs and age. Here are some living options for disabled adults:
Section 8 housing: The United States Department of Housing and Urban Development (HUD) assists low-income families and disabled citizens who can't afford rent with the Housing Choice Voucher Program, or Section 8. This program will pay your rent and make you eligible for living in section 8 housing unit communities.
Assisted living facilities: Many seniors prefer to live in assisted living facilities so they can have a private apartment and access to care. Sometimes the caregivers are nurses, but other times they are not medically trained.
Living with family: Parents and caregivers often become skilled caregivers to offer you the best care. Many people choose this over transitioning to another housing arrangement.
Supportive housing: Supportive housing offers a community for people with special needs. Depending on your needs, you can live without assistance or with access to staff that can assist you.
10 Tips for Living Independently
Your disability doesn't define you. It may present unique challenges and limitations, but you can overcome them with the right technology and support. Here are 10 tips to help you live autonomously.
1. Start Slow With Daily Life Decisions
Many adults with disabilities grow up in nurturing and protective environments. It can be overwhelming to have independence and decision-making power suddenly. If there isn't a transitional period, it can lead to fear and anxiety. To prevent this, you can start by making small decisions, such as what to cook for dinner, and gradually gain more independence.
2. Modify the Home
One of the most important tips is to make the necessary modifications to your home. When you make modifications that coincide with your needs, it should make your life a little easier. Common adjustments include:
Removing rugs and carpet.
Installing a roll-in shower or tub.
Eliminating clutter and rearranging furniture to create clear pathways.
Installing a shower bench.
Lowering surfaces, like beds, sinks and counters.
Installing additional lighting fixtures.
Posting a list of emergency contacts somewhere visible.
Widening doorways and hallways for mobility devices.
Installing the correct type of threshold ramp for your needs and other devices for mobility assistance.
Tucking away cords and wires.
Linking your lights to a remote.
Installing grab bars in the bathroom.
3. Establish a Support System
Living independently doesn't mean that you can or should do everything on your own. A solid support system of people who care about you and your well-being is essential. Knowing that help is nearby if you need it will comfort you. Some people you can include in your support system are:
Family and friends: Friends and family can provide social engagement and help you with daily activities like driving you places, shopping and cleaning.
Home care aide: You can create a home care program that suits your needs. Home care aides can assist with daily activities, personal care, rehabilitation care, companion care and more. When you hire a home care aide, you can set their hours based on your needs.
Support groups: Support groups can help you connect with other adults with disabilities who want to live independently and make new friends.
4. Consider Learning, Employment and Volunteering Opportunities
Whether to earn money or volunteer your time, work provides you with a sense of purpose. It gets you out and about, so you don't feel like you're inside all the time and it's an opportunity to contribute to society. You can hone your skills, develop new ones, form connections and improve your self-confidence.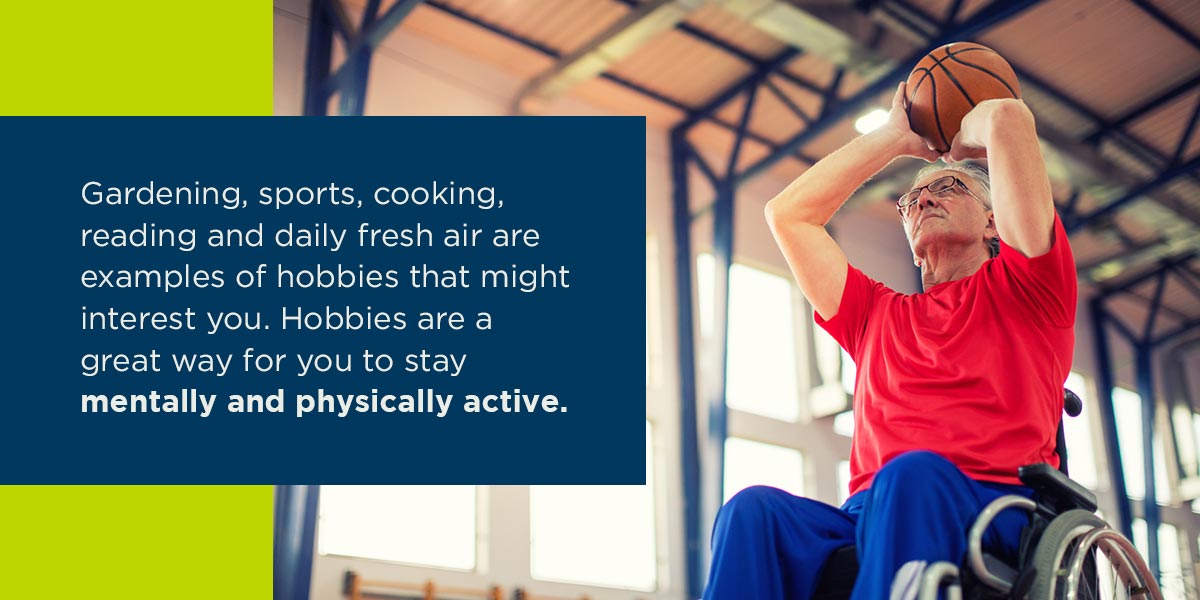 5. Find a Hobby
Gardening, sports, cooking, reading and daily fresh air are examples of hobbies that might interest you. There are plenty of hobbies, and once you find one you love doing, it can bring you joy. Hobbies are a great way for you to stay mentally and physically active.
6. Live a Healthy Lifestyle
It's important to live a healthy lifestyle. This involves maintaining a healthy diet and trying to stay as active as you can, such as with daily light exercise. A healthy lifestyle can make you feel good and increase your happiness.
7. Seek Financial Assistance
If you need financial assistance, the Social Security Administration offers income disability programs. You may qualify for free health care insurance, like Medicaid.
8. Get the Equipment You Need
Having the right equipment ensures living independently goes well. You might need mobility aids, such as a walker or wheelchair, wheelchair ramp, adaptive driving equipment and talking or support devices. Wheelchair ramps are a great addition because they make your home more accessible for any kind of mobility aid.
It's vital to conduct research so you know all the equipment that's available to you. Before you begin living independently, ensure you have the equipment and technology you need.
9. Utilize Technology to Build Skills
The world revolves around technology, and all of its advancements allow for easier learning. Many adults with disabilities use electronic tablets and applications to learn and build skills. Tablets can be fun to use, and there are many applications and programs available that you might find helpful.
10. Maintain a Positive Attitude
To live independently, you need to empower yourself. You know your needs better than anyone, so take the initiative and create a custom care plan. While adjusting to independent living, focus on what you can do, not what you can't do. Set realistic daily goals for yourself and maintain a positive attitude, so you begin and end each day with a smile.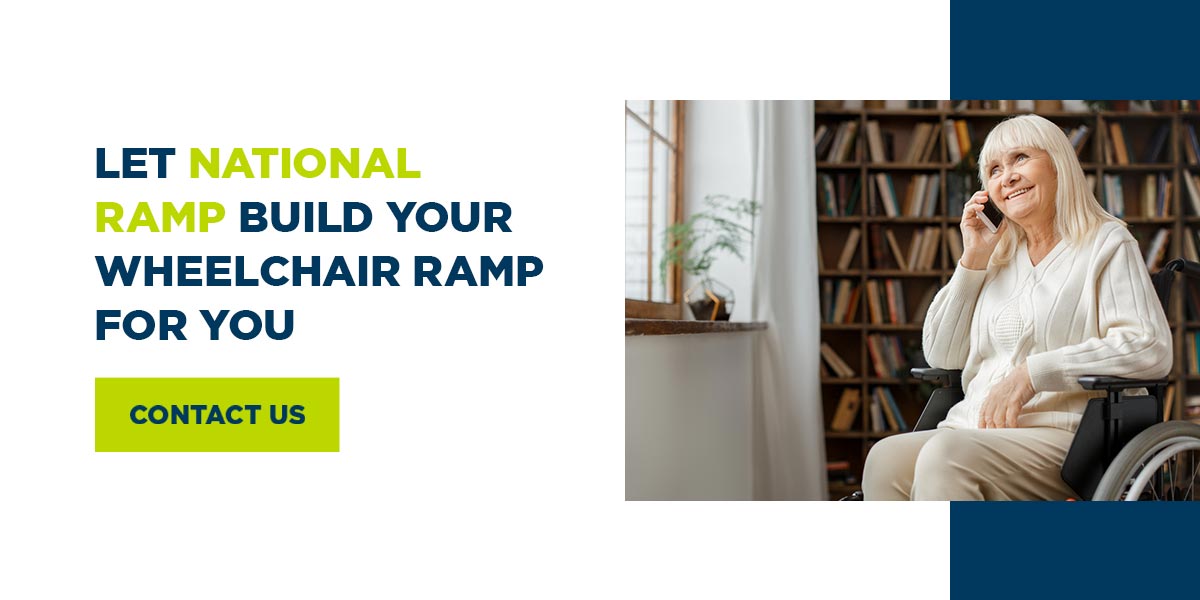 Let National Ramp Build Your Wheelchair Ramp For You
National Ramp sells and installs various mobility ramps that you can add to your home. Mobility ramps are crucial in making your home accessible and allowing for independent living. When you choose National Ramp, we offer fast installation services, usually within 48 hours, quality ramps and the experience of a company that has been in business for 30 years.
All of our ramps are compliant with the Americans with Disabilities Act (ADA). Take charge of your independence and contact us today to learn more about our ramps or start the process of purchasing one.