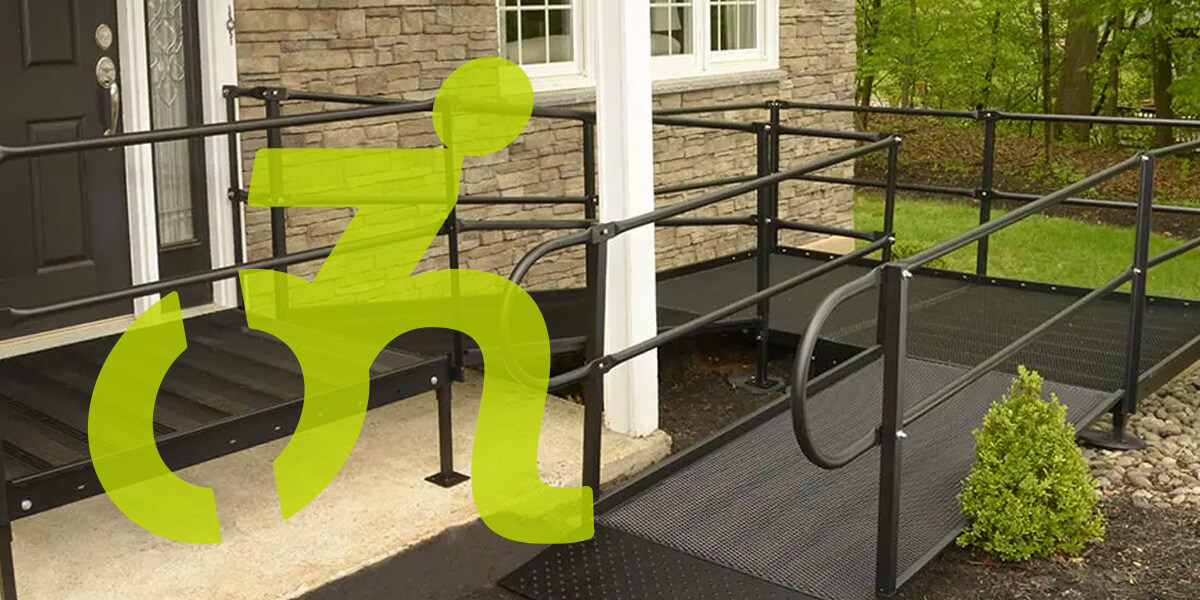 Installing a ramp in your yard makes it easier for people who use mobility devices like walkers, scooters, wheelchairs and canes to navigate the outdoor space. From a steep hill leading to a garden to your front door entrance, you can add a ramp wherever you need it.
Besides ensuring your ramp meets accessibility standards, you'll also want to complement your outdoor area in an aesthetically pleasing manner. If you're looking for ways to incorporate your wheelchair ramp into your front yard, garden, backyard or patio, read on for plenty of ideas!
In This Article
6 Ways to Boost Your Wheelchair Ramp Curb Appeal
Finding ways to blend your ramp into the surrounding landscape can also help simplify gardening, improve visibility or polish the overall look of outdoor space. Consider the six tips below!
1. Add Some Lights
Not only does lighting make paths more visible and easier to follow — especially at night — but it can also enhance your outdoor ambiance considerably! Pathway lamps help guide users safely through paths, while wall lights can help differentiate garden gates from raised beds.
Path lights, spotlights or motion sensor lights are great ways to improve low-light navigation, making your outdoor space significantly more accessible. Looking for more festive wheelchair ramp lighting ideas? Try installing some string or bistro lights around or above the ramp to upgrade its look.
Remember that glare can cause visibility challenges for wheelchair users. Installing hanging or ground lights with average standing heights in mind can place them in a way that shines light directly into wheelchair users' eyes.
When installing outdoor lighting, try to accommodate people at various heights to reduce glare as much as possible. For example, frost-tinted bulbs can lessen glare while making the outdoor space more handicap accessible. You can also position some lights at lower levels to keep them from shining in peoples' eyes.
2. Install Structures and Seating
Consider installing an outdoor structure like a gazebo near your ramp. You might also add a pergola, awning or patio cover around the wheelchair ramp itself to increase its visual appeal. As a bonus, structures like canopies, pergolas, retractable awnings and shade sails are a great way to keep wheelchair ramps cool during hotter months.
Don't forget to add comfortable seating to your outdoor structure! A pergola around your seating area — along with outdoor amenities such as a fire pit — is a fantastic way to blend your ramp with its surrounding environment, all while driving up its curb appeal and comfort factor. A cozy place to sit gives you, your family and guests the chance to take a breather as you soak in the outdoors.
Try to match your outdoor furniture to your ramp's material for a cleaner, more cohesive look. If you have an aluminum ramp, consider aluminum chairs and tables. Wooden furniture will help a wooden ramp feel like an intentional part of your outdoor design. Adding some colorful outdoor cushions, throw pillows or blankets to your furniture will let you tie the look together.
Remember that wheelchairs can occupy a bit more room than standard chairs, so your seating may require some extra thought and planning. Here are a few tips to keep in mind:
Ensure your furniture area is accessible for both wheelchair users and non-users.
Avoid bar-height tables that make sitting down challenging for people with mobility devices.
Choosing patio or lawn chairs over benches lets you rearrange and create more space as necessary.
If your seating is on a lawn instead of a patio, ensure you have a paved area for wheelchair access.
3. Consider Garden Accent Edging or Borders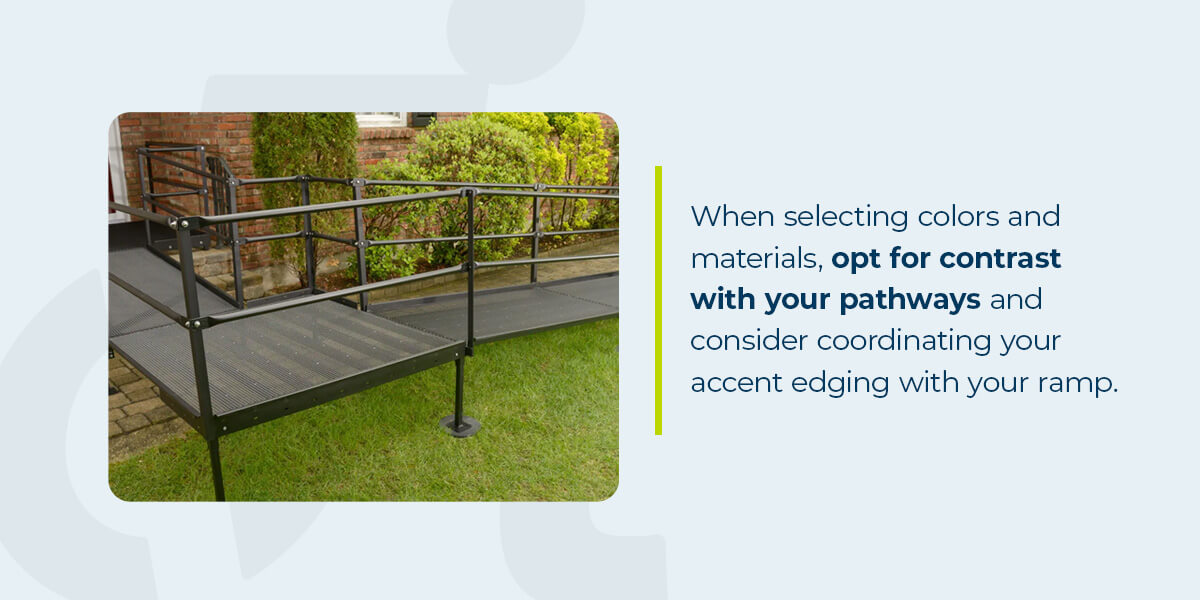 Adding edging or borders around your garden provides multiple benefits. It helps define your landscaping and outdoor space while improving accessibility for those with vision or mobility challenges. Edges clearly identify where a walkway ends and the garden bed begins. That extra visual marker can help people with mobility devices avoid accidentally turning off the path.
You'll want to choose a sturdy, durable edging material such as edging stones, raised bricks or galvanized steel strips. When selecting colors and materials, opt for contrast with your pathways and consider coordinating your accent edging with your ramp. For example, a steel mesh wheelchair ramp can blend beautifully with steel edging!
4. Add Some Mulch
Mulch can create a low-maintenance landscape and make your garden more accessible. It lessens the need for weeding, reduces soil water loss and protects plants from temperature extremes. With those benefits, your garden will require less manual maintenance and bending down to care for plants.
Mulching materials like gravel, wood chips and sand can add function and appeal to your garden. Other materials, such as rubber, can offer a layer of protective cushioning against falls.
Try to synchronize your ramp and mulching material for a uniform look that enhances your curb appeal.
5. Create Level Paths
Starting with uneven terrains like gravel, stones or pebbles can lead to uneven pathways. Solid, level paths are essential to making your landscaping accessible for those with mobility devices.
Level garden paths that connect different parts of your yard will improve navigability for people using wheelchairs, canes or other devices. A smooth, even path also creates an easier transition from the ground to the ramp. Consider large concrete tiles or slabs, resin-bound gravel or asphalt.
6. Raise Your Garden Beds
Raising your flower beds to a comfortable height can simplify gardening around wheelchair ramps. Making your beds 28-30 inches high will enable you to reach plants from a seated position, making it easier to adapt your yard to wheelchair gardening.
If you have multiple raised beds, try to allow at least 36 inches between rows. You'll also want to ensure you have room to accommodate a mobility device's turning radius. You can lay pavers, brick or pea gravel between raised beds to give wheelchairs the solid foundation and traction they need.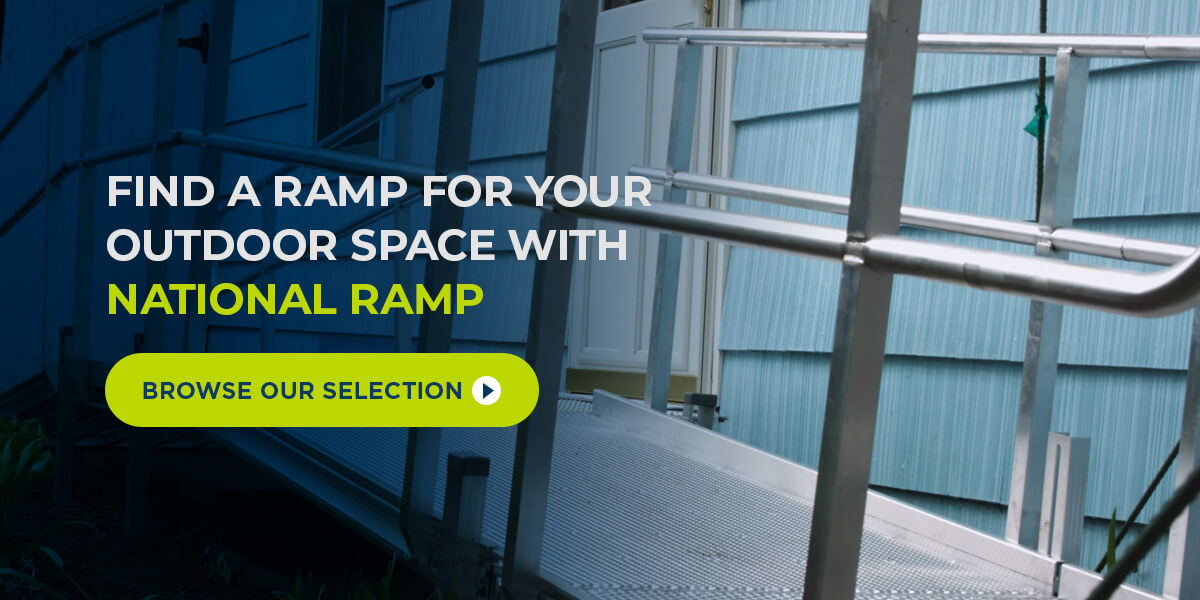 Find a Ramp for Your Outdoor Space With National Ramp
With various lighting and landscape ideas for wheelchair ramps to consider, you can easily blend your ramp with your outdoor features and raise its curb appeal. Of course, selecting a high-quality ramp is a critical starting point! At National Ramp, we have a wide variety of ADA-compliant ramp styles, materials and configurations to choose from.
Our modular, maintenance-free ramps enable quality construction and easy installation. We can typically install ramps within 48 hours of inquiry, helping you or a loved one enjoy better accessibility and greater independence as soon as possible. Our systems also feature high traction and non-slip surfaces, making them ideal for many outdoor spaces and weather conditions.
Achieve the mobility, freedom and lifestyle you desire with National Ramp. Browse our selection of ramps or contact us about finding the right solution today!