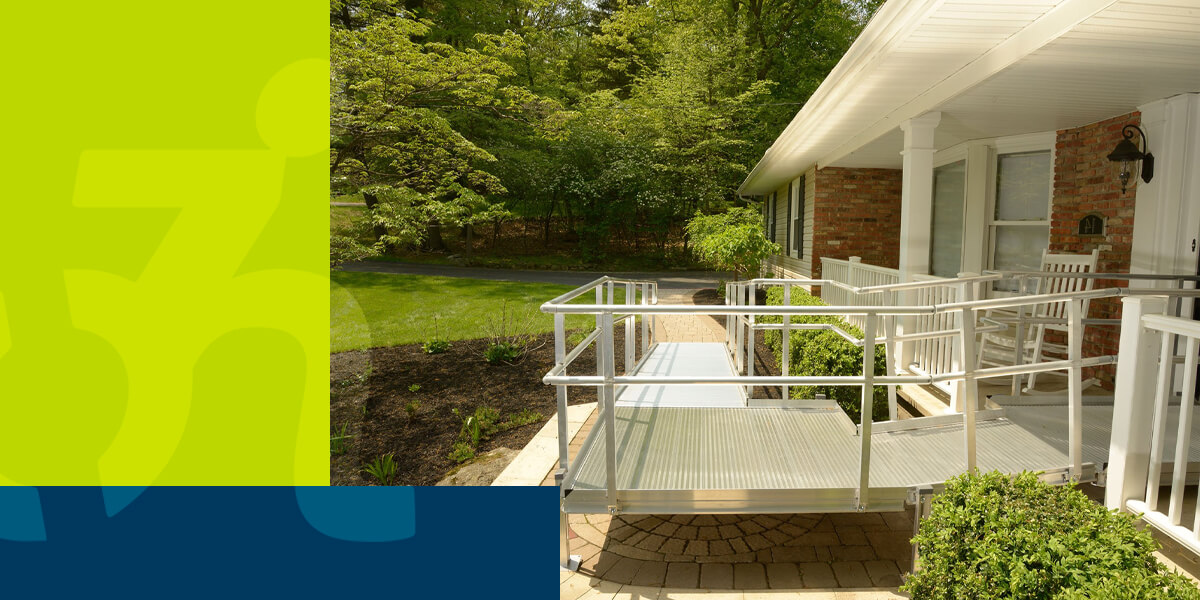 A residential ramp is ideal for helping wheelchair and mobility scooter users climb stairs and keep their independence, but how do you know which ramp you need? The best way to get the right answer is to know the right questions to ask when purchasing a ramp.
This guide is here to help you find exactly what you need for yourself or your family member. We'll answer your questions about finding, buying and installing the right type of residential ramp for your home and needs. Here's what you should consider while you search for the accessibility and functionality you need in a ramp.
In This Article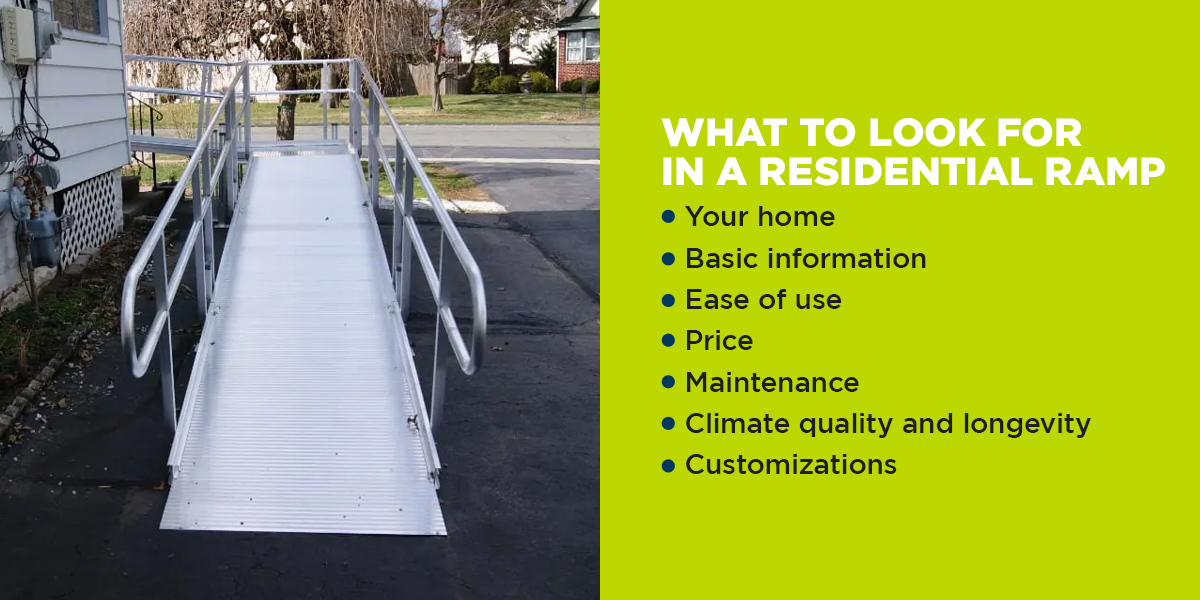 What to Look for in a Residential Ramp
When looking at residential ramps, you need to know about several essential factors before you can make the right call. These factors include:
Your home: Think about your home and what you have to work with. How much room do you have for a ramp? How many stairs will your ramp need to cover? Will your ramp need a landing? Do you want railings?
Basic information: Consider what functions the ramp must serve and any other information important to you, like aesthetics and installation methods. You should aim to have all the information you need to answer the question, "What type of ramp should I get?"
Ease of use: A ramp needs to be accessible and easy to use. Do you need a residential ramp with an electric wheelchair lift? Does your ramp need rails? These are examples of questions you need to ask yourself to find a residential ramp that is perfectly suited to your needs and easy to use.
Price: Price is a critical part of this decision-making process. You want to find a ramp that is within your price range, affordable and reliable.
Maintenance: You need to know how to keep the residential ramp you choose maintained. If maintaining your ramp is a major concern, then you can consider maintenance-free ramps with the right warranties.
Climate quality and longevity: The climate you live in and other factors might affect the longevity of your ramp. It is necessary to ensure that the residential ramp you choose is a good match for your area's climate.
Customizations: Add-on features and customization options like gates and rails are easy to install and should be considered when looking for the right ramp for you.
Residential Ramp FAQ
Here are the answers to some common questions about residential ramps:
1. What Type of Residential Ramp Do I Need?
There are many types of ramps to choose from. It's a good idea to familiarize yourself with them to know which residential ramp to choose for your needs:
Aluminum ramps: Aluminum ramps are maintenance-free and allow you to continue living your life without worrying about maintenance and upkeep. They're durable, lightweight, affordable and nonslip. Aluminum ramps come in different colors to match your desired aesthetics.
Threshold ramps: These can be made of aluminum or rubber, depending on your need. Threshold ramps are perfectly suited for small bumps and areas with gaps or thresholds. This type of ramp comes in various sizes ranging from a small incline to mini-ramps that cover obstacles and stairs that are a few inches high.
Scooter ramps: Scooter ramps are specifically designed for mobility scooters. Accessibility is the focus of this ramp type. With scooter ramps, it's easier to stay mobile, active and independent.
Modular wheelchair ramps: Modular ramps are easy to install at home. They are strong, durable and semiportable, which means you can disassemble them and take them along if you move to a new home. However, this style of wheelchair ramp is less aesthetically pleasing than most others. It is also noisy when used and can be a bit more costly.
Wood deck ramps: Wood decks require a lot of maintenance, including annual cleanings, splinter removals and rot prevention. However, the warm and charming aesthetics still make this highly functional ramp desirable for many. Wood deck ramps are affordable, highly customizable, quick to install and look great. Modular installation methods make building the perfect shape easier and provide as much space as possible. These benefits outweigh their maintenance drawbacks and are worth considering.
Switchback ramps: Switchback ramps allow you to ascend landings and elevated spaces easily and safely with alternate 180-degree turn spaces. This configuration is perfect for tight spaces and steeper slopes because it maximizes your ramping space. The versatility of switchback ramps makes them suitable for private homes and apartment buildings.
2. How Wide Should a Residential Ramp Be?
The minimum width of an ADA-accessible ramp is 36 inches, including space for handrails.
3. How Long Does My Ramp Need to Be?
The length of your ramp is determined by the layout of where it will be installed. There is a formula that will help you find the perfect length for your residential ramp. For every 1 inch of rise, you need 12 inches of ramp length. This ratio of 1:12 will provide a gentle slope ideal for people using manual wheelchairs who may need physical assistance or might not have the strength to get up a steeper ramp.
You will need 1 foot in length for every inch of rise. Meaning a 10-inch step will need a 10-foot ramp. Ramps that are longer than 6 feet must have handrails. These handrails must extend 12 inches beyond the length of the ramp. If a ramp exceeds 30 feet in length, it must have a 5-by-5-inch level landing between each of its sections. This makes it possible for manual wheelchair users to rest while going up the ramp.
4. What Permits Do I Need?
You may need different permits to install a residential ramp depending on where you live. You will find the applicable permits and documents in your county's guidelines, which can usually be found online. You can apply for a permit for your wheelchair ramp at the building department of your local public works office. Ensure you know everything you need to know about the required permits and documentation to complete the installation of your residential ramps properly and with the right clearance and permission.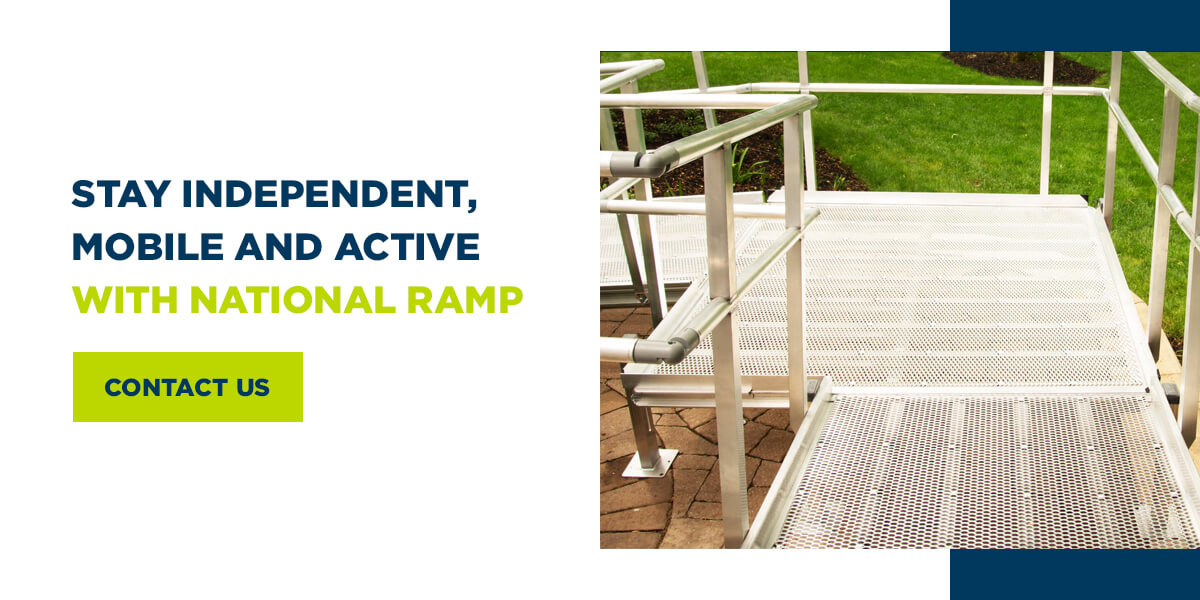 Stay Independent, Mobile and Active With National Ramp
Choosing the right residential ramp might sound like a complicated process, but with National Ramp, it's easy to find the perfect ramp for your needs. We have the answers to all your questions and more. We are here to offer answers, advice and guidance to everyone needing our support and services. Book an evaluation, and get in touch with us today! We can help you make the complicated process of buying and installing a ramp as simple and comfortable as possible.