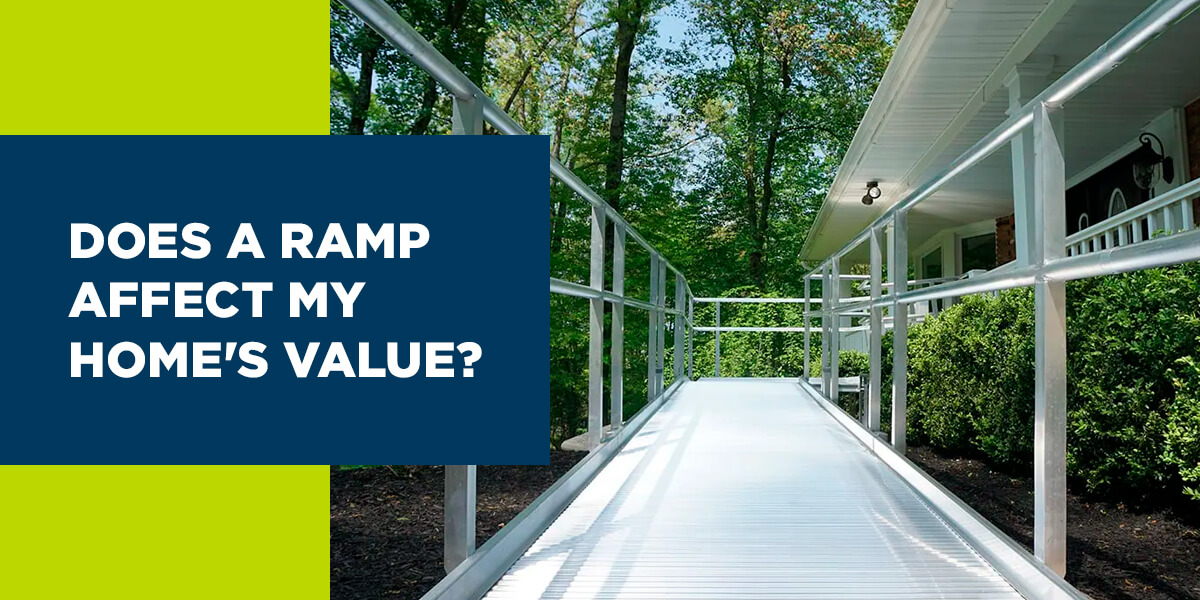 In the United States, 13.7% of adults have a mobility disability. To live at home, they'd have to make modifications to improve their home's accessibility. Many people start by making their home wheelchair accessible with a ramp. However, when you want or need to sell your home in the future, you may wonder how a wheelchair ramp affects its value.
There are many benefits to adding a wheelchair ramp to your home, including potentially increased resale value. Potential buyers who need an accessible home would like yours. However, some buyers may view the modifications negatively. This guide will discuss the benefits of ramps, the different types of ramps, how they affect your home's value, other modifications that might affect your home's value and tips for increasing your home's value when you have modifications.
In This Article:
The Benefits of Wheelchair Ramps
Wheelchair ramps enable people with mobility devices or disabilities to move safely and freely in and around their homes. Ramps give those who use mobility devices easy access to raised landings, steps, doorways, sliding glass doors and showers. Here are some of the advantages of wheelchair ramps:
Increases mobility: The primary benefit of ramps is that they help disabled people and the elderly enter and exit their residences easily and comfortably. Wheelchair ramps minimize the risk of injury when entering or exiting your home.
Various styles and types: There are many different types and styles of ramps. For instance, wood and aluminum ramps, mobile home ramps and scooter ramps. The various designs can match your home's style and add beauty.
Easy installation: Professionals can easily install ramps, especially modular ones. Modular ramps only take a few hours to install.
Convenience: You and your loved ones or caregivers will find a ramp beneficial when bringing furniture, medical equipment or groceries into your home. Everyday workloads and daily tasks become easier to manage.
Increases independence: When you have a ramp installed for your home and car, you gain the freedom to run errands without assistance.
Types of Wheelchair Ramps
Each type of wheelchair ramp affects your home's value differently. Therefore, knowing what kind of ramp or ramps you have is crucial. Here are some of the standard ramps for homes:
Threshold: These ramps are flush against the entryway of a door or a raised landing. They are typically metal and lightweight, but you can get them in other materials like wood. Most threshold ramps are modular, giving you the flexibility to adjust them.
Switchback: Switchback ramps alternate at 180-degree turns so you can ascend and descend raised landings and spaces.
Modular: Commonly aluminum, professionals construct modular ramps off-site and bring them to your home in sections for quick assembly. They may not require a permit to assemble.
Permanent: You cannot move or adjust permanent ramps. They require a building permit to construct and are typically wooden. Many homeowners opt for permanent ramps to match their home's aesthetics.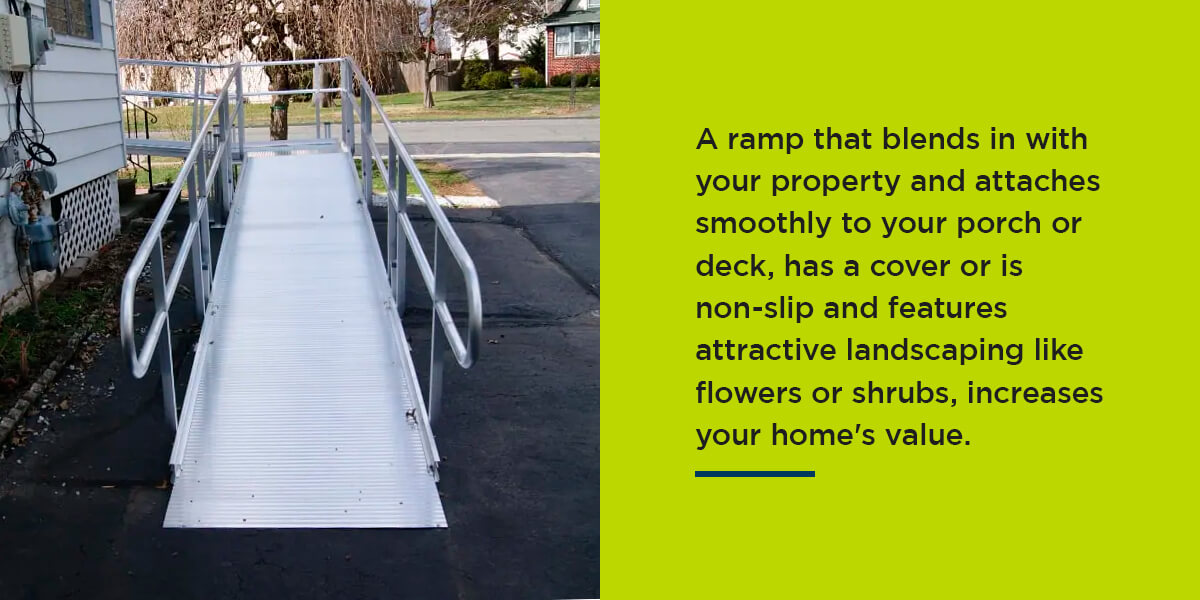 How Does a Wheelchair Ramp Affect Home Value?
When selling a home with a wheelchair ramp, the ramp either increases or decreases your home's value. If the ramp takes up space in a small yard or sticks out and has awkward angles, it may lower your home's value. On the other hand, a ramp that blends in with your property and attaches smoothly to your porch or deck, has a cover or is non-slip and features attractive landscaping like flowers or shrubs, increases your home's value.
Most ramps that add value to your home are professional and made of sturdy materials like aluminum. If your front yard is small, you should place the ramp at the side or back of your house. Other factors that influence whether a ramp adds value to your home include:
Buyer demographic: Those with mobility disabilities want accessible homes. Older adults also like accessible houses for themselves or so they can care for loved ones. However, the younger generation probably won't want a modified home.
Location: If the property is in a community with other accessible homes, its value increases. But the value might decrease if the house is in an area with young families.
Degree of modifications: When the modifications change the functionality of a space, such as a chair lift, it may decrease the value. Other adjustments, like an attractive ramp, increase its value.
Reversal cost: Potential buyers interested in the property without the modification will consider the cost to reverse it in their offer.
Other Modifications That May Affect Home Value
If you have a wheelchair ramp, you might have other home modifications. Some common adjustments that may affect your home's value are:
Bathroom grab bars
Walk-in or roll-in showers and tubs
Pull handles instead of door knobs
Stairlifts
Additional handrails on stairs
Interior ramps
First-floor laundry facilities
First-floor bedroom with a bath or shower
Lowering light switches
Lowering countertops, sinks and stovetops
Hardwood or laminate flooring
Widening doorways
When these modifications tastefully align with the home's architecture and style, the home retains its value. Many homes feature Universal Design principles, so lipless thresholds, walk-in tubs, grab bars, lowered light switches, door levers and aesthetically pleasing ramps preserve a home's resale value. Ultimately, it depends on your potential buyer and what they consider an asset.
Tips to Increase Your Home's Value With Modifications
Here are some tips so your modifications increase your home's value instead of decreasing it:
Work with a designer to ensure the modification matches your home's style.
Keep your steps when you install a ramp.
Opt for a modular ramp that you can remove for resale.
If you install a permanent ramp, be sure it complements your porch, deck or patio.
Install the ramp at the back or side entrance if your yard is small.
Choose grab bars that match your decor and fixtures.
Opt for a roll-in shower over a walk-in tub.
There are also some modifications that you can remove from your home before resale, like grab bars or stairlifts, so they don't impact your home's value.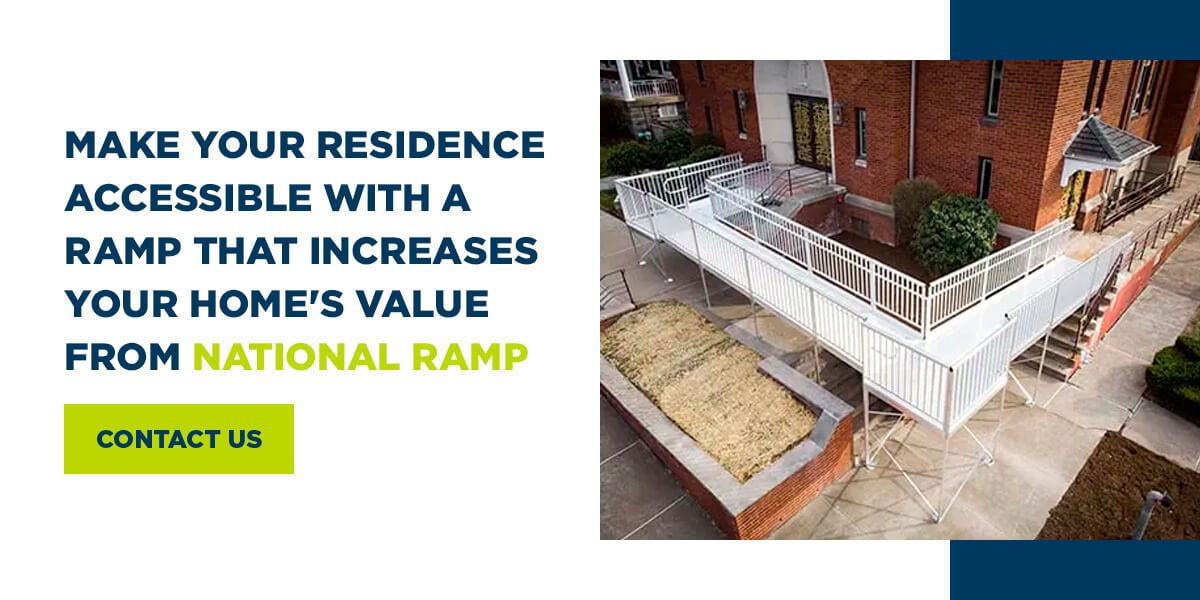 Make Your Residence Accessible With A Ramp That Increases Your Home's Value From National Ramp
Wheelchair ramps that increase your home's value are professional and complement your home's style. When you work with a professional, your ramp will match the style of your home and make it safer, more accessible and comfortable. National Ramp has sold and installed mobility ramps for over 30 years. All our ramps are Americans with Disabilities Act (ADA) approved for safety.
We offer modular and permanent ramps in various materials. Our ramps look great and can help you regain your freedom and independence. Contact us today with questions about our products or request a quote online using our calculator.